Brandon and Tom McPeak Win with a Big Bag of Green Bay Gold!
Presented by Mercury Marine
Marinette, Wisconsin – June 5, 2022 – The Bay of Green Bay did not disappoint at the 4th stop of the Bass Pro Shops and Cabela's Masters Walleye Circuit (MWC)! The wind blew from the south. Then it blew from the north and then from the west pushing cooler water all over the bay and gave the anglers who competed in the tournament in Marinette, WI an ever-changing bite leading up to the event. Amid all of these changes in the weather, almost every team was able to bring in a good bag of walleyes to bring across the stage. Brandon and Tom McPeak (Waupaca, WI) worked hard for their giant basket of fish both days during the event and brought home the top prize in this event presented by Mercury.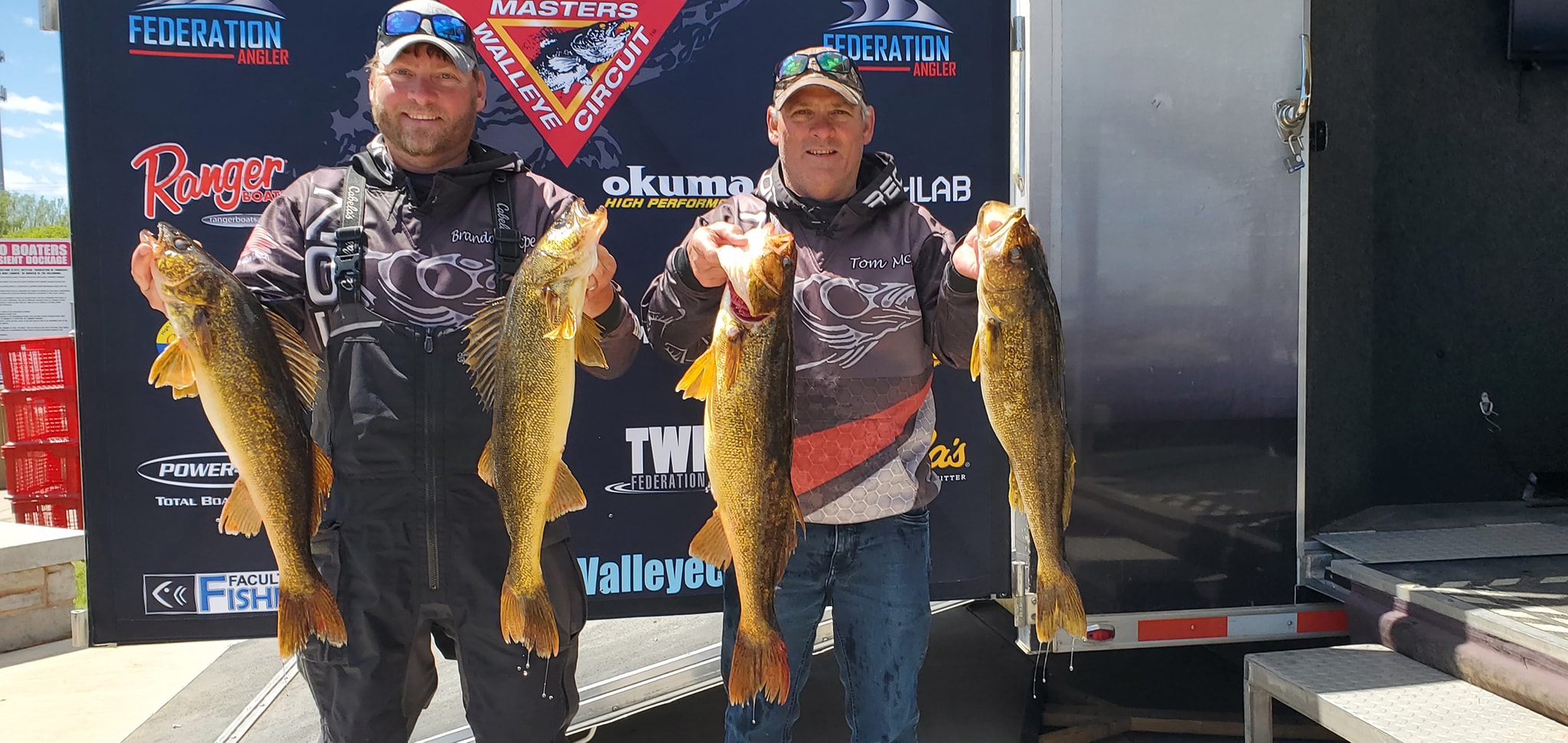 Brandon and Tom worked hard on the days leading up to the big event and scouted out some likely areas where the winning fish would come from in hopes that they would still be there on game day. With rod in hand for two days, the duo was able to bring in an impressive bag of walleyes weighing in at 31-11 lbs. on day one and then follow that up with another bag of fish weighing 31-05 lbs. for day two. Bringing their two-day total to a whopping 63-00 lbs. that secured the win. For all of their hard work, they were awarded the top prize of $10,050 that included a $1,000 2023 NTC prize package and champions trophies along with (2) Okuma reels, at the 2022 Bass Pro Shops and Cabela's Masters Walleye Circuit event on the Bay of Green Bay.
Here's a break-down of how the rest of the top 5 teams faired after this weekend:
2nd Michael McCardle and Michael Yamaguchi 58-15, $4,300 cash and $3,600 option pot
3rd Brandon Ruffalo and Dan Harper 58-12, $3,000 and $2,600 option pot
4th Dan Johnson and Larry Rhoads 53-13, $2,000 and $1,600 option pot
5th Christopher Bartsch and Mario Nanna, 39-00, $1,700 and $950 option pot
The total payout for this Green Bay event was $40,774 that paid out ten places between 104 competitors. The anglers caught a total 297 walleyes that weighed a total of 1006-07 lbs. The biggest fish caught during the event was caught by Don Alimenti and Ross Neubauer that weighed 11-11 lbs.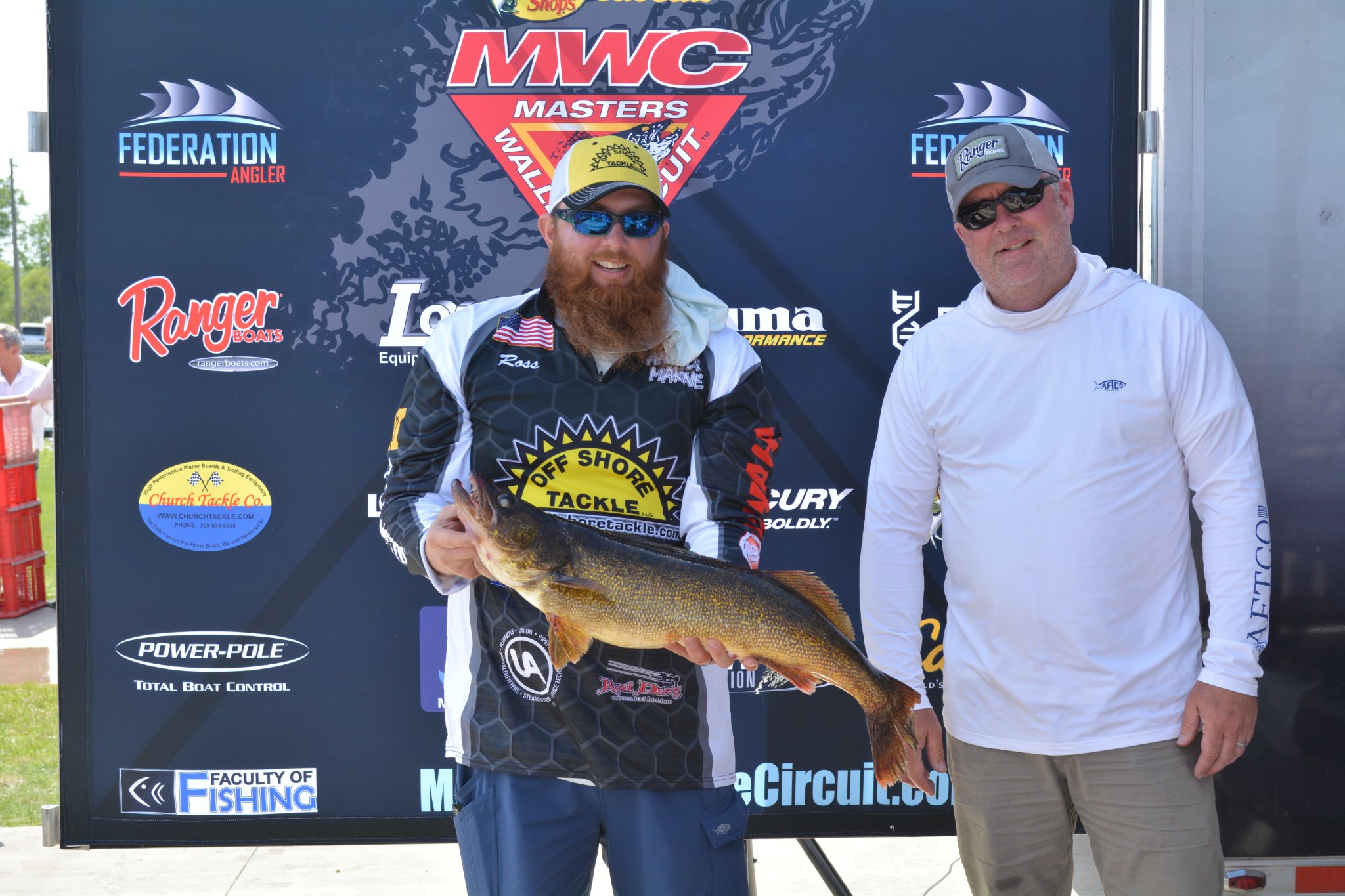 A huge thank you goes out to the city of Marinette, WI for graciously inviting the MWC into their community and for all of the help provided by the many volunteers on both days of the event. With the help from all of the volunteers this event was a huge success and ran smoothly from start to finish. A second shout out and big THANK YOU goes out to all of the student volunteers from the Marinette High School! You all were awesome to work with!
Under the umbrella of The Walleye Federation (TWF), the Bass Pro Shops and Cabela's Masters Walleye Circuit is North America's longest-running and undisputed leader in team walleye tournaments and as an inductee into the freshwater fishing hall of fame, has set the standard for competitive walleye fishing for the past 38 years and has directly donated hundreds of thousands and helped raise millions of dollars to support walleye & conservation programs nationwide. The MWC is open to walleye anglers from all walks of life. The 2022 schedule includes seven qualifiers in six states, plus a berth into the 2023 Bass Pro Shops and Cabela's MWC World Walleye Championship.
Bass Pro Shops & Cabela's – The World's Foremost Outfitters, are in their 21st season as title sponsor of the Masters Walleye Circuit. Official sponsors include: Lowe Equipment Attachments, Lowrance Electronics, Mercury Marine, Ranger Boats. Associate sponsors include: The Walleye Federation, Church Tackle, FishLab, Okuma, Power-Pole and T-H Marine. For more information, email support@masterswalleyecircuit.com, or call (580) 765-9031.