Bass Pro Shops and Cabela's Masters Walleye Circuit Visits Lake Francis Case on the Missouri River Presented by Dakota Lithium Batteries
Ponca City, Okla. – 27 July, 2023 – After finishing up our Great Lakes swing through the Midwest, the Bass Pro Shops and Cabela's Masters Walleye Circuit (MWC), presented by Dakota Lithium Batteries, travels to the prairies of South Dakota and Lake Francis Case, Pickstown, SD.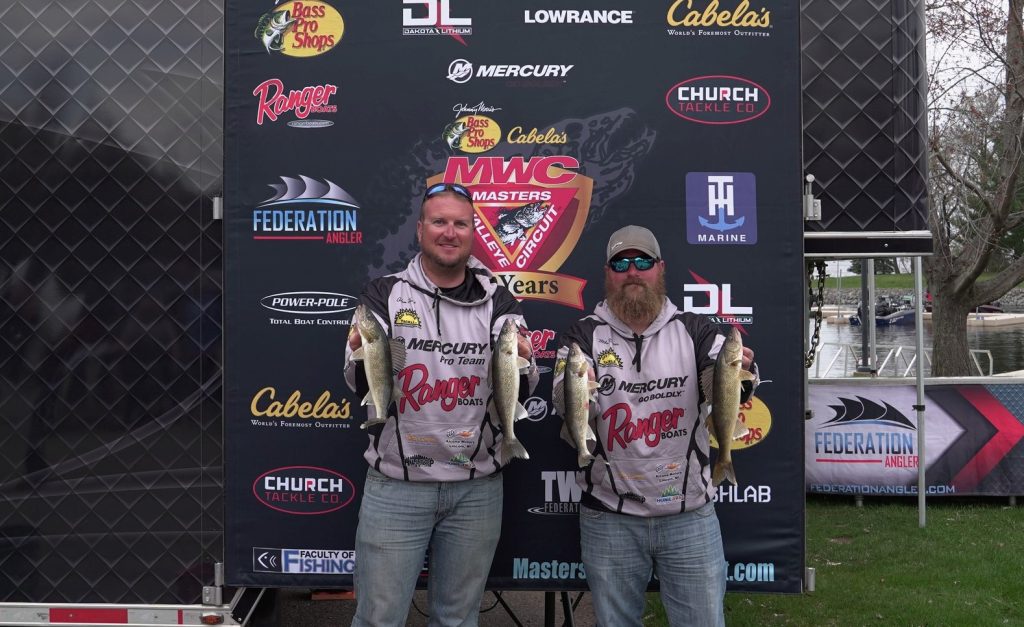 Francis Case is a 102-mile-long impoundment on the Missouri River that boasts huge populations of walleyes that can be targeted with almost any presentation. Although trolling is popular among tournament anglers, just about every walleye catching tactic will be on the table for "The Toughest Anglers on Planet Earth."
South Dakota native and Dakota Lithium Pro Duane Hjelm was taken aback by the number of fish and the breathtaking scenery in the Pickstown area after recently competing in a major tournament on Francis Case. "It is just such a cool area. As an angler, the first thing you notice is just how many fish are there. The views are great too, it's just so different than anywhere else in the country."
Registration is now open through August 21, 2023 so there is still time to sign-up to fish the Lake Francis Case MWC event. Visit the MWC website to sign up at masterswalleyecircuit.com or call 580-765-9031.
The 7:00am morning take offs and 3:00pm daily weigh in Friday and Saturday are free and open to the public and the MWC welcomes the public to experience this event in-person at Prairie Dog Bay boat launch in Lake Andes, SD on August 25th and 26th. Live stream and live leaderboard of the daily weigh ins will also begin at 3:00 p.m. each day on masterswalleyecircuit.com or on Facebook at facebook.com/MastersWalleyeCircuit.
Each MWC event has a lucrative payout which is based on the number of teams entered into that event, and is awarded to 20% of the field, providing more inspiration to sign up and join the fun. In addition to a hefty check, the first-place team also earns a $1,000 Bass Pro Shops/Cabela's National Team Championship (NTC) prize package including: paid entry, a travel stipend, team jerseys, and plaques. Additionally, the big-fish pot, option-pot and sponsor bonuses from Ranger Cup, Lowrance, Dakota Lithium Batteries, Okuma, and T-H Marine Atlas Awards add thousands more for distribution among the field.
At all 2023 MWC events Dakota Lithium Batteries is offering the "Dakota Lithium Comeback Award" totaling well over $4,000.00 of Dakota Lithium batteries and chargers to the team that makes the biggest move up the leaderboard on day two. So, no one is out of it until the event is over!
With two qualifying events left in the 2023 season, this Francis Case, SD event and Cass Lake, MN event September 15-16 now it the time that the lucrative and sought after MWC Team Of the Year race starts heating up. Every point will count moving forward now to see who will earn that coveted title and the over $10,000 in awards that goes with it. Here a look at the top 5 teams who are in contention in that race right now.
Currently leading the MWC Team Of the Year race is Tony Karrick and Sam Cappelli they are hungry and it would be their first TOY title. Could Wayne Butz and Joseph Sommers from Wisconsin go back-to-back years and make it two in a row and 3 TOY titles overall for Wayne Butz? (Wayne was part of TOY team back in 2008) very hard to do. Can Michigan's Adam Hume and Mike Karner lock up their second TOY title in 4 years, (they won TOY in 2020)? What about Peter Mart (MN) and Dave Lester (WI) or the Tom and John Albrecht MN/SD or can Don Olsen (MN) and Randy Carroll (IL) take the lead on the western swing and securing their first TOY title?
They are not the only ones in the hunt either -The Michigan and Ohio/IL teams of Kammerer and Shakoor and Wright and Munda may just "show up" out west or will they open the lane to Minnesota's Persinger and Sween to move up who are sitting currently in 10th? LOTS of possibilities with two events left, one at Frances Case, SD and Cass Lake, MN.
Under the umbrella of The Walleye Federation (TWF), the Bass Pro Shops and Cabela's Masters Walleye Circuit is North America's longest-running and undisputed leader in team walleye tournaments and as an inductee into the freshwater fishing hall of fame, has set the standard for competitive walleye fishing for the past 39 years. The MWC is open to walleye anglers from all walks of life. Visit masterswalleyecircuit.com for full details.
Bass Pro Shops & Cabela's –Are in their 22th season as title sponsor of the Masters Walleye Circuit. Official sponsors include: Lowrance Electronics, Mercury Marine, Ranger Boats and Dakota Lithium. Associate sponsors include: The Walleye Federation, Church Tackle, FishLab, Okuma, Power-Pole and T-H Marine. For more information, email support@masterswalleyecircuit.com, or call (580) 765-9031.