Colorado Team of Lunde and Schultz Win on Bay of Green Bay
Presented by Ranger Boats
Oconto, Wisc – July 23, 2023 – No matter the time of year, The Bay of Green Bay brings hopes of big walleyes for tournament anglers that travel far and wide across the bay searching. The fifth stop of the Bass Pro Shops and Cabela's Masters Walleye Circuit (MWC), boasted a total payout of $60,011 and was Presented by Ranger Boats. The weather leading up to this leg of the season was perfect for the 124 MWC anglers competing and as teams left the dock at Oconto, WI. the anticipation and stakes were high. For one Colorado team, those hopes became a reality after two days of fishing.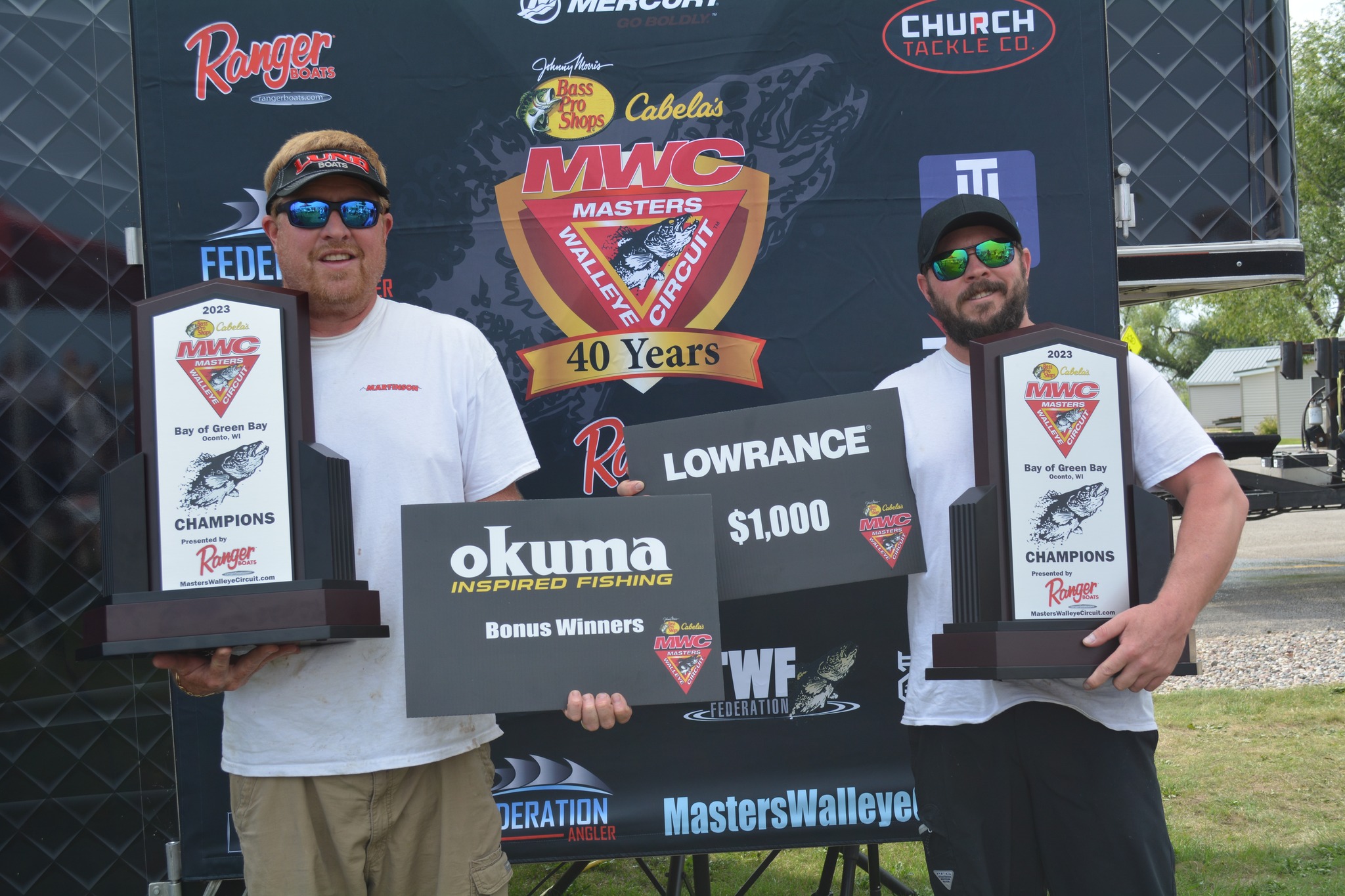 A duo from nearly 1200 miles away who had never fished The Bay of Green Bay, Chad Lunde and Luke Schultz from Littleton, CO came out to Wisconsin with open minds and a willingness to figure these fish out while doing what very few, if any other anglers, where doing during the tournament. After taking over the lead on day-two, the team described their pattern as kind of a one-two punch approach. They were targeting bigger fish on their new Lowrance Live electronics and dropping slip-bobbers with live bait on their noses enticing them to bite. When this subtle approach didn't work, they casted glide baits at fish trying to trigger reaction bites.
Both tactics have been known to catch walleye all across the walleye world. Lunde and Schultz's back-to-basics approach set them up in a good spot after weighing a bag of 30-04 lbs. on the first day that landed them in 3rd place and just a little over a pound out of the lead.
Day-two saw an incoming weather front and a moving barometer, the conditions were just right for the Colorado team to bring in another solid basket of fish for the final day. Their day-two weight of 25-11 lbs. was enough to secure the win with a two-day total of 55-15 lbs. The duo took home the top prize of $9,660 cash, $3,700 option pot cash, a $1,000 NTC prize package, $1,000 Lowrance Electronics cash Award, Two (2) Okuma Reels worth $200, and two coveted MWC 1st place trophies. All totaling over $15,560!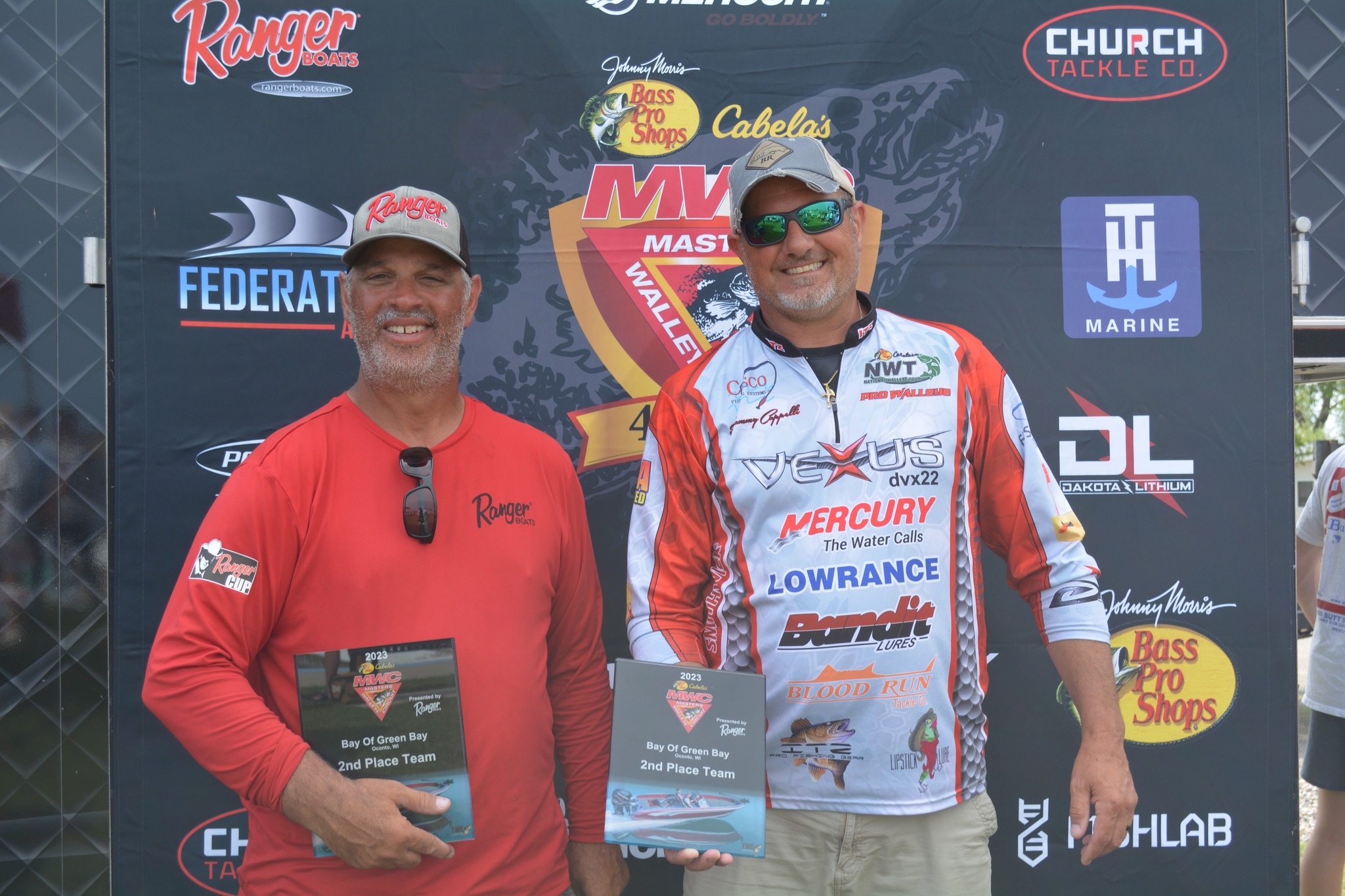 Here's how the rest of the top five teams competing in Oconto did:
2nd Tony Karrick and Sam Cappelli 55-13 lbs. $4,840 cash, $2,550 option pot cash, $500 Ranger Cup bonus
3rd Peter Mart and Dave Lester 54-02 lbs. $3,330 cash
4th Dan Woodke and Steve Meyer 53-09 lbs. $2,450 cash, $1,500 option pot cash
5th Steve and Jeremy Skupien 53-08 lbs. $1,910 cash, $1,025 option pot cash
The Dakota Lithium Come-Back award went to Dylan Schmidt and Trevor Parsons. They went from 53rd place after day one to 29th place on day two. A jump in the standings that earned them three (3) 135ah deep cycle/marine starting/trolling batteries with chargers, totaling $4,296.
The largest fish caught during the event was caught by Adam Hume and Mike Karner weighing in at 10-05 lbs. The largest sack of the tournament was caught by Dylan Schmidt and Trevor Parsons and weighed 34-01 lbs. A total of 386 walleyes were weighed-in totaling 1841-04 lbs. during the tournament.
A huge thank you goes out to Oconto Riviera, Oconto Economic Development, and The Dockside for helping set up a great venue for the rules meeting, supplying anglers and staff with an awesome dinner, and rolling out the red carpet here in Oconto! Thank you!
The next stop of the MWC takes anglers back out west to Lake Francis Case in Wagner, SD. Francis Case is an impoundment on the Missouri River and boosts a very healthy population of walleyes just waiting for anglers to take-on. Registration for this event is open until Monday, August 21st. Anglers can register by visiting masterswalleyecircuit.com.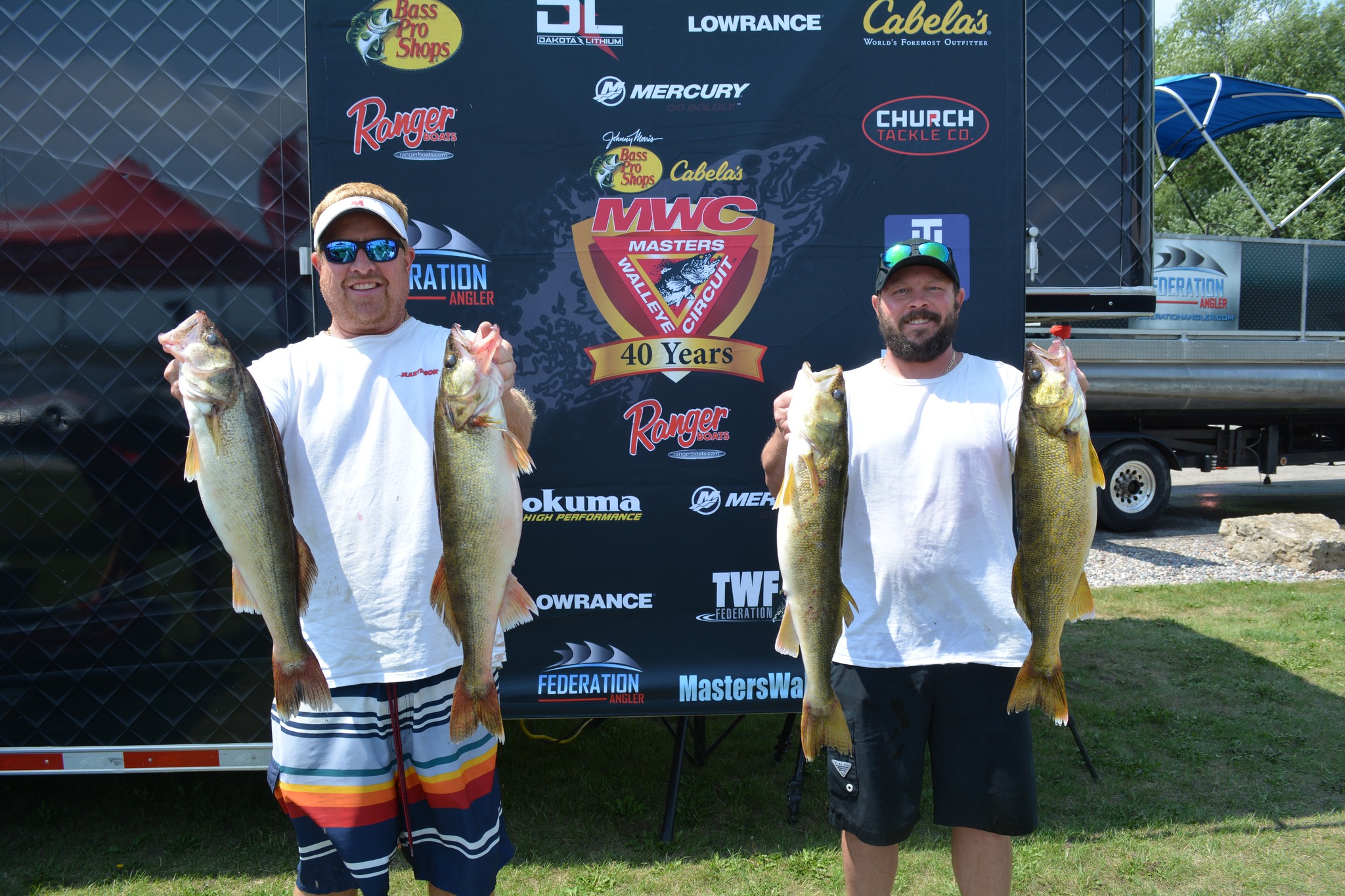 Under the umbrella of The Walleye Federation (TWF), the Bass Pro Shops and Cabela's Masters Walleye Circuit is North America's longest-running and undisputed leader in team walleye tournaments and as an inductee into the freshwater fishing hall of fame, has set the standard for competitive walleye fishing for the past 39 years and has directly donated hundreds of thousands and helped raise millions of dollars to support walleye & conservation programs nationwide. The MWC is open to walleye anglers from all walks of life. The 2023 schedule includes seven qualifiers in six states, plus a berth into the 2024 Bass Pro Shops and Cabela's MWC World Walleye Championship.
Bass Pro Shops & Cabela's – The World's Foremost Outfitters, are in their 22nd season as the title sponsor of the Masters Walleye Circuit. Official sponsors include: Lowrance Electronics, Mercury Marine, Ranger Boats, and Dakota Lithium Batteries. Associate sponsors include: The Walleye Federation, Church Tackle, FishLab, Okuma, Power-Pole and T-H Marine. For more information, email support@masterswalleyecircuit.com, or call (580) 765-9031.
###