Bass Pro Shops and Cabela's Masters Walleye Circuit Rounds Out 2023 Season on Cass Lake  – Presented by Lowrance
Lowrance is adding a 60" Lowrance Ghost Trolling Motor to the prize list for this event!
Ponca City, Okla. – 31 August 2023 – Final stop of the 2023 Bass Pro Shops and Cabela's Masters Walleye Circuit (MWC) will take place in the beautiful north country of Minnesota on Cass Lake September 15-16, 2023. Whether you are a team who fishes multiple MWC events and are vying for Team of The Year honors, a World Walleye Championship spot or a team that will only fish this one event, everyone has the same chance to show off their walleye catching abilities and try their hand at winning their share of the cash and prizes at Cass Lake. Registration is currently open until close of business September 11 for all teams who wish to enter. Friends and families at home can watch each day as weigh-ins will stream live online at MastersWalleyeCirucit.com and the live leaderboard will track and display each team's weight in real time when they weigh in each day.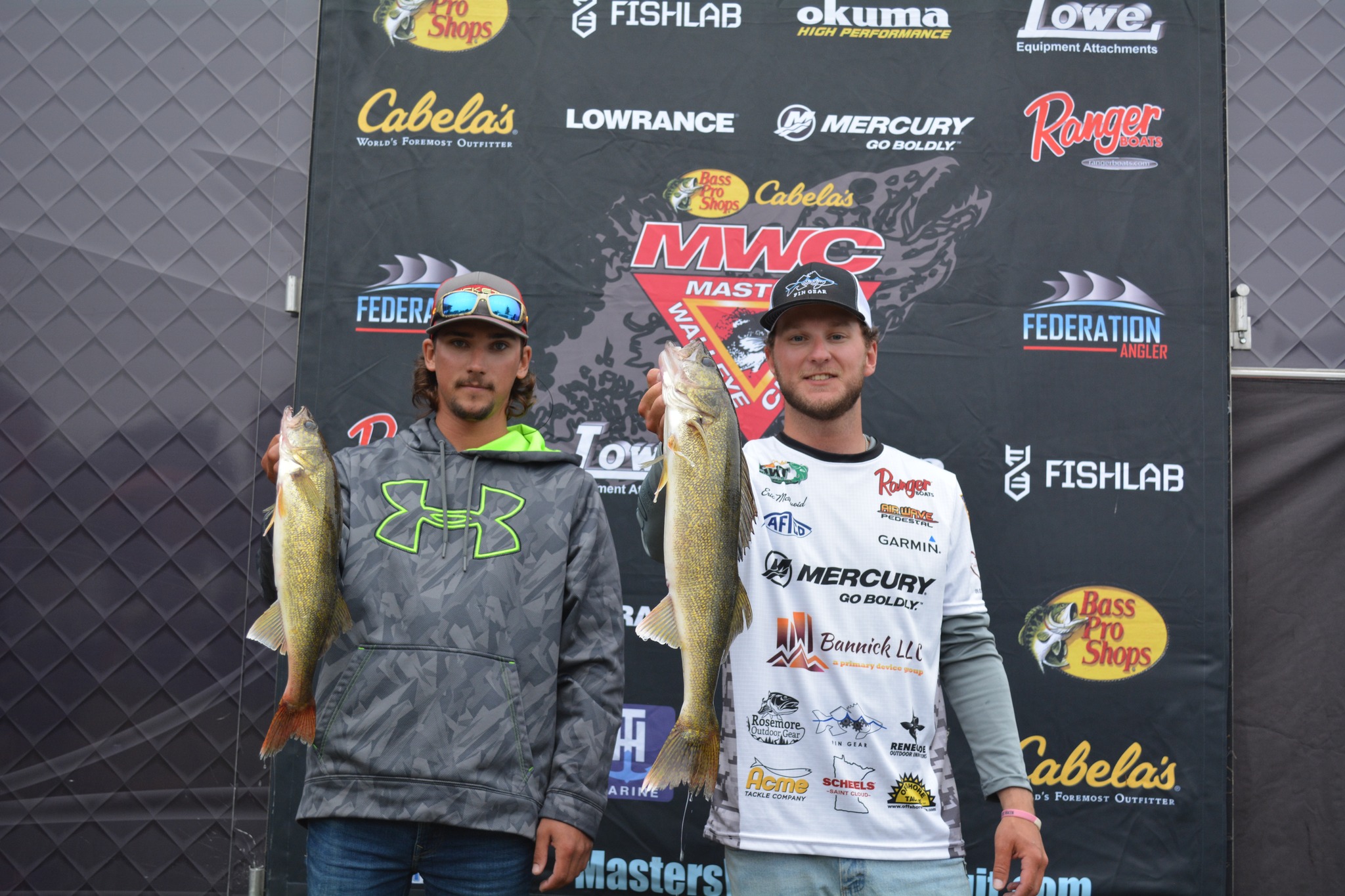 "Cass" is an angler favorite and is kind of a tradition to hold the last MWC season event there most years. Fall colors, scenery, fun and amazing hospitality from Stony Point Resort are enough to make you want to go, but the great Walleye fishing is what's on the angler's minds.
While MWC always pays back more than 100% in cash and prizes each year, to sweeten the pot at Cass Lake, presenting sponsor Lowrance is adding a 60-inch shaft Lowrance Ghost trolling motor to the winning teams prize package valued at over $3,700.00, in addition to the normal hefty cash and other prizes, such as the Dakota Lithium comeback award of over $4,200.00 so no one is out of it until the last fish is weighed! The Ranger Cup bonus where eligible of $8,000, a $1000 Lowrance Live Pro bonus, a TH Marine Atlas award bonus, an Okuma bonus and more.
The largest lake on the Mississippi River chain of lakes, Cass Lake is nearly 16,000 acres with depths close to 100 feet containing an extremely healthy population of walleyes. Shorter days and cooling water temperatures as fall approaches can means walleyes become more predictable and caught a variety of ways. A local favorite is rigging live creek chubs and suckers along break-lines and weed edges. Some may try to trigger reaction bites with glide baits using their Lowrance Live Pro sonar to make accurate casts at hungry fish. Or, it could a team with the tried-and-true slip bobber and minnow combo that takes home the win.
Just like the anglers, Cass Lake is also a staff favorite according to Jeff Kelm, MWC Tournament Director. "We love the excitement going to the final event of the year and seeing the angler's faces as they give everything, they have in an attempt to pull off a win or improve their standings."
On top of the camaraderie and a sizeable prize payout, this last stop of 2023 will crown the new 2023 Team of the Year (TOY) and finalize the roster for the 2024 World Walleye Championship in Alpena, MI on Lake Huron. Current standings for the TOY race have Tony Karrick, Elgin, IL and Sam Cappelli Poland, Ohio in the lead for their first MWC TOY title.  2020 TOY Adam Hume, and Mike Carner, Oscoda and Greenbush, MI are four points back in second place trying for their second set of TOY trophies. Four points behind them in third place is Wayne Butz, Abrams, WI and Joseph Sommers, Stevens Point, WI the reigning TOY from 2022, chasing back-to-back TOY titles which is very hard to do. Fourth place is Peter Mart, Utica, MN and Dave Lester, Onalaska, WI and rounding out the top five is Tom and Scott Albrecht from Big Stone City, SD and Fridley, MN. Anyone in the top 10 could move up to take the title, so Cass Lake will decide it all.
Under the umbrella of The Walleye Federation (TWF), the Bass Pro Shops and Cabela's Masters Walleye Circuit is North America's longest-running and undisputed leader in team walleye tournaments and as an inductee into the freshwater fishing hall of fame, has set the standard for competitive walleye fishing for the past 39 years and has directly donated hundreds of thousands and helped raise millions of dollars to support walleye & conservation programs nationwide. The MWC is open to walleye anglers from all walks of life and always pays back more than 100% of entry fees in cash and prizes each season. The 2024 schedule is announced and includes seven qualifiers in six states, including events at Spring Valley, IL. Chamberlin, SD, Oshkosh, WI, Au Gres, MI, Geneva, OH, and Cass Lake, MN, plus a berth into the 2025 Bass Pro Shops and Cabela's MWC World Walleye Championship, make plans now to fish MWC in 2024!
Bass Pro Shops & Cabela's – The World's Foremost Outfitters, are in their 22nd season as the title sponsor of the Masters Walleye Circuit. Official sponsors include: Lowrance Electronics, Mercury Marine, Ranger Boats, and Dakota Lithium Batteries. Associate sponsors include: The Walleye Federation, Church Tackle, FishLab, Okuma, Power-Pole and T-H Marine. For more information, or to sign-up visit the MWC website at www.masterswalleyecircuit.com or call the national office at 580-765-9031 or email support@masterswalleyecircuit.com.
###