Minnesota Natives Maki and Bricko Win the Final 2023 MWC Qualifier on Cass Lake Presented by Lowrance
Cass Lake, Minn. – September 19th, 2023 – The final stop of the 2023 Bass Pro Shops and Cabela's Masters Walleye Circuit (MWC) season went out with a bang. The weather was absolutely perfect for a big fish bite in northern Minnesota on the Cass Lake chain. Low temperatures at night dropped into the upper 40s and daytime temperatures made it into the low 60s which in turn had the water cooling just slightly. This is exactly what the teams needed to get those walleyes fired up. Up for grabs was a whopping tournament purse of $66,425.50, $14,849 of that guaranteed minimum to first place. One team of northern Minnesota natives figured out just how to put the right combination of over 20 inchers and under 20s in the boat to take home the win at this 2023 MWC regular season finale, presented by Lowrance.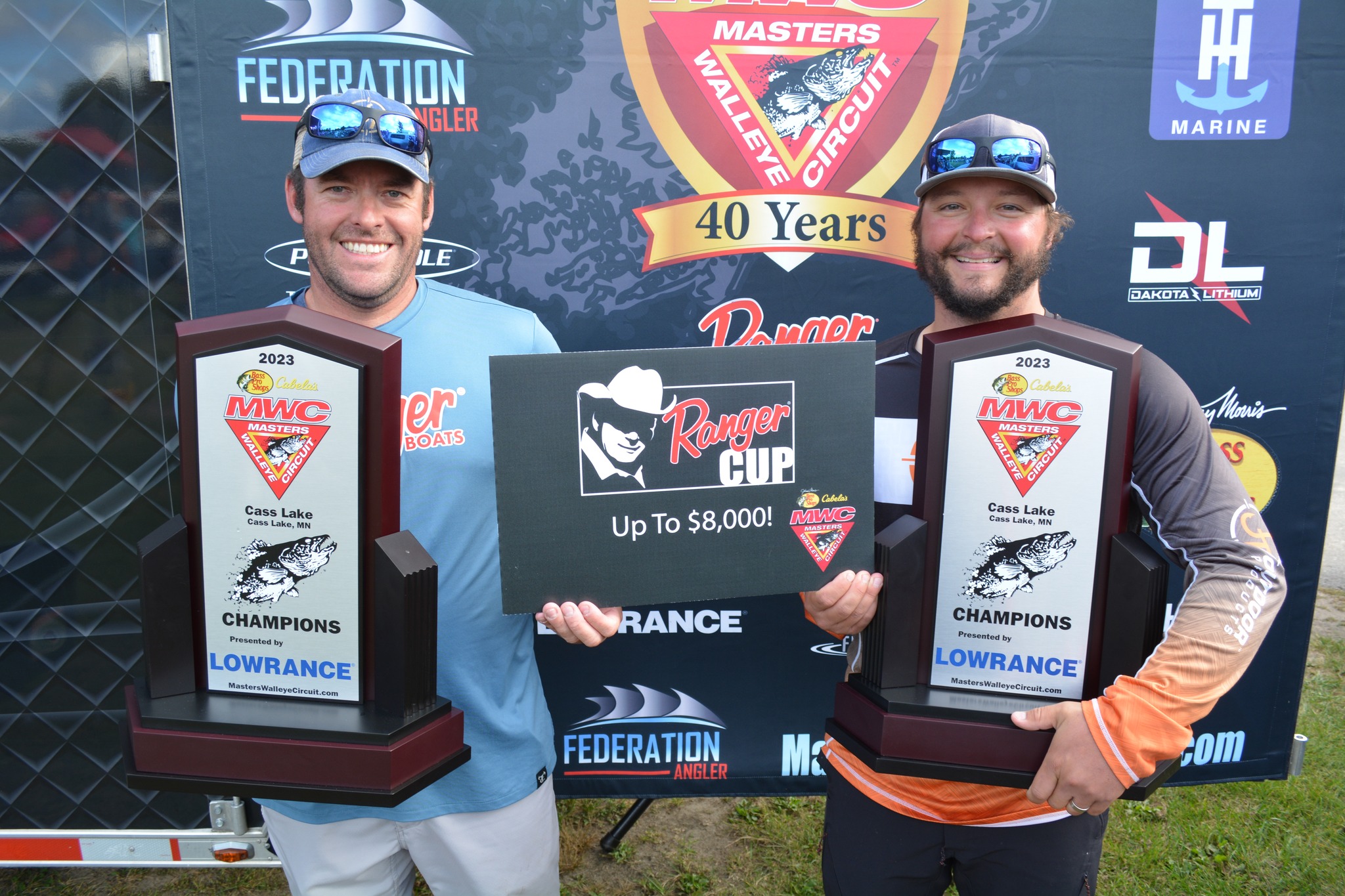 A lot of teams concentrated on certain structures and finding areas with a lot fish and targeted those areas. Tournament champions Dylan Maki (Cohasset, MN) and Joe Bricko (Woodbury, MN) took a slightly different approach and decided to not just find those fish and wait for them to eat, they took the game to the fish. Using forward facing sonar and their bow mounted trolling motor, the team moved across many different structure areas ranging from five feet of water to over 20 feet deep just cruising and covering water. "Our approach was to put as many baits in front of as many fish as possible. We used a variety of baits but pitching glides and slip bobbers with live bait right on top of fish was the ticket. We covered a lot of water and caught a lot of fish. It was a great time on the water!" said Bricko after the event. Bricko and Maki came in with a solid bag of five walleyes on day one weighing in at 20-02 lbs. Only the team of Tyler Wolden (Carlos, MN) and Nate Leininger (Miltona, MN) brought in a bigger bag on the first day weighing in a 20-10 lbs. On day two Maki and Bricko brought in another great sack totaling 20-01 lbs. that gave them a huge two-day total of 40-03 lbs. That weight secured their win and a first-place check of $10,100, first place option pot bonus of $3,685, a Lowrance Ghost trolling motor valued at $3,749, the $8,000 Ranger Cup Bonus, a $1,000 NTC Prize Package, for a grand total of $26,534.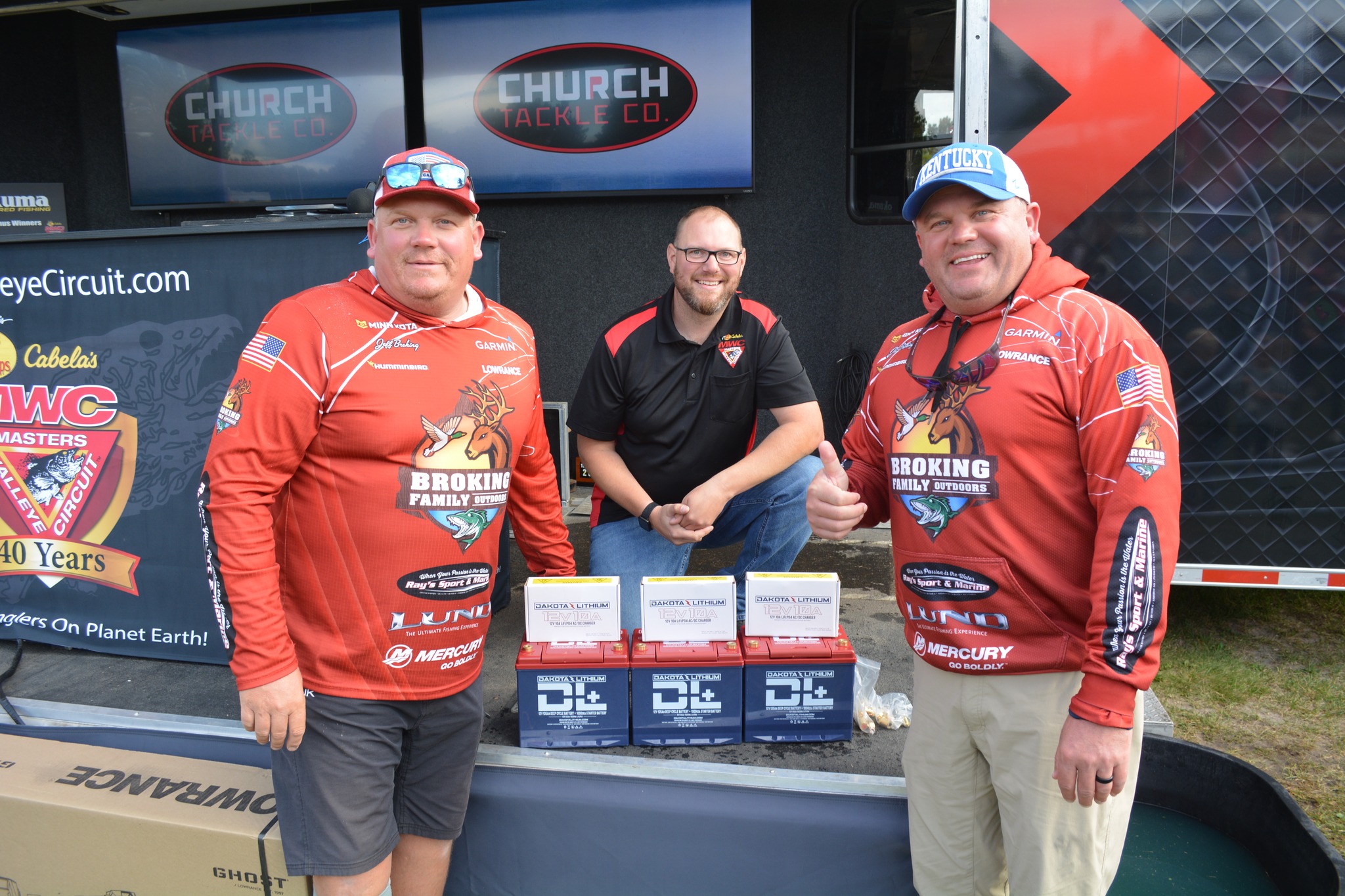 Let's see how the rest of the top 5 teams finished in Cass Lake:
2nd Tyler Wolden and Nate Leininger 39-07 lbs. $5,200 cash and $2,656 Option Pot cash
3rd Chuck Hasse, Walker, Mn and Randy Topper, Cohasset, MN 37-14 lbs. $3,575 cash and $1,682 Option Pot cash
4th Mic Wetzel, Little Falls, MN and Neal Nelson, Stacy, MN 37-11 lbs. $2,520 cash and Okuma Reels Bonus
5th Andrew Soderholm and Greg Endres, both from Alexandria, MN 36-13 lbs. $2,130 cash and $1,022 Option Pot cash
The Dakota Lithium Come-Back award was presented to Joe and Jeff Broking (Grand Rapids, MN). They went from 41st place on day one to 21st place on day two. A jump in the standings of 20 places that earned them three (3) 135ah deep cycle/marine starting/trolling motor batteries along with chargers, totaling $4,296. The team of Zac Christenson (Cambridge, MN) and Toby Kvalevog (Brainerd, MN) finished in 9th but picked up the Lowrance HDS Pro Bonus worth $1,000.
The anglers, their families, and the staff of the MWC would like to thank Stony Point Resort for hosting this year's final event and for their hospitality during their stay on Cass Lake. Stony Point Resort has become a regular stop on the MWC trail that everyone looks forward to attending each year. We encourage anyone looking for a great family getaway or planning your next fishing adventure to check out Stony Point Resort for your next vacation.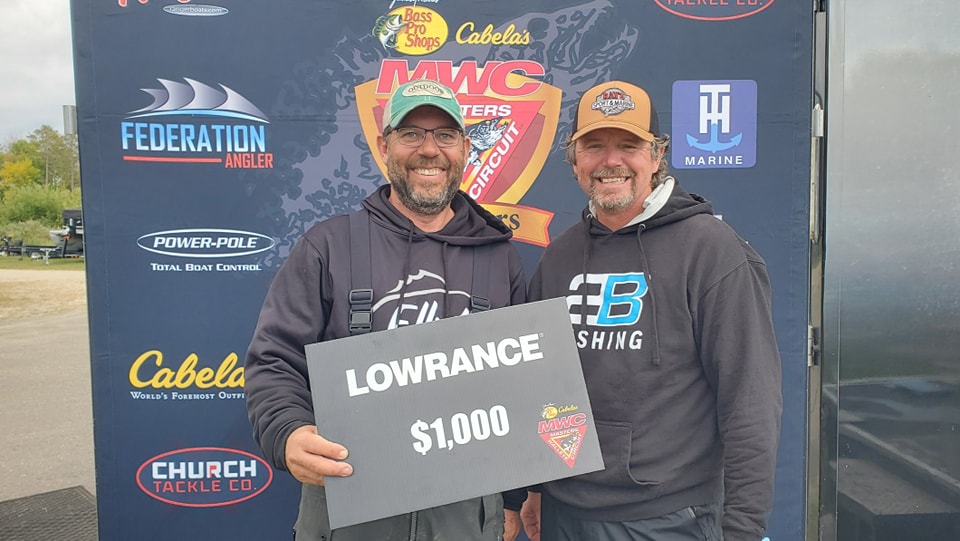 Under the umbrella of The Walleye Federation (TWF), the Bass Pro Shops and Cabela's Masters Walleye Circuit is North America's longest-running and undisputed leader in team walleye tournaments and as an inductee into the freshwater fishing hall of fame, has set the standard for competitive walleye fishing for the past 39 years and has directly donated hundreds of thousands and helped raise millions of dollars to support walleye & conservation programs nationwide. The MWC is open to walleye anglers from all walks of life and always pays back more than 100% of entry fees in cash and prizes each season. The 2024 schedule is announced and includes seven qualifiers in six states, including events at Spring Valley, IL. Chamberlin, SD, Oshkosh, WI, Au Gres, MI, Geneva, OH, and Cass Lake, MN, plus a berth into the 2025 Bass Pro Shops and Cabela's MWC World Walleye Championship, make plans now to fish the MWC in 2024!
Bass Pro Shops & Cabela's – The World's Foremost Outfitters, are in their 22nd season as the title sponsor of the Masters Walleye Circuit. Official sponsors include: Lowrance Electronics, Mercury Marine, Ranger Boats, and Dakota Lithium Batteries. Associate sponsors include: The Walleye Federation, Church Tackle, FishLab, Okuma, Power-Pole and T-H Marine. For more information, or to sign-up visit the MWC website at www.masterswalleyecircuit.com or call the national office at 580-765-9031 or email support@masterswalleyecircuit.com.
###