Sanderson and Pavel Grind it out on Lake Francis Case for the Win
Presented by Dakota Lithium Batteries
Wagner, SD – August 27th, 2023 – From the very beginning of practice, the "Toughest Anglers on Planet Earth" that came to battle it out on Lake Francis Case in South Dakota knew their mettle would be tested to the extreme. There were 84 anglers that came from seven states across the walleye belt to compete for $38,032 in cash and prizes during the sixth stop of the Bass Pro Shops and Cabela's Masters Walleye Circuit (MWC), presented by Dakota Lithium Batteries. Upon arrival the teams were greeted with a heat wave that would rival temps found on the equator. With heat indexes soaring into the 120-degree range, these MWC teams put their noses to the grindstone and poured out everything they had to bring their best fish across the scales.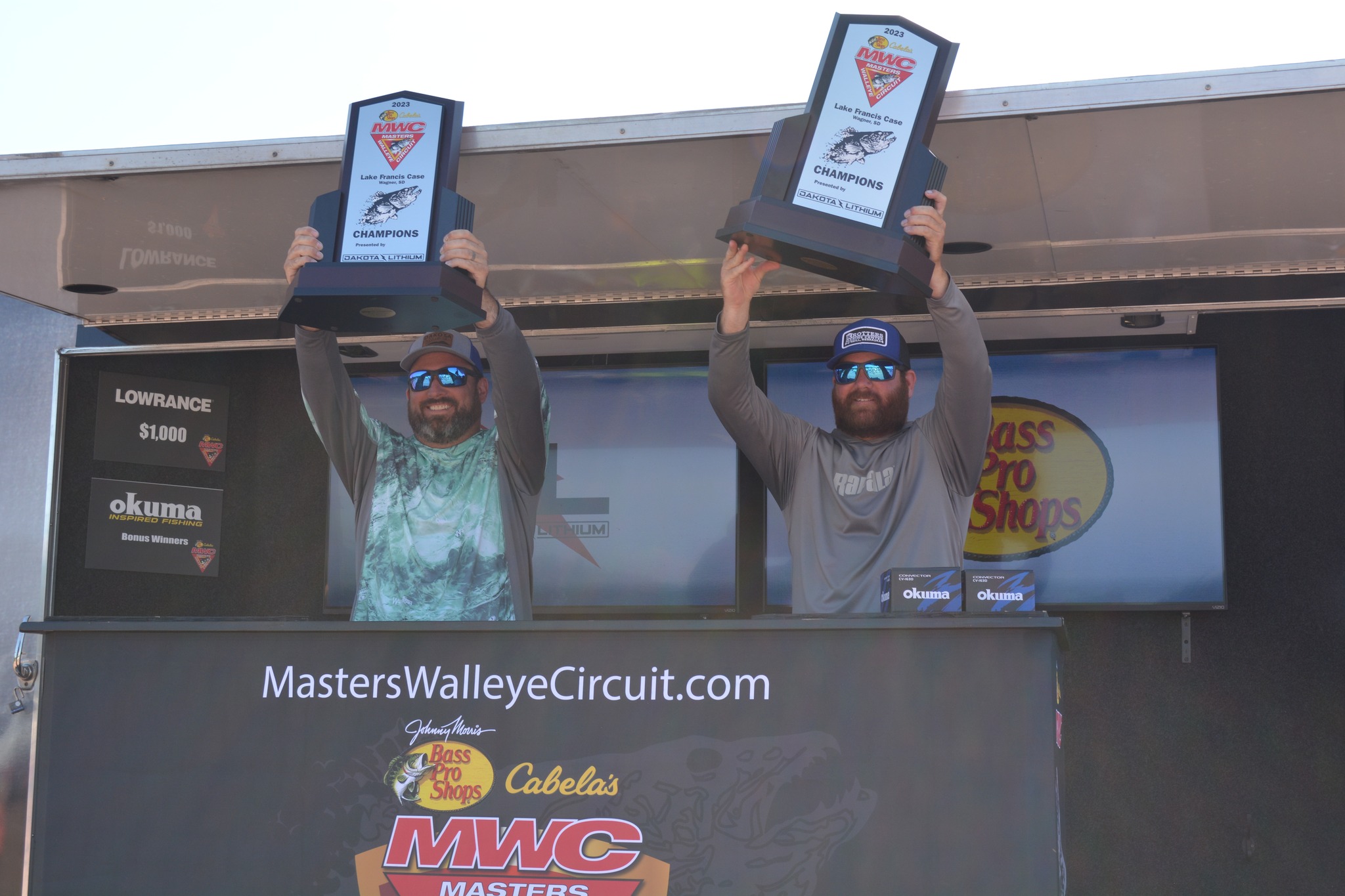 On day 1 of the tournament, temperatures had subsided a little from the previous week but still left the anglers battling ambient temperatures sitting in the mid 90's. "It took a lot of patience to figure these fish out and make them want to eat.", said Tim Sanderson and Brady Pavel from Bonesteel, SD. "It was frustrating at times seeing so many fish suspended in the tops of the submerged trees and they wouldn't eat. We decided to just grind it out in hopes a few would bite. We trolled the entire tournament pulling bottom bouncers with worm harnesses through the tops of the trees. It wasn't a fast bite but it all worked out in the end given the conditions we've faced over the past week."
Pavel and Sanderson brought 9-00 lbs. of walleyes to the scales on the first day of the tournament. That was enough to land them in second place right on the heels of the day one leaders, Cody Wasylow and Derick Berhow who had 9-01 lbs. On the second day anglers were greeted with a minor cold front that dropped the temps another 10 degrees and made the fishing conditions a little more tolerable. Pavel and Sanderson stuck to with their game plan from the previous day and were able to pull off the win with a sack of walleyes weighing 8-12 lbs. that would give them a grand two-day total of 17-12 lbs. and crown them champions on Lake Francis Case in South Dakota. With this win Pavel and Sanderson took home a nice check worth $8,500, a $1,000 NTC prize package that includes a paid spot in the 2024 NTC, custom NTC Jerseys, custom NTC Qualifier Plaques, and a cash travel stipend, and two Okuma reels worth $200.
Here's a look at how the rest of the top 5 teams did in South Dakota:
2nd Skip Young and Cody Palmer 17-02 lbs. $4,150 cash
3rd Mike Dorris and Douglas McDonough 16-13 lbs. $2,750 cash and $2,716 option pot cash
4th Tom and Scott Albrecht 16-09 lbs. $2,000 cash and $2,037 option pot cash
5th Alex Surrell and Brian Moen 16-01 lbs. $1,716 cash and $1,358 option pot cash
The Dakota Lithium Come-Back award went to Ryan Thompson and Ryan Neddo. They went from 27th place on day one to 13th place on day 2.  A jump in the standings that earned them three (3) 135ah deep cycle/marine starting/trolling batteries with chargers, totaling $4,296.
The MWC staff, anglers and their families would like to extend a very heartfelt thank you for the support from the Wagner, Pickstown, and Lake Andes community for welcoming our event into your communities. A special thank you also goes out to the South Dakota Game, Fish, and Parks and Rivina Fire Department for the help setting up and making this event a success.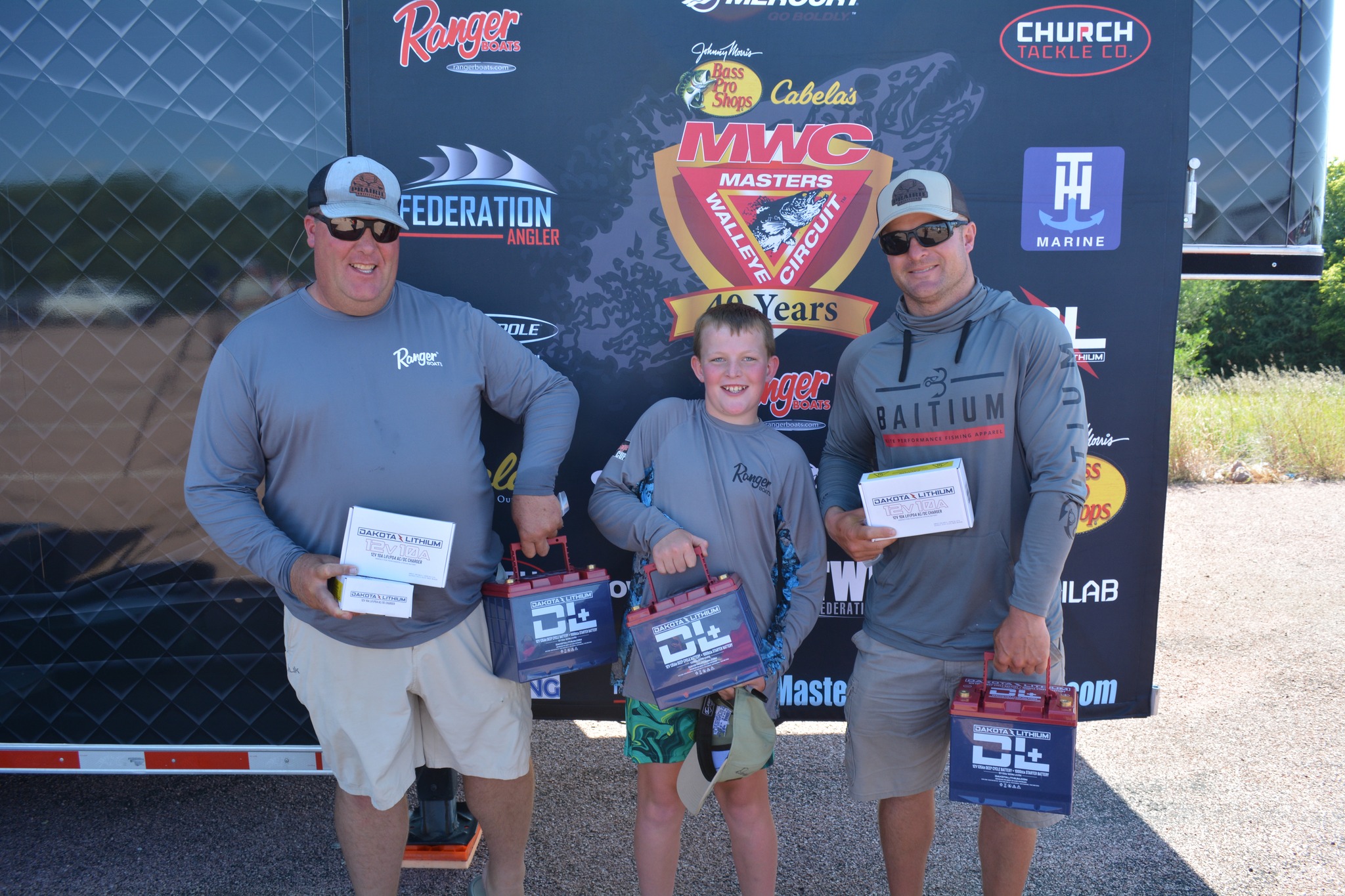 The Team of the Year (TOY) race is heating up as the MWC heads into its final event of the 2023 season up in Cass Lake, Minnesota on September 15th and 16th. Tom and Scott Albrecht's finish at Lake Francis Case will give them a much-welcomed bump in the standings and give them a shot at the TOY title. The current TOY leaders are Tony Karrick and Sam Cappelli looking for their first MWC TOY title. Wayne Butz and Joseph Sommers, the 2022 TOY along with Adam Hume and Mike Karner who are in the hunt for their 2nd TOY title in the past four years are hot on their tails. The event in Cass Lake will crown the top team of the 2023 Bass Pro Shops and Cabela's Masters Walleye Circuit season.
There is still time to sign up for the final qualifying event of the season at Cass Lake, MN on September 15th and 16th. The Cass Lake area around Stoney Point Resort is a beautiful location to bring families up to enjoy the gorgeous scenery and great walleye and perch fishing the chain has to offer. A win here will give some team a free entry into the National Team Championship (NTC) on Lake Erie in 2024. Registration for this event is open until Monday, September 11th. Anglers can register by visiting masterswalleyecircuit.com.
Under the umbrella of The Walleye Federation (TWF), the Bass Pro Shops and Cabela's Masters Walleye Circuit is North America's longest-running and undisputed leader in team walleye tournaments and as an inductee into the freshwater fishing hall of fame, has set the standard for competitive walleye fishing for the past 39 years and has directly donated hundreds of thousands and helped raise millions of dollars to support walleye & conservation programs nationwide. The MWC is open to walleye anglers from all walks of life. The 2023 schedule includes seven qualifiers in six states, plus a berth into the 2024 Bass Pro Shops and Cabela's MWC World Walleye Championship.
Bass Pro Shops & Cabela's – The World's Foremost Outfitters, are in their 22nd season as the title sponsor of the Masters Walleye Circuit. Official sponsors include: Lowrance Electronics, Mercury Marine, Ranger Boats, and Dakota Lithium Batteries. Associate sponsors include: The Walleye Federation, Church Tackle, FishLab, Okuma, Power-Pole and T-H Marine. For more information, email support@masterswalleyecircuit.com, or call (580) 765-9031.