Whitson, Campeau Win Cabela's Masters Walleye Circuit Detroit River Tournament
Presented by Ranger Boats
Trenton, Mich.—April 8, 2017—Ontario's Greg Whitson and Mark Campeau rallied to score an exciting come-from-behind win at the Cabela's Masters Walleye Circuit's Detroit River regular season qualifier April 7-8 out of scenic Elizabeth Park in Trenton, Michigan.
"This is great," said Whitson, of Windsor. "This is our seventh time fishing the MWC at Detroit. Mark and I grew up on Pike Creek on Lake St. Clair near the Detroit River, and we've always wanted to win one on our home waters."
Whitson and Campeau are no strangers to success on the Circuit. In addition to numerous money finishes, they won the 2015 Cabela's MWC World Walleye Championship on Lake Erie, and the 2015 MWC qualifier on Lake Michigan's Bays de Noc out of Escanaba.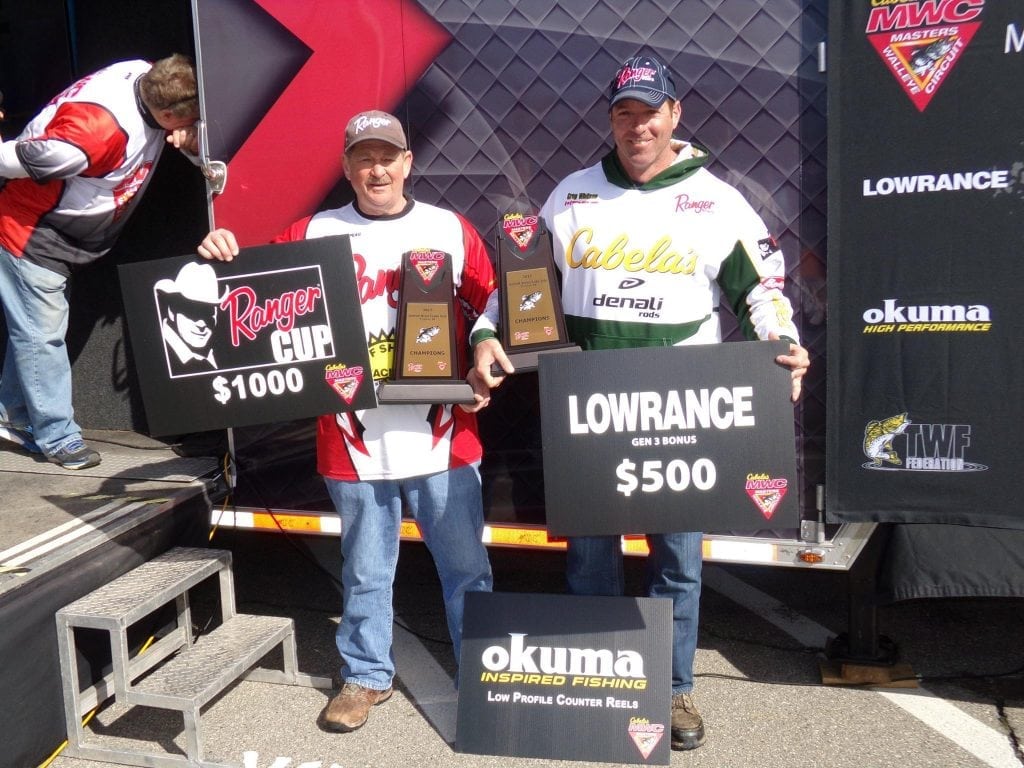 Whitson and Campeau, of St. Joachim, found themselves in seventh on day one after boating three walleyes for 9 pounds, 6 ounces. "Teams were restricted to fishing the river due to high winds on Lake Erie," Whitson explained. "The river was super muddy from two days of rain flushing runoff down from Lake St. Clair. We tried jigging a little but then switched to handlining chartreuse-yellow and chrome minnowbaits off the south end of Grosse Ile Island in 13 to 18 feet of water."
On day two, smoother sailing put Erie in play. "We trolled green, chrome and orange deep-running minnowbaits 1.3 to 1.5 mph in 10 to 14 feet of water in Brest Bay," said Whitson. "We focused on stained areas because they had the warmest water we could find—up to 47 degrees." The tactics yielded four fish weighing 26 pounds, 4 ounces, which gave them a 35-pound, 10-ounce total weight and propelled them to the top of the MWC leaderboard.
They collected more than $15,300 in cash and prizes for their comeback exploits, including the $9,000 first-place cash payout, $1,000 Ranger Cup bonus, $500 Lowrance Electronics contingency, $500 AirWave certificate, $200 Okuma Reel bonus and a $1,000 Cabela's National Team Championship Prize Package including paid entry into the 2017 NTC, travel stipend, team jerseys and plaques.
Rounding out the top five were:
2nd: Steve and Dan Bodinger, 27-08, $4,500 plus $2,340 cash from the option pot
3rd: Joe Wickey and James Calvisky, 26-15, $3,000
4th: Mike Dorris and Brian Tordsen, 21-15, $2,200
5th: Witold Niemiec and Wojciech Czykier, 21-14, $1,900
In all, the Cabela's MWC awarded $42,148.50 in cash and prizes.
A total of 126 walleyes weighing 467 pounds, 13 ounces crossed the scale at Elizabeth Park during the event. Adding to the fun, the Cabela's MWC and National Professional Anglers Association presented a Youth & Family Fishing Clinic immediately after the day-one weigh-in, with participating youths receiving rod-and-reel combos courtesy of the NPAA.
Under the umbrella of The Walleye Federation (TWF), the Cabela's MWC is open to avid walleye anglers from all walks of life. The 2017 schedule includes seven qualifiers in five states and includes a diverse selection of rivers, inland lakes and Great Lakes fisheries representing North America's top walleye destinations.
Cabela's, the World's Foremost Outfitter for hunting, fishing and outdoor gear, is entering its 16th season as title sponsor of the MWC. Official sponsors include: Lowe Equipment Attachments, Lowrance Electronics, Mercury Marine, Ranger Boats and The Walleye Federation. Associate sponsors include: AirWave Pedestals, Bagley Baits, Church Tackle, G-Juice, MotorGuide and Okuma. For more information, email info@masterswalleyecircuit.com, or call (580) 765-9031.
###