Escanaba, Mich.—August 1, 2015—Ontario, Canada's Greg Whitson and Mark Campeau fought their way up the leaderboard from ninth place on day one into a tie for first place—and then won the tiebreaker to capture an emotional victory at the Cabela's Masters Walleye Circuit's Bays de Noc tournament presented by MotorGuide out of Escanaba, Michigan, July 31-August 1.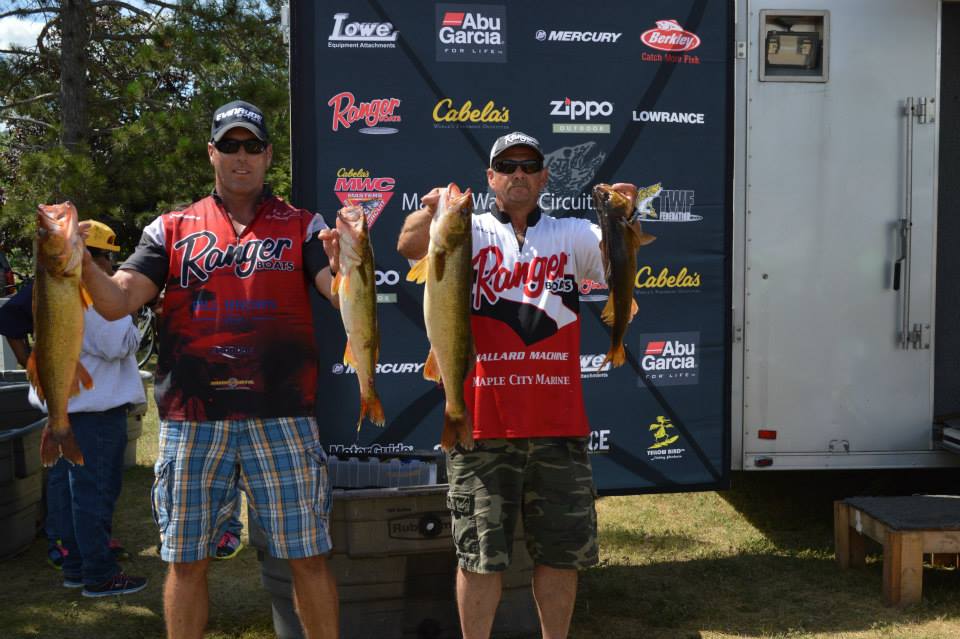 "This is unbelievable," said a shell-shocked Whitson, of Windsor, moments after he and Campeau claimed their first MWC victory in six seasons of competition. "It's been a long time coming. We've been close a number of times, and now we finally get to come home with our heads held high."
"It's very satisfying to win one—especially where we never expected it to happen," added Campeau, of St. Joachim, explaining that Lake Erie is closer to home, and this end of Lake Michigan has challenged them during previous tournaments. "But this time around, we caught more fish at Bays ds Noc the past two days than we've taken during prefishing events the previous three years."
On day one, they bagged a beefy 5-fish limit weighing 25 pounds, 2 ounces, which landed them in ninth place. They followed up on day two with a 26-pound, 15-ounce limit for a 52-pound, 1-ounce total.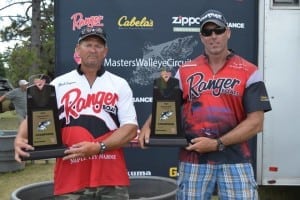 Michigan's Jamie Tourangeau and Ross Neubauer, who had been in eighth place on day one, equaled that benchmark with 52-1 two-day weight of their own.
According to Cabela's MWC tiebreaking rules, the decision went to Whitson and Campeau for bringing the most live walleyes to the scale. The Canadians had the edge with 10 live fish, compared to nine for Tourangeau and Neubauer.
"I have to credit our Ranger livewell," said Whitson. "Before we made our run to the weigh-in on day two, we were concerned whether a few of our fish were going to make it. But when we got to the dock, they just about jumped out of the livewell."
Both days, Whitson and Campeau trolled purple and yellow spinner rigs behind ½- and 1-ounce inline sinkers over small humps in nine to 21 feet of water off Peninsula Point. They said trolling speeds of 1.4 to 1.5 mph were key, as slower paces didn't trigger Bays de Noc's walleyes into striking.
The win was worth $12,000 including $9,300 in cash plus the $1,000 Ranger Cup contingency, $500 Lowrance Electronics bonus, $200 Okuma award and a $1,000 Cabela's National Team Championship Prize Package, including paid entry into the 2016 NTC, travel stipend, team jerseys and plaques.
Rounding out the top five were:
2nd: Jamie Tourangeau, Ross Neubauer, 52-01, $4,650 cash plus $3,220 from the option pot
3rd: Dan Johnson, Larry Rhoads, 50-01, $3,150 cash plus $2,415 from the option pot
4th: Wayne Van Dyke, Erich Carlson, 49-10, $2,400 cash plus $1,610 from the option pot
5th: Glenn and Carol Chenier, 48-05, $1,900 cash plus $805 from the option pot
All of the top five places earned 2016 Cabela's National Team Championship bids. Derek Navis and Korey Sprengel won the Abu Garcia reel bonus and $200 Zippo Hot Hand Award for big fish of the event, an 11-pound, 2-ounce walleye.
A "Lucky Dog" drawing awarded another coveted Cabela's NTC bid to Ben Spriks and Lloyd Gilberston. And the Comeback Award, sponsored by local businesses Bay Bank, First Bank, Gladstone DDA, Edward Jones, Citgo and Holiday, earned Derek Parker and Jim Passo a $75 gift card plus $500 in cash for jumping 24 spots from 42nd up to 18th place.
In all, the Cabela's MWC awarded a payback of $44,680 in cash and prizes.
The Bays de Noc tournament also provided the stage for the Michigan State Walleye Championship.
Al Szoke, of Grosse Ile, and Kevin Yancey, of Newport, claimed the crown by accumulating the most points between the MWC's Detroit River and Bays de Noc qualifiers. The title comes with a $1,000 prize package including custom trophies, custom State Champions rings by Tight Lines Jewelry, a berth in the Cabela's NTC, decals and a spot on the MWC website's Wall of Fame.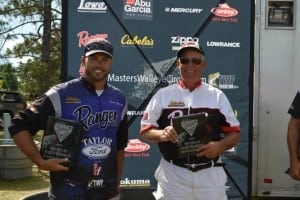 Weigh-ins were held at scenic Gladstone Harbor. The 60 teams brought a total of 395 walleyes weighing 1,877 pounds, 4 ounces to the scale during the event, including 46 five-fish daily limits. The Cabela's MWC, National Professional Anglers Association, Pure Fishing and Zippo Outdoor Brands presented a Youth & Family Fishing Clinic immediately after the day-one weigh-in, with participating youths receiving rod-and-reel combos courtesy of the NPAA.
Under the umbrella of The Walleye Federation (TWF), the Cabela's MWC is open to avid walleye anglers from all walks of life. The 2015 schedule spans nine states and includes 11 regular-season qualifiers plus the 2015 World Walleye Championship.
Cabela's, the World's Foremost Outfitter for hunting, fishing and outdoor gear, is in its 14th season as title sponsor of the MWC. Official sponsors include: Berkley Gulp!, Abu Garcia, Lowe Equipment Attachments, Lowrance Electronics, Mercury Marine, Ranger Boats, MotorGuide, The Walleye Federation and Zippo Outdoor Brands. Associate sponsors include: Yellow Bird Fishing Products, Okuma, T-H Marine and Tight Lines Jewelry. For more information, visit masterswalleyecircuit.com, email info@masterswalleyecircuit.com, or call (580) 765-9031.
###