Cabela's Masters Walleye Circuit's Reigning Team of the Year Koester and Rhodes Excited for Season Ahead
Ponca City, Okla.—Feb 3, 2015—After spending the winter months savoring the accomplishment of claiming prestigious 2014 Team of the Year honors on the Cabela's Masters Walleye Circuit, Jeff Koester and Scott Rhodes are eagerly awaiting a chance to defend their title on the 2015 trail.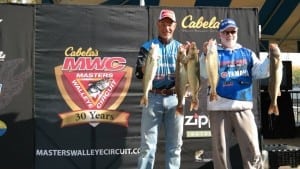 "We're definitely excited about the year ahead," said Rhodes, of Interlochen, Michigan. "Right now we're still deciding which events to enter." He was quick to note that the Cabela's MWC's schedule, which has expanded to 11 qualifiers on world-class walleye waters spread across nine states, offers anglers a host of options to ponder before marking their calendars.
"With more choices, plus a few changes in timing and locations, we've got a lot to consider," he said. "A lot of it boils down to what dates work out for us, the waters we're best suited to, and the time of year the event is being held." While he and Koester's schedule wasn't yet set in stone, Rhodes said the annual March tournament on the Illinois River at Spring Valley, Illinois, would be difficult to pass up. "After winning there in 2014, it would be hard not to go back," he said.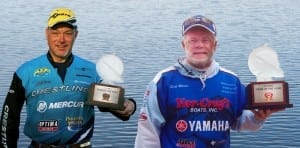 Koester, of Brookville, Indiana, is still getting used to the idea of winning Team of the Year. "It's still sinking in," he said. "Consistently putting three or four good finishes together against the caliber of anglers on the MWC is an incredible challenge."
Rhodes agreed. "Winning Team of the Year was a milestone for us," he said. Which is no small statement, considering the circuit veterans are past Cabela's MWC World Walleye Champions, scored wins at a pair of MWC Walleye Madness events, and took top honors at the 2014 Spring Valley qualifier.
Looking ahead, Koester shared Rhodes' anticipation for the 2015 tournament season. "I'm looking forward to defending our title," he said. Toward that end, the team is busy rigging a new boat with the latest in walleye weaponry, including Mercury outboards and Optima batteries, and wrangling a mountain of tackle for the battles to come. "In the celebration over winning Team of the Year last fall, putting everything away in a real organized manner wasn't a top priority," he laughed. "We've got some work to do."
While the thrill of competition and chance to win thousands in cash and prizes is a compelling combination, both anglers note that one of the biggest benefits of fishing the Cabela's MWC remains the camaraderie shared between so many of the teams. "Winning titles and tournaments is great, but just getting away from work and hanging out with friends we've made over the years is what we really look forward to," Rhodes explained.
Under the umbrella of The Walleye Federation (TWF), the Cabela's MWC is open to avid walleye anglers from all walks of life. Registration for all events opened January 2, 2015. For more information, check back often at www.masterswalleyecircuit.com as season info is regularly updated.
Cabela's, the World's Foremost Outfitter for hunting, fishing and outdoor gear, is entering its 14th season as title sponsor of the MWC. Official sponsors include: Berkley Gulp!, Abu Garcia, Lowe Equipment Attachments, Lowrance Electronics, Mercury Marine, Ranger Boats, The Walleye Federation and Zippo Outdoor Brands. Associate sponsors include: Yellow Bird Fishing Products, Okuma, and T-H Marine. For more information, visit masterswalleyecircuit.com, email info@masterswalleyecircuit.com, or call (580) 765-9031.
###