Cabela's Masters Walleye Circuit Kicks Off
2015 Tournament Season On Stockton Lake March 6-7
Presented by The Walleye Federation
Ponca City, Okla.—Feb. 13, 2015—High-stakes, professionally run walleye tournament action descends on Missouri's legendary Stockton Lake March 6-7 as the Cabela's Masters Walleye Circuit kicks off its 31st season of exciting team-format walleye competition.
Part of an expanded lineup of world-class walleye destinations for the 2015 season, the Stockton tournament is timed to allow competitors to enjoy epic fishing for schools of spawn-minded walleyes gathered around tributaries and main-lake spawning grounds. "The first week of March is prime time on Stockton," says Cabela's MWC Senior Tournament Director Dan Palmer. "We're expecting teams to bring in plenty of limits, including trophies into the teens."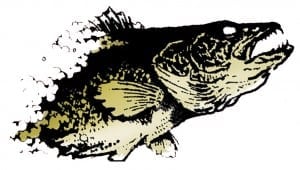 While the Circuit has opened its season on the Illinois River at Spring Valley, Illinois, for the past 28 seasons, the Stockton event was added for 2015 to give tournament anglers across the Walleye Belt an even earlier shot at great fishing, intense competition and the chance to win thousands in cash and prizes. "The Illinois is still a world-class fishery," Palmer noted. "And we're going back there March 20-21."
In all, the 2015 Cabela's MWC schedule spans nine states and includes 11 regular-season qualifiers plus the 2015 World Walleye Championship. Adding to the excitement, all Cabela's MWC tournaments will be designated as "State Championship Qualifying Events." Teams from the state where the event is held are eligible, along with teams from a state not hosting an MWC event in 2015 (provided at least 10 teams from their state are competing in the event). Besides bragging rights, state champions will earn, at minimum, custom trophies, decals, a berth in the Cabela's NTC, and a spot on the MWC website's Wall of Fame.
Palmer acknowledged that Stockton is new territory. "We knew when we put Stockton on the schedule that it wouldn't be one of our larger events," he said. "But we wanted to expose an entirely new segment of walleye anglers to the MWC and our sponsors. There are some great walleye sticks in that part of the country, and I'm hoping some of them will join the MWC at additional events this season. Heading to Stockton also gives our faithful, longtime teams a chance to get out of the house, fish a new body of water and earn a last-chance qualifier spot in the 2015 NTC."
At Stockton, two-person teams will be allowed to weigh five walleyes, saugers or saugeyes measuring 15 inches and over each day, and the team with the heaviest two-day total weight will be crowned the tournament champions.
The Cabela's MWC offers lucrative payouts. For example, in 2014 the Circuit rewarded anglers with a total payback of more than 127 percent. Payouts are based on the number of teams entered in each event. Plus, the MWC Big Fish Pot and sponsor bonuses add thousands more to the total. As an added incentive, the first-place team will win a $1,000 Cabela's National Team Championship Prize Package including paid NTC entry, travel stipend, team jerseys and plaques.
The public is invited to the Stockton Lake weigh-ins, which begin at 3 p.m. daily at Orleans Trail Resort and Marina. The Cabela's MWC, National Professional Anglers Association, Pure Fishing and Zippo Outdoor Brands will present a Youth & Family Fishing Clinic immediately after the day-one weigh-in. The first 50 youths will receive rods and reel combos courtesy of the NPAA.
Under the umbrella of The Walleye Federation (TWF), the Cabela's MWC is open to avid walleye anglers from all walks of life. Registration for all events is now open. Registration for the Stockton tournament closes at 5:45 p.m. March 5, the evening of the Rules Meeting.
Cabela's, the World's Foremost Outfitter for hunting, fishing and outdoor gear, is entering its 14th season as title sponsor of the MWC. Official sponsors include: Berkley Gulp!, Abu Garcia, Lowe Equipment Attachments, Lowrance Electronics, Mercury Marine, Ranger Boats, The Walleye Federation and Zippo Outdoor Brands. Associate sponsors include: Yellow Bird Fishing Products, Okuma, and T-H Marine. For more information, visit masterswalleyecircuit.com, email info@masterswalleyecircuit.com, or call (580) 765-9031.
###