Sault Ste. Marie, Mich.—August 26, 2017—Pickford, Michigan's Tom Taylor and Keith McDonald came out swinging and never let up to win the Cabela's Masters Walleye Circuit's regular-season finale on the St. Marys River presented by Ranger Boats August 25-26.
The pair put the rest of field on the ropes with a 5-fish, day one limit weighing 23 pounds, 2 ounces, which landed them solidly atop the leaderboard. They followed up with a 26-pound, 1-ounce knockout punch on day two for a 49-pound, 3-ounce total that put them more than 10 pounds ahead of their closest competitors.
"I'm so ecstatic, I can't quit shaking," said Taylor, seconds after claiming victory in front of a roaring crowd gathered riverside at Aune Osborn Boat Launch. "It's pretty awesome," added McDonald. "When we got our second big fish today I told Tom 'there's the tournament—unless somebody else really gets them.'"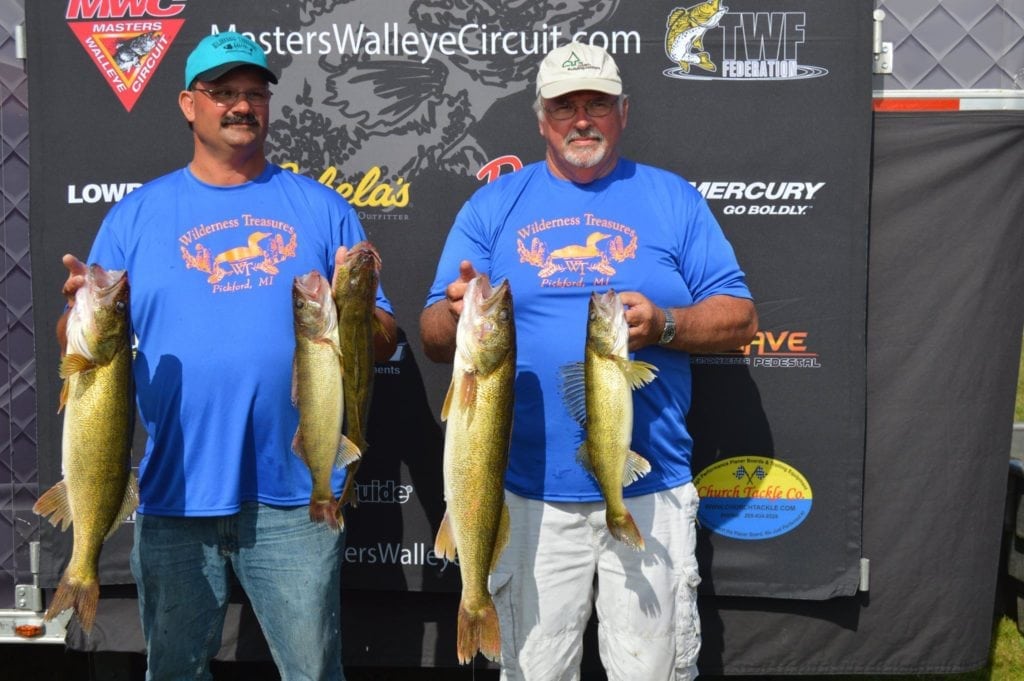 Taylor and McDonald's plan of attack included trolling beefy, deep-diving stickbaits from 2 to 3 mph over weedtops in a protected bay off the main channel that still had enough current to attract hungry 'eyes.
"We targeted depths of 14 to 16 feet in the St. Joe's Channel area about 30 miles downriver from the launch site," said Taylor, who confided that black-and-silver and "wonderbread" pattern lures trolled against the current drew the most strikes. The baits ran on a relatively short leash of 12-pound monofilament, trailing 20 to 25 feet behind the team's inline planer boards. "The weeds topped out about nine feet down, and we wanted to just tick the tops of them," Taylor explained.
McDonald noted that their boards were set 60 and 80 feet off the sides of the boat, a distance the team believed helped keep their boat from spooking the fish. "It was flat calm and sunny both days, which made us a little nervous about fishing so shallow," McDonald said.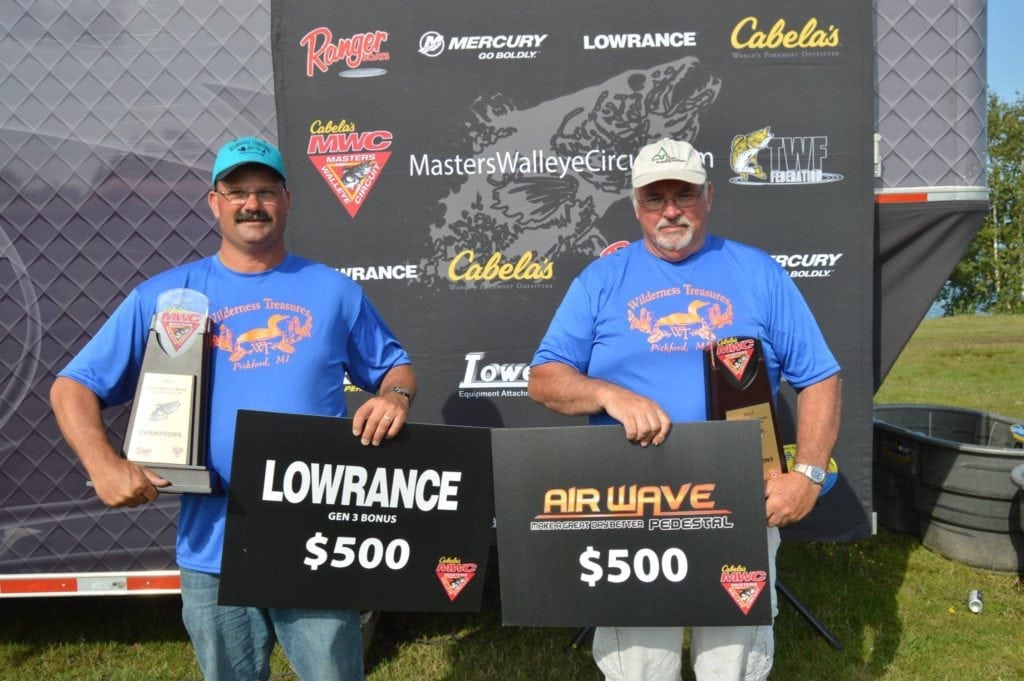 Taylor and McDonald collected $11,124.00 in cash and prizes, including the $8,100 first-place cash payout, $500 Lowrance Electronics bonus, $500 AirWave certificate and $1,024 from the Big Fish Pot. They also won a $1,000 Cabela's National Team Championship Prize Package including paid entry into the 2018 NTC, travel stipend, team jerseys and plaques.
Rounding out the top six teams were:
2nd: Jason Doyon, Shane Turcotte, 38-06, $4,050 plus $3,000 in cash from the option pot and the $200 Okuma Reel bonus
3rd: Jacob Trombley, Peter Schaefer, 34-00, $2,700
4th: Dane Stanaway, Josh Gordon, 33-11, $2,100 plus $2,219 in cash from the option pot
5th: Steve Velte, Al Tourigny, 33-09, $2,000
6th: Jason Maraskine, Bob Leslie, 33-00, $1,500 plus the $1,000 Ranger Cup bonus
and $1,500 from the option pot
In all, the Cabela's MWC awarded $37,549 in cash and prizes.
A total of 308 walleyes weighing 883 pounds, 7 ounces came to the scale during the event. Big fish was an 8-pound, 1-ounce beauty caught by Taylor and McDonald. The Cabela's MWC and National Professional Anglers Association presented a Youth & Family Fishing Clinic immediately after the day-one weigh-in, with participating youths receiving rod-and-reel combos courtesy of the NPAA.
Adding to the excitement, MWC Team of the Year honors were at stake at the final event of the regular season. Troy Morris and Corey Heiser claimed the coveted honors, followed by Steve Vandemark and Jerry Fox, Jr. in second and Mike Dorris and Brian Tordsen in third.
Besides serious bragging rights in the walleye world, Morris and Heiser earned the $10,000 MWC "Living the Dream" Team of the Year sponsorship package, which consists of: fully paid entry into the 2018 Cabela's National Team Championship, including six nights lodging; fully paid entry into four 2018 MWC qualifiers, including five nights lodging and $400 travel expense stipend per event; plus custom Team of the Year jackets and trophies.
Under the umbrella of The Walleye Federation (TWF), the Cabela's MWC is open to avid walleye anglers from all walks of life. The 2017 schedule included seven qualifiers in five states on a diverse selection of rivers, inland lakes and Great Lakes fisheries representing North America's top walleye destinations.
Cabela's, the World's Foremost Outfitter for hunting, fishing and outdoor gear, is in its 16th season as title sponsor of the MWC. Official sponsors include: Lowe Equipment Attachments, Lowrance Electronics, Mercury Marine, Ranger Boats and The Walleye Federation. Associate sponsors include: AirWave Pedestals, Bagley Baits, Church Tackle, G-Juice, MotorGuide and Okuma. For more information, email info@masterswalleyecircuit.com, or call (580) 765-9031.
###­­­