Skupien and Neuman Take 1st Place on Lake Erie Presented by Mercury Marine
Lorain, Ohio – June 17th, 2023 – The Bass Pro Shops and Cabela's Masters Walleye Circuit (MWC) on Lake Erie Presented by Mercury was scheduled to bring two days of great fishing and monster limits to the scales, Friday June 16 and Saturday June 17, but mother nature doesn't read schedules well.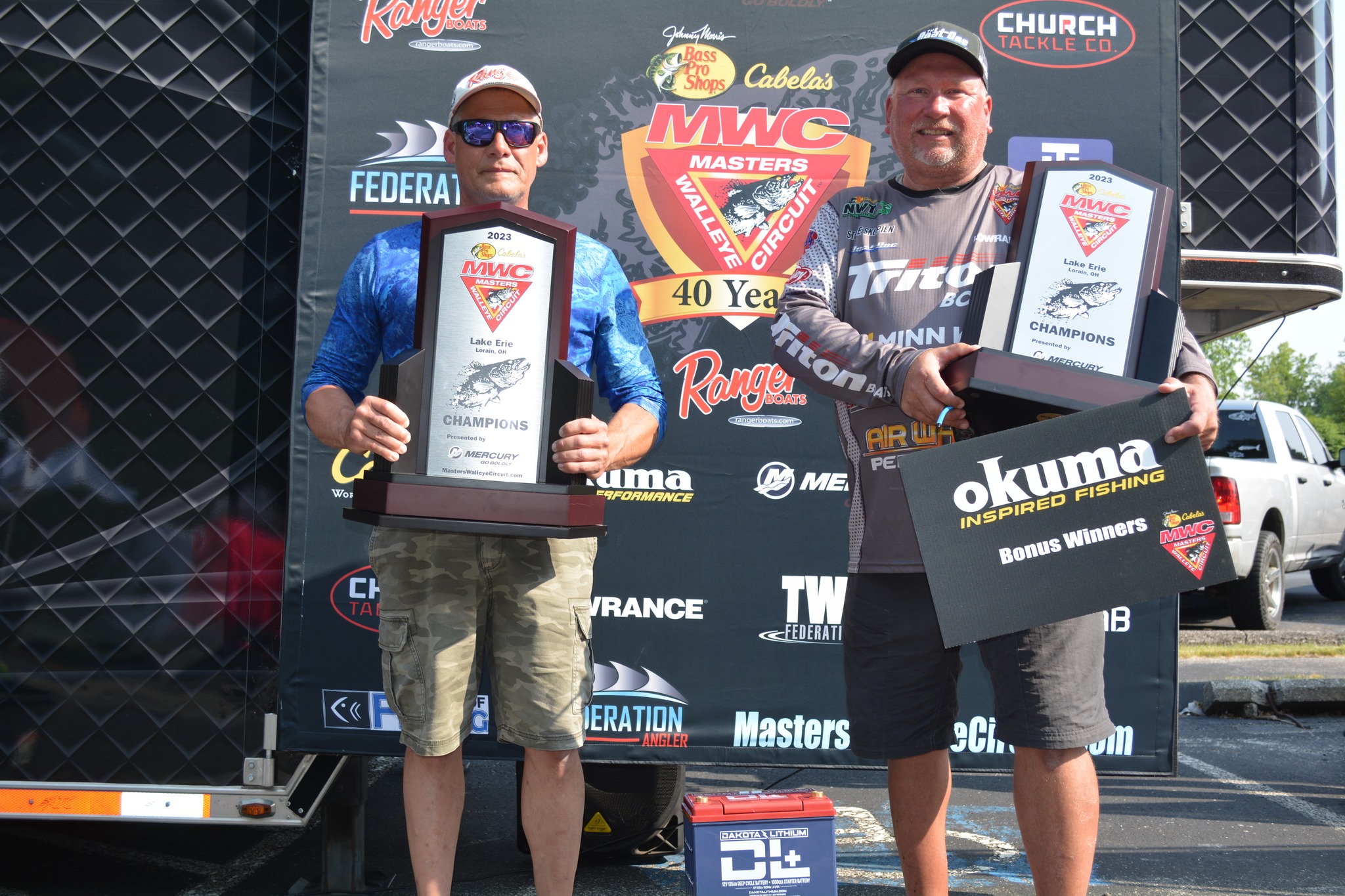 A major storm blew into the area on Thursday evening, and continued through the pre-dawn hours of Friday morning. With wind speeds pushing 30 mph from the north and small-craft advisories all across Lake Erie's southern shores, it was decided that this first day of competition must be cancelled for the safety of the anglers. That left just Saturday, for the two-person teams to put their skills to the test and bring in the five biggest walleyes they could find for a one-day shoot-out.  Steve Skupien (Frankfort, IL) and Wally Neuman (Morris, IL) figured out exactly what was needed to take home the win.
Steve and Wally headed out on Saturday to their best spot from practice. It was a nearly 30-mile boat ride in Saturdays much calmer waters. Steve Skupien stated in an interview, "We decided to run to the Canadian waters to the east of Pelee Island. After getting up there, we noticed there was a big bug hatch happening and the Lowrance units showed the walleyes were high in the water column. We were in 26-32 feet of water and ran our nightcrawler harnesses down 12 to 15 feet down. We used a mix of night crawlers and Berkley artificial crawlers, which caught our bigger fish. With a good limit by 9 a.m. we caught another 50 plus walleyes in order to add a couple kickers needed to boost our weight." Their one-day weight of 32-04 lbs. was enough to earn the win. For their efforts, they took home the top prize of $11,800 that included a $1,000 NTC prize package, plus an additional $3,750 in Option Pot cash, Dakota Lithium Come-Back Award of $4,296 and two (2) Okuma reels valued at $200 for a grand total of $21,046.
On top of winning the MWC event, the Skupien and Neuman also took first place in the Lake Erie Walleye Trail (LEWT) tournament that was held alongside the MWC event in Lorain. For winning that event, they took home another paycheck worth $11,820. The LEWT is a Walleye Federation (TWF) affiliated organization that holds walleye tournaments on Lake Erie all across Ohio. This was the fourth year the MWC and LEWT have paired up to hold an event and talks are already under way for holding another together in the future.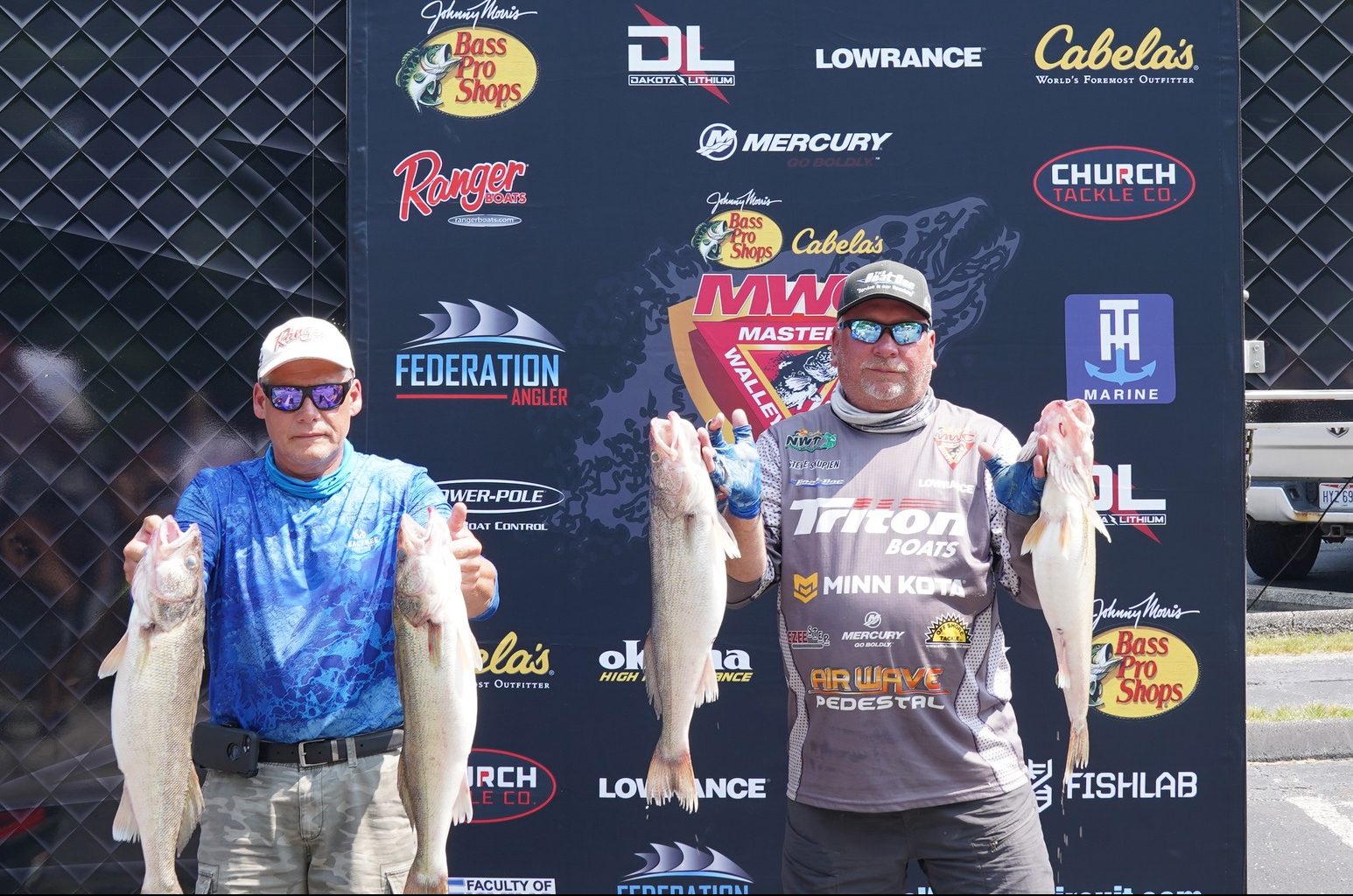 Here's how the rest of the top five teams from the MWC did on Lake Erie:
2nd  Adam Hume and Mike Karner 31-11 lbs. $5,642 cash, $2,750 option pot cash, and $500 Ranger Cup Bonus
3rd  Scott Geitgey and Jay Gullett(sub) 31-06 lbs. $3,850 cash, $2,000 option pot cash, and $1,000 Lowrance Bonus
4th  Michael McCardle(sub) and Jay Petermann 31-02 lbs. $2,750 cash, $1,380 option pot cash
5th  Rob Lester and Randy Cline 30-10 lbs. $2,200 cash
There was a tie for the largest fish in the tournament.  The teams of Larry Kammerer and Ali Shakoor and Chris Kosciewicz and Aaron Gavlak each caught and weighed a 8-09 walleye, splitting the first and second Big Fish pot and taking home $1,280 each. There were 355 fish caught totaling 1629-05 lbs.
Total possible payout for this event was $78,568 in cash and prizes and paid down 15 spots to a field of 78 teams from across the country.
Due to Ohio Fish and Game requirements pertaining to tournaments held on Lake Erie, all fish caught must be donated to a local charity, in this case Victory Kitchen Sandusky where they will help many needy families across northern Ohio.
Steve and Jeremy Skupien are a registered "Premier Team" with the MWC, meaning they committed to fishing 3 or more events in the MWC season prior to fishing their first event. One of the many benefits of being a "Premier Team" is the use of a substitute angler while still tracking the original team's points. At this Lake Erie event, Wally Neuman, the team's registered sub, fished in place of Jeremy.
From Lake Erie, the MWC packs up and heads back east to prepare for another tournament on the famed Bay of Green Bay out of Oconto, Wisconsin. The timing is perfect for anglers to see some of the largest weights that could come across the scales this year. Registration is open for this event until Monday, July 17th. Anglers can register by visiting masterswalleyecircuit.com.
Under the umbrella of The Walleye Federation (TWF), the Bass Pro Shops and Cabela's Masters Walleye Circuit is North America's longest-running and undisputed leader in team walleye tournaments and as an inductee into the freshwater fishing hall of fame, has set the standard for competitive walleye fishing for the past 39 years and has directly donated hundreds of thousands and helped raise millions of dollars to support walleye & conservation programs nationwide. The MWC is open to walleye anglers from all walks of life. The 2023 schedule includes seven qualifiers in six states, plus a berth into the 2024 Bass Pro Shops and Cabela's MWC World Walleye Championship.
Bass Pro Shops & Cabela's – The World's Foremost Outfitters, are in their 22nd season as the title sponsor of the Masters Walleye Circuit. Official sponsors include: Lowrance Electronics, Mercury Marine, Ranger Boats, and Dakota Lithium Batteries. Associate sponsors include: The Walleye Federation, Church Tackle, FishLab, Okuma, Power-Pole and T-H Marine. For more information, email support@masterswalleyecircuit.com, or call (580) 765-9031.