Shakoor, Zarembski Win Cabela's Masters Walleye Circuit Lake Erie Tournament
Presented by Ranger Boats
Lorain, Ohio.—May 6, 2018—Ali Shakoor and Brian Zarembski brought nearly 90 pounds of sag-bellied Great Lakes walleyes to the scale to win a big-fish shootout at the Cabela's Masters Walleye Circuit's regular season tournament on Lake Erie out of Lorain, Ohio, May 5-6, 2018.
"This is incredible," said Shakoor, of Dearborn Heights, Michigan, moments after the dust settled in a wild finish that saw the top five teams all bring in more than 80 pounds, and the top 10 weights all break the 75-pound barrier. "I grew up watching fishing tournaments on TV with my dad, and to win one is really rewarding. I've been fishing the MWC five or six years now, and have had a fantastic time since day one. These guys are extremely good anglers. It's an honor to win this."
"This is a great feeling," added Zarembski, of Avon Lake, Ohio. "We've been in the top 10 a couple of times and had a shot, but never won. We had four good fish this morning by 10 o'clock and then the bite died. I thought it was going to slip away, but then the big fish started biting again."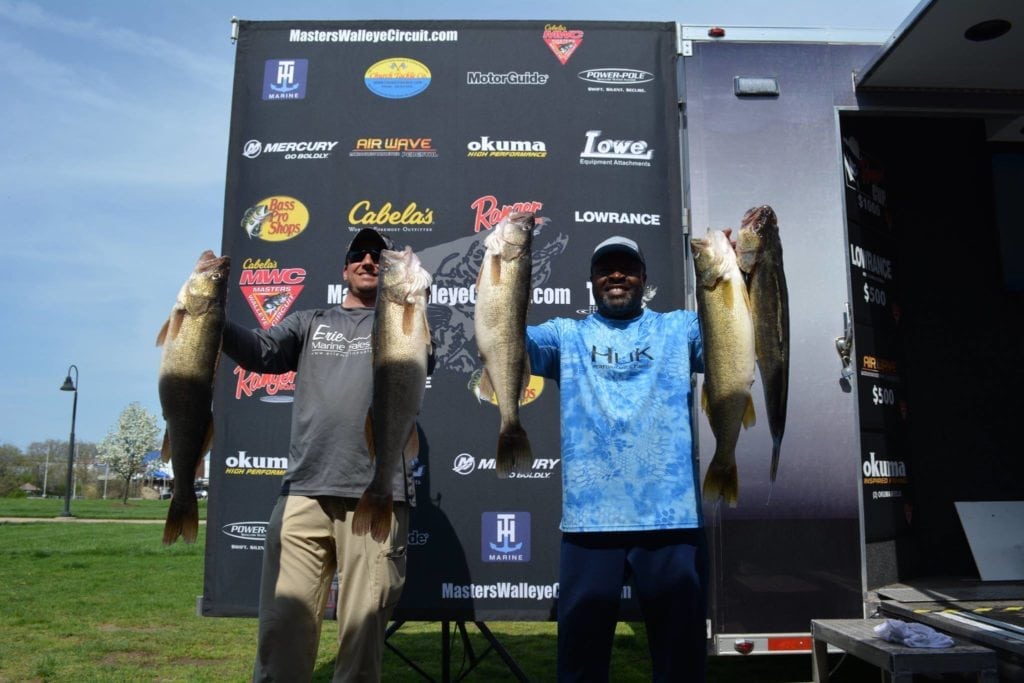 Presented by Ranger Boats and hosted by Visit Lorain County and the Lorain Port Authority, the two-day tournament launched from Black River Wharf and weighed in at Black River Landing. The event was originally set to start on Friday, May 4, but tournament officials kept the anglers on shore due to gale-force winds on the big lake.
Shakoor and Zarembski topped the leaderboard on day one with a 5-fish MWC limit weighing 44 pounds, 10 ounces. They finished strong with a 44-pound, 6-ounce day two limit for an 89-pound total weight.
With massive numbers of post-spawn walleyes migrating eastward down the lake, many anglers tapped the trolling bite. Shakoor and Zarembski were no exception. They pulled crankbaits along a deep breakline in 38 to 42 feet of water and said that a pair of steeper drop-offs were particularly productive.
Keeping their lures at the lower end of the water column was also a factor. "During prefishing, the walleyes had perch and zebra mussels in their stomachs, so we knew they were feeding on the bottom," said Shakoor. "So that's where we ran out crankbaits."
Zarembski noted that adjusting their speed depending on whether they were trolling with or against a subtle current was also key. "We trolled 1.8 mph in one direction and 1.4 mph going the other way," he said.
Shakoor and Zarembski collected $11,900 in cash and prizes for their efforts, including the $9,700 first-place cash payout, $500 Lowrance Electronics contingency, $500 AirWave certificate, $200 Okuma Reel bonus and a $1,000 Cabela's National Team Championship Prize Package including paid entry into the Cabela's NTC, travel stipend, team jerseys and plaques.
Rounding out the top five were:
2nd: Bret Berkey, Matt Lecon, 88-06, $4,800 cash
3rd: Sam Cappelli, William Gaffney, 84-10, $3,350 cash plus the $1,000 Ranger Cup bonus
4th: Jason Fischer, Barry Henning, 83-06, $2,600 cash
5th: Zak Jobes, Bryan Fisher, 82-02, $2,050 cash
In all, the Cabela's MWC awarded $46,528 in cash and prizes.
A total of 595 walleyes weighing a whopping 3,378 pounds, 1 ounce crossed the scale during the event. Big fish was an 11-pound, 4-ounce giant caught by Tom Nordyke and Thomas Nordyke, Jr. Adding to the fun, the Cabela's MWC and National Professional Anglers Association presented a Youth & Family Fishing Clinic immediately after the day-one weigh-in, with participating youths receiving rod-and-reel combos courtesy of the NPAA.
North America's longest-running and undisputed leader in team walleye tournaments, the Cabela's MWC has set the standard for competitive walleye fishing since 1984. Operated under the umbrella of The Walleye Federation (TWF), the Cabela's MWC is open to avid walleye anglers from all walks of life. The 2018 tournament schedule includes eight qualifiers in seven states, plus the 2019 Cabela's MWC World Walleye Championship. Visit masterswalleyecircuit.com for updates, official rules and registration information.
Cabela's, the World's Foremost Outfitter for hunting, fishing and outdoor gear, is enjoying its 17th season as title sponsor of the MWC. Official sponsors include: Bass Pro Shops, Lowe Equipment Attachments, Lowrance Electronics, Mercury Marine, Ranger Boats and The Walleye Federation. Associate sponsors include: AirWave Pedestals, Church Tackle, MotorGuide, Okuma, Power-Pole and T-H Marine. For more information, email info@masterswalleyecircuit.com, or call (580) 765-9031.
###