Schoning, Kiefer Win Cabela's Masters
Walleye Circuit's Lake Pueblo Tournament
Presented by The Walleye Federation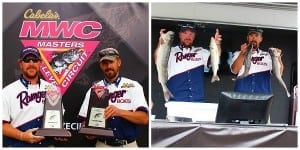 For Immediate Release –
Pueblo, Col.—May 18, 2013—Colorado teammates Mark Schoning and Chad Kiefer finished strong to win the Cabela's Masters Walleye Circuit's Lake Pueblo tournament at Pueblo, Colorado.
"The entire tournament was an awesome experience," Schoning, of Colorado Springs, said of competing in he and Kiefer's first-ever Cabela's MWC event. "Ending up on top was just a plus."
After their five-fish MWC limit weighing 11 pounds, 13 ounces landed them in second place on Day One, they tapped a big-fish location to add a whopping 18 pounds, 12 ounces to their tally on Day Two for a 30-pound, 9-ounce total weight.
The victory earned them the $6,300 first-place cash purse, plus a $1,000 Cabela's gift card from the Cabela's Angler Cash Program, $1,000 Ranger Cup contingency, and $500 Berkley Tackle Package. They also claimed a $1,000 Cabela's National Team Championship Prize Package that includes paid NTC entry, travel stipend, team jerseys and plaques.
"It was a lot of fun," added Kiefer, of Brighton. He explained that their top tactic was pulling 6-inch Berkley Gulp! Crawlers and nightcrawlers on size 2 to 4 octopus-style hooks .7 to .9 mph behind a ¼-ounce bottom bouncer. He noted that when the team trolled through flooded timber, the Gulp! artificial baits clung to the hook much better than live 'crawlers, and accounted for a number of their fish. "A 6-foot leader of 6-pound Berkley Fluorocarbon was also key, because the fish were a little spooky," he added.
Bill Ianiro of Castle Pines, Colorado, and Richard Stebbins, Jr. of Arvada, Colorado, finished second with 23 pounds, 1 ounce, worth $3,100 plus the $500 Lowrance Electronics award for being the highest-finishing team using a Lowrance HDS Gen2, HDS Gen2 Touch or Elite-7 unit.
In all, the top 20 percent of the field shared more than $13,900 in cash, plus sponsor bonuses and Big Fish Pot winnings.
A total of 198 walleyes weighing 414 pounds, 13 ounces crossed the stage and were quickly returned to the lake in the catch-and-release format. Big Fish was a 7-pound, 9-ounce beauty caught by Schoning and Kiefer, whose 18-pound, 12-ounce Day Two sack was big basket of the tournament.
Teams fished from 7 a.m. to 3 p.m. on Friday and Saturday (Sunday was reserved in case foul weather caused a cancellation on either of the first two days), and were allowed to bring their best five walleyes to the scale each day. Weigh-ins, which began at 3 p.m. daily, were held at scenic Lake Pueblo State Park just outside Pueblo, Colorado.
Adding to the excitement, the Cabela's MWC event was held in conjunction with a Colorado Walleye Association (CWA) tournament, allowing anglers to fish one or both of the events simultaneously. The CWA also supplied volunteers to assist with tournament operations. Plus, on Saturday, the MWC stage also hosted the Student Angler Federation's Colorado and New Mexico State High School Fishing Championship, immediately before the MWC and CWA weigh-ins began.
While the MWC's western anglers competed on Pueblo, the Circuit also held a qualifier on Lake Erie at Huron, Ohio, on the same dates. These were the third and fourth of 10 Cabela's MWC qualifying tournaments in 2013. The remaining schedule includes Green Bay of Lake Michigan at Oconto, Wisconsin, May 31-June 2; Lake Oahe at Spring Creek, South Dakota, June 7-9; Lake Winnebago at Oshkosh, Wisconsin, June 28-30; Devils Lake, North Dakota, August 2-4; the St. Mary's River at Sault Ste. Marie, Michigan, August 22-23; and Cass Lake, Minnesota, out of Stony Point Resort, Sept. 13-15.
Cabela's, the World's Foremost Outfitter for hunting, fishing and outdoor gear, is entering its 11th season as title sponsor of the MWC. Official sponsors include: Berkley Gulp!, Lowe Equipment Attachments, Lowrance, Mercury Marine, MotorGuide, Ranger Boats, The Walleye Federation and Zippo Outdoor Brands. Associate sponsors include: Berkley Trilene, Church Tackle, Optima Batteries, O2 Marine Technologies and Sea Grant.
Based in Ponca City, Oklahoma, the Cabela's MWC is oldest running national walleye circuit in America. Cabela's MWC is owned by The Walleye Federation and is open to two-person teams regardless of club or sponsor affiliation. Entry fees are $650 per tournament, of which more than 100 percent is returned to anglers at the qualifiers, World Championship and Team of the Year races. Registration remains open through the Sunday night prior to each tournament. For more information, visit masterswalleyecircuit.com, email info@masterswalleyecircuit.com, or call (580) 765-9031.
###