Sabatose, Mausser Win Cabela's Masters Walleye
Circuit's Kinzua Reservoir Tournament 

Presented by Zippo Outdoors
 For Immediate Release –
Bradford, Penn.—July 12, 2014—Pennsylvania's Chuck Sabatose and Frank Mausser racked up an impressive 20-pound total catch to claim top honors at the Cabela's Masters Walleye Circuit's qualifying tournament on Kinzua Reservoir out of Bradford, Pennsylvania, July 11-12.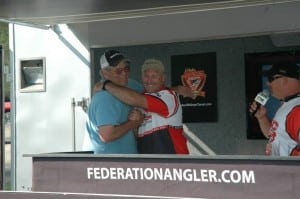 After landing in third place on day one with 12 pounds, 10 ounces, Sabatose, of Brockport, and Mausser, of Sharon, weighed a 7-pound, 6-ounce basket the final day to charge past day one leaders, Ohio's Jason Kopf and Rodger Riggs. Sabatose and Mausser collected $9,500 in cash for the win, plus the $500 Berkley Baits Award and $500 Lowrance HDS Gen2 Touch and Elite 7 contingency. They also claimed a $1,000 Cabela's National Team Championship Prize Package including paid NTC entry, travel stipend, team jerseys and plaques.
"It's an amazing feeling—a dream come true!" said Sabatose, who fished a Cabela's MWC event at Henderson Harbor, New York, a number of seasons ago and has long hoped the trail would stop at his home waters of Kinzua. "Structure is key on this lake," he noted. "We trolled Berkley Flicker Shads on leadcore line at speeds of 1.7 to 2.2 mph over rockpiles and stump patches, and caught fish from depths of 16 to 36 feet deep."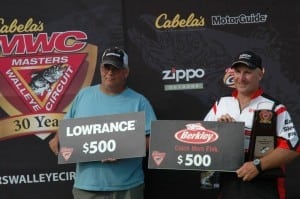 In second place with 17 pounds, 3 ounces, Kopf, of Avon Lake, and Riggs, of Cleveland, pocketed $4,750 in cash, plus the $1,000 Ranger Cup contingency.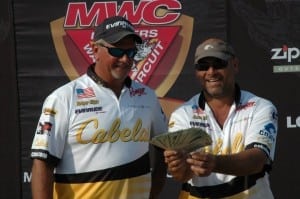 Rounding out the top 5 were:
3rd: Johnnie Candle and Dennis Skurulsky, 17-02, $3,300
4th: Scott Rhodes and Jeff Koester, 17-01, $2,500 plus the $250 Zippo Hot Hands Big Fish Award for catching big fish of the tournament, an 8-pound, 7-ounce walleye, and the $200 Optima True Blue contingency
5th: Nick Lary and Kurt McKenna, 16-15, $2,000
In all, the Cabela's MWC awarded $39,360 in cash and prizes.
Weigh-ins were held at Giordano's Corydon Hotel outside Bradford. Kinzua yielded 302 walleyes weighing a total of 497 pounds, 2 ounces in the catch-and-release event. The Cabela's MWC, National Professional Anglers Association, Pure Fishing and Zippo Outdoor Brands presented a Youth & Family Fishing Clinic immediately after the first day's weigh-in. Participating youths received rod-and-reel combos courtesy of the NPAA.
The event marked the Circuit's first trip to the Keystone hotspot, which drew a groundswell of local participation and support. "A big thank-you is in order for everyone who helped make this event a success, including Zippo Outdoors, Giordano's Corydon Hotel, the Seneca Nation, University of Pittsburgh at Bradford, and the Bradford High School Criminal Justice Club," said Tournament Director Dan Palmer. He also thanked local MWCer and Zippo pro-staffer Doug Yohe and teammate Charlie Brandt for welcoming new competitors into the MWC family.
Under the umbrella of The Walleye Federation (TWF), the Cabela's MWC is open to avid walleye anglers from all walks of life. The 2014 trail includes 10 stops spread across seven states in the Walleye Belt. Teams showcase their skills—and sponsor products—at world-class venues such as the Illinois, Detroit and Mississippi rivers, Green Bay, Big Stone Lake, Kinzua Reservoir, Cass Lake and Lake Erie.
Along with great payouts at each event, teams fishing three or more tournaments battle for coveted berths in the 2015 Cabela's MWC Championship, set for October 2015 on Lake Erie out of Huron, Ohio. Teams fishing at least three qualifiers also compete for Team of the Year awards, including a $25,000 "Living the Dream" sponsorship package, which includes fully paid entries to the Cabela's National Walleye Trail as a pro and co-angler, use of a 600 series Ranger boat, travel stipends and more.
Cabela's, the World's Foremost Outfitter for hunting, fishing and outdoor gear, is in its 12th season as title sponsor of the MWC. Official sponsors include: Berkley Gulp!, Lowe Equipment Attachments, Lowrance Electronics, Mercury Marine, MotorGuide, Ranger Boats, The Walleye Federation and Zippo Outdoor Brands. Associate sponsors include: Berkley Trilene, Church Tackle, Lindy Legendary Fishing Tackle, Optima Batteries, Rockstar Hitch Mounted Mud Flaps, T-H Marine and Sea Grant.
Entry fees are $650 per tournament, of which more than 100 percent is returned to anglers at the qualifiers, World Championship and Team of the Year races. Registration closes at 10 a.m. on Monday prior to each tournament. For more information, visit masterswalleyecircuit.com, email info@masterswalleyecircuit.com, or call (580) 765-9031.
###