North Dakota and PA anglers dominate most of the top 10 ….but Ohio Anglers Jason Kopf From Avon Lake and Rodger Riggs from Cleveland Lead Day 1 with 5 fish for 13-08 and are in the drivers sea At Kinzua.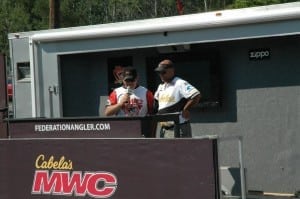 Did we just say North Dakota? Yes we did good fishermen are good fishermen, no matter where they live or are fishing.  While PA anglers hold 6 of the top 10 spots, Second Place team of Chad Yohe, from New Salem North Dakota and partner Michael Yohe from Bradford, PA sits solidly in second and while Chad is fishing with family and grew up here as a young man, he has lived in the Dakotas for some time and does not fish here often anymore.  Sitting in third is PA anglers Chuck Sabatose and Frank Mausser. PA anglers aAlso hold 4th, 5th, 6th and 8th places. Then there is World Walleye Champion Johnnie Candle from Devils Lake, ND and his season partner from WI, Dennis Skurulsky sit in seventh place with only four fish weighing  7-14. New Jersey anglers hold down the 9th spot and MWC veteran big stick form MIand IN hold down the 10th spot.
Kinzua, is a beautiful place you need to visit, no internet, no cell service in the Allegheny Mountians lakeside and…. thats not all bad!
Day 2 final weigh in begins at Corydon Hotel  near the lake at 4:00pm EST come on out and join us!