Pauly and Rewerts Win Big at the Bass Pro Shops and Cabela's Masters Walleye Circuit on the Border Waters of Big Stone Lake Presented by Lowrance
Ortonville, Minnesota – May 24, 2022 – Hopes were high leading into this weekend that Big Stone Lake was going to give up some big walleyes for the anglers of the Bass Pro Shops and Cabela's Masters Walleye Circuit (MWC) tournament. The conditions leading up to the tournament on the boundary water between Minnesota and South Dakota were just right to help the anglers find what they needed to bring across the stage. The fish were primed and ready to feed after just coming from the spawning grounds, looking to put some weight back on after a long and drawn-out spring.  Isaac Pauly (Arlington, MN) and Jacob Rewerts (Mayer, MN) figured out just what made these walleyes tick and brought home the win at the third stop of the MWC 2022 season.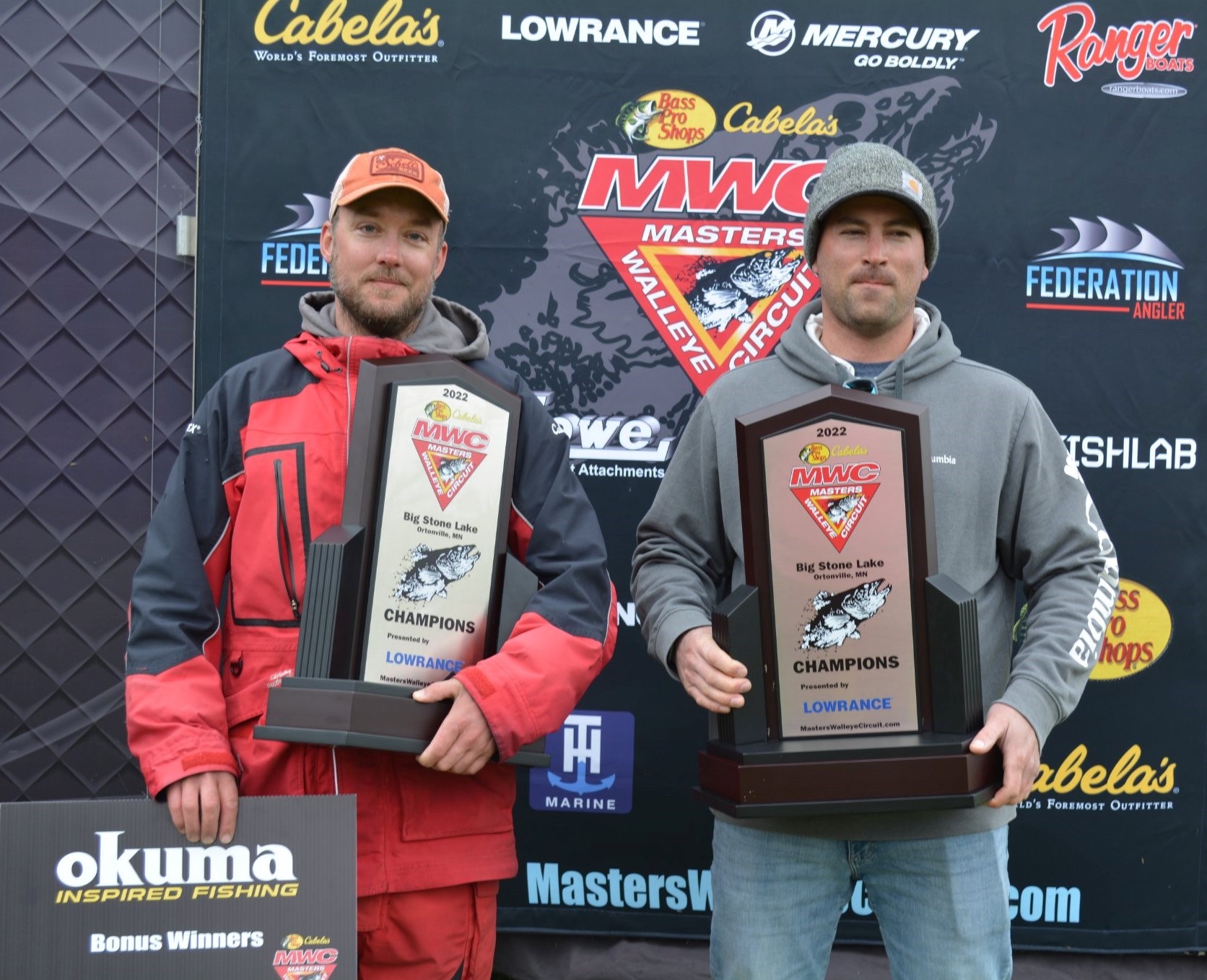 Isaac and Jacob only had two days of practice leading into this event. They broke the lake down quickly during their practice and caught a lot of those big walleyes over 20 inches that everyone saw come across the stage. They put a game plan together that would have them trolling hard baits for both days of the event. That plan held together and they brought a bag of fish each day that weighed a total of 40-10 lbs and secured them a win. Their combined two-day weight awarded them the top prize of $9,300, $3,400 in the Option Pot, along with a $1,000 NTC prize package, (2) Okuma Reels, and a $1,000 bonus from Lowrance for a grand total of almost $15,000 at the third stop of the 2022 Bass Pro Shops and Cabela's Masters Walleye Circuit (MWC) event on Big Stone Lake, presented by Lowrance.
Here's a breakdown of how the rest of the top 5 teams faired after this weekend:
2nd Paul Weber and Tim Judovsky 38-01, $4,000 cash and $2,327 option pot
3rd Jason Ackerman and Jeffrey Trapp 36-15, $2,300 cash
4th Jordan Gibson and Brian Carlson 36-08, $2,000 cash and $950 option pot
5th Kaiden Dorris and Mark Schoning 35-03, $1,600 cash and $700 option pot
The total payout for the event on Big Stone Lake was $37,321 that paid out nine places. The anglers caught a total of 332 walleyes that together weighed 1093-10 lbs. The biggest fish of the event was caught by the 4th place team of Gibson and Carlson that weighed 9-09lbs.
The anglers and staff of the Masters Walleye Circuit would like to thank the city of Ortonville, MN and all of the volunteers that came out to lend a hand and for hosting this event!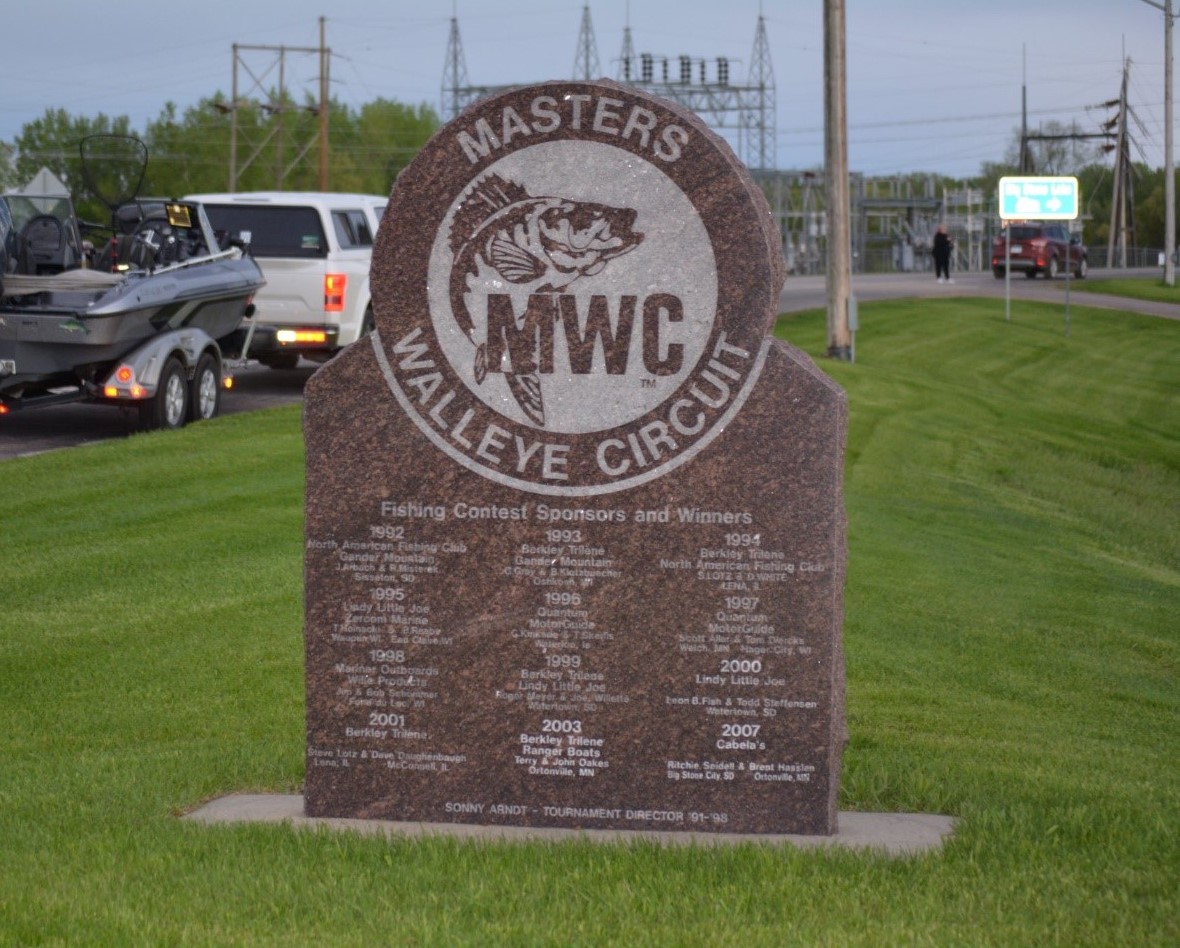 Under the umbrella of The Walleye Federation (TWF), the Bass Pro Shops and Cabela's Masters Walleye Circuit is North America's longest-running and undisputed leader in team walleye tournaments and as an inductee into the freshwater fishing hall of fame, has set the standard for competitive walleye fishing for the past 38 years and has directly donated hundreds of thousands and helped raise millions of dollars to support walleye & conservation programs nationwide. The MWC is open to walleye anglers from all walks of life. The 2022 schedule includes seven qualifiers in six states, plus a berth into the 2023 Bass Pro Shops and Cabela's MWC World Walleye Championship.
Bass Pro Shops & Cabela's – The World's Foremost Outfitters, are in their 21st season as title sponsor of the Masters Walleye Circuit. Official sponsors include: Lowe Equipment Attachments, Lowrance Electronics, Mercury Marine, Ranger Boats. Associate sponsors include: The Walleye Federation, Church Tackle, FishLab, Okuma, Power-Pole and T-H Marine. For more information, email support@masterswalleyecircuit.com, or call (580) 765-9031.