Cass Lake, Minn — September 22, 2020 — The Bass Pro Shops and Cabela's Masters Walleye Circuit (MWC) prides its self on being the premier walleye team tournament trail in the world. So, it should come as no surprise that anglers from all walks of life strive to not only find their way into an MWC event but succeed when they arrive. Tom Huynh (Moorehead, MN) and Nate Wolske (Boy River, MN) are self-described "Bass Guys" that decided this summer to switch their sole focus on bass and explore the world of walleye tournament fishing. Presented by Mercury, the MWC event held on Cass Lake September 18-19 saw many local walleye anglers making a run at the top spot, but along came Tom and Nate with a record setting 37-00 weight after two days of fishing.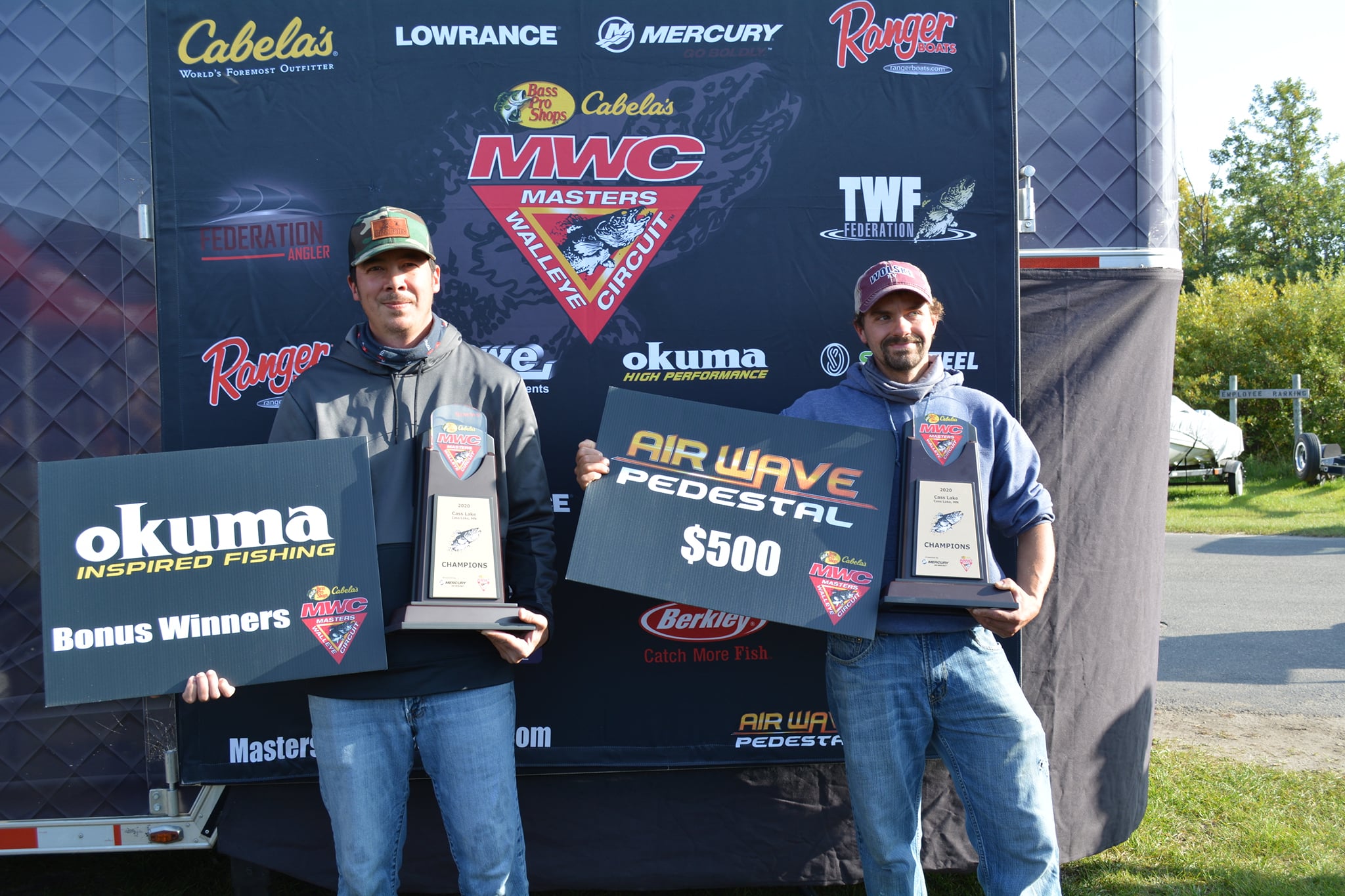 Tom and Nate arrived at Cass Lake early in the week to begin exploring the near 16,000 acres of water. Having never been to Cass before, they knew they needed to check anything that could hold fish. That included some of the deepest holes they could find. "We found some fish at 55 feet of water at first and thought, Ok, I guess we are fishing deep." Tom Huynh said after securing the win. "Then we slid out to 65 feet, then 68 and we saw these large marks around bait balls of cisco." The duo found themselves nearly alone in their "honey hole" and reaped the benefits of coming into this event without preconceived ideas about where to find fish, a trap many anglers can find themselves in when fishing is tough.
Minnesota state law allows only one fish over 20" to be kept per angler each day, making it far more challenging to achieve weights that rival destinations like Lake Erie or Green Bay. But Cass Lake is a healthy fishery and Huynh and Wolske found a way to average 3.7 pounds per fish with six of their fish being under 20" and only four over that 20" mark through two days of competition.
Previously the top weights at Cass Lake have been just over 34lbs, but that wasn't quite enough to take home the $10,400 first-place check this weekend. Zac Christenson (Cambridge, MN) and Toby Kvalevog(Brainard, MN) placed second with 34-15, the second most ever to be weighed at Cass. "Who would have thought that if you bring in 34 pounds of fish here you would only take second?" Toby mentioned after Saturday's weigh-in. "This lake is a lot of fun right now."
With the top weight Tom and Nate took home over $15,500 in cash and prizes, including the $10,400 first-place cash payout, $3,400.00 option pot cash, $500 AirWave certificate, $200 Okuma reels and a $1,000 Bass Pro Shops and Cabela's National Team Championship Prize Package, including paid entry into the Bass Pro Shops and Cabela's NTC, travel stipend, team jerseys and plaques.
The rest of the top five teams:
2nd: Zac Christenson & Toby Kvalevog 34-15, $5,350 cash, $2,327 option pot cash and the $500 Lowrance bonus
3rd: Steve Weickert & Joe Balcer 34-05, $3,600 cash, $1,450 option pot cash
4th: Dan & Alexa Fuller 30-04, $2,600 cash
5th: Dennis & Don Marx 29-13, $2,100 cash, $950 option pot cash
The 11th place team of Doug and Mark Gallant took home the $1,000 Ranger Cup bonus from Cass Lake.
All together the Bass Pro Shops and Cabela's Masters Walleye Circuit awarded $49,567 in cash and prizes at Cass Lake, MN.
515 fish weighed a total of 1,233 lbs. 02 oz. during the event.
Under the umbrella of The Walleye Federation (TWF), the Bass Pro Shops and Cabela's Masters Walleye Circuit is North America's longest-running and undisputed leader in team walleye tournaments and as an inductee into the freshwater fishing hall of fame, has set the standard for competitive walleye fishing for 36 years and is open to avid walleye anglers from all walks of life. The 2020 schedule includes 7 qualifiers in seven states, plus the 2021 Bass Pro Shops and Cabela's MWC World Walleye Championship.
Bass Pro Shops and Cabela's – The World's Foremost Outfitters, are in their 19th season as title sponsor of the Masters Walleye Circuit. Official sponsors include: Lowe Equipment Attachments, Lowrance Electronics, Mercury Marine, Ranger Boats and The Walleye Federation. Associate sponsors include: AirWave Pedestals, Berkley, Church Tackle, Soft Steel, Okuma, Power-Pole and T-H Marine. For more information, email info@masterswalleyecircuit.com, or call (580) 765-9031.