Cliffe, Nix Win 2020 Regular Season Final at the Illinois River
Presented by Lowrance
Spring Valley, Ill — October 7, 2020 — Adrian Cliffe and Brent Nix gambled on a 40 mile-run down river through two days of fishing to win the 2020 Bass Pro Shops and Cabela's Masters Walleye Circuit (MWC) qualifier at the Illinois River. The final championship-qualifying event for 2020 was presented by Lowrance and found many of the Spring Valley faithful scrambling for a bite.  Having local knowledge of the system and "go for broke" attitude the pair took home the $8,300 cash and more.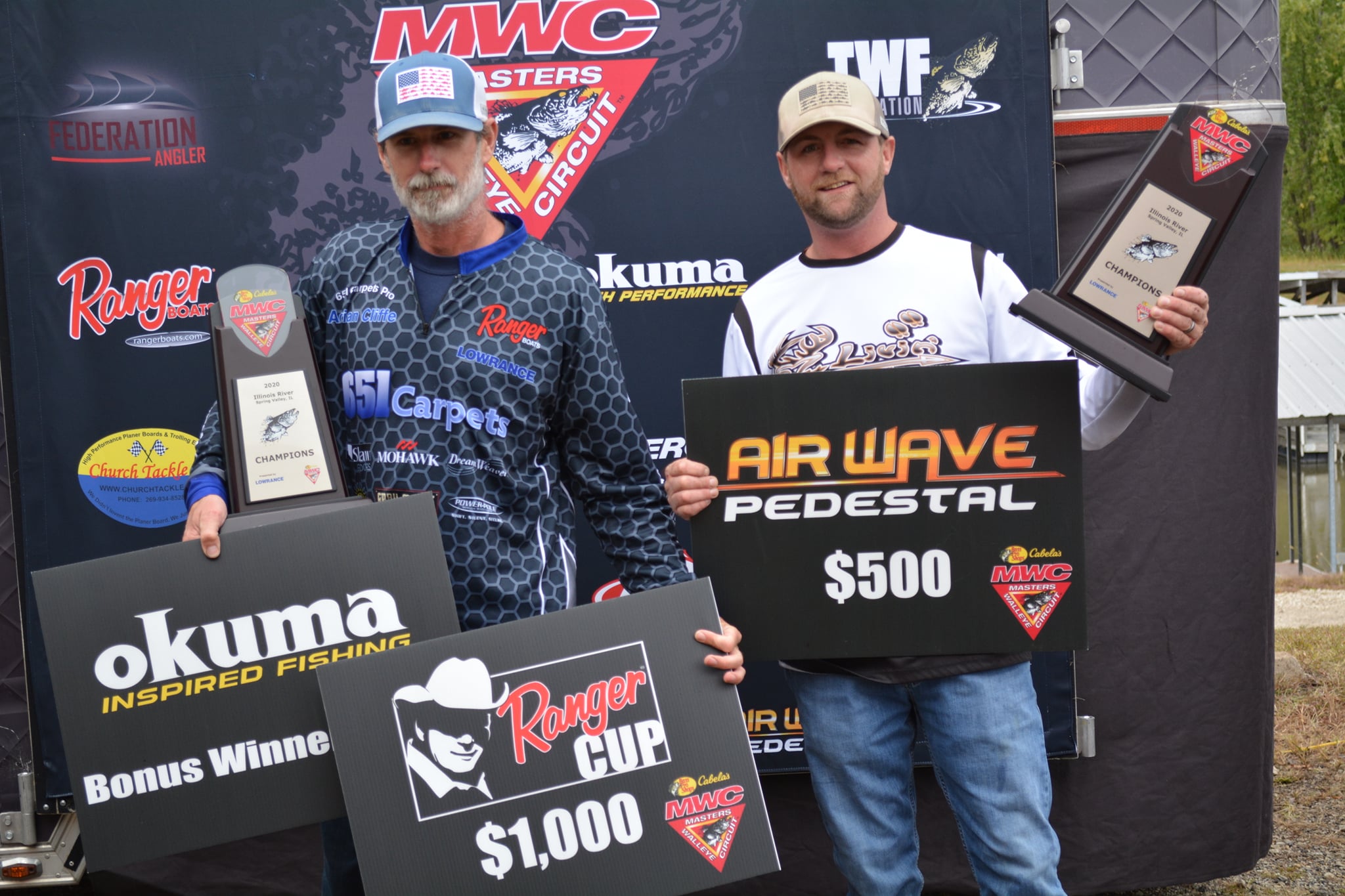 Spring Valley, IL and the Illinois River have a decades-long history with the MWC, but due to Covid-19 the 2020 event took a turn few were prepared for. For its entire history, the event placed on the Illinois River in Spring Valley has always been a spring-time event. Some anglers have been fishing that spring event since the beginning. The introduction of the pandemic and ensuing Covid restriction, the March event was moved to October, challenging many of the anglers that typically fish the river as a start to their season.
Competitors made the best of it and found bites a variety of ways. The winners, Cliffe and Nix found that trolling was the right way to catch over 22lbs of fish over the course of the event. "That's what worked best for us so far." When asked how he was catching fish before the rules meeting on Thursday afternoon. "What I am concerned about is that we have had two great days of pre-fishing in a row here, which means we need to have four great days to win this thing." Cliffe and Nix had not only another couple of great days, it was enough to solidify the win against a great group of anglers.
With the top weight of 22-08, Adrian and Brent took home over $11,000 in cash and prizes, including the $8,300 first-place cash payout, $1,000 Ranger Cup bonus, $500 AirWave certificate, $200 Okuma reels and a $1,000 Bass Pro Shops and Cabela's National Team Championship Prize Package, including paid entry into the Bass Pro Shops and Cabela's NTC, travel stipend, team jerseys and plaques.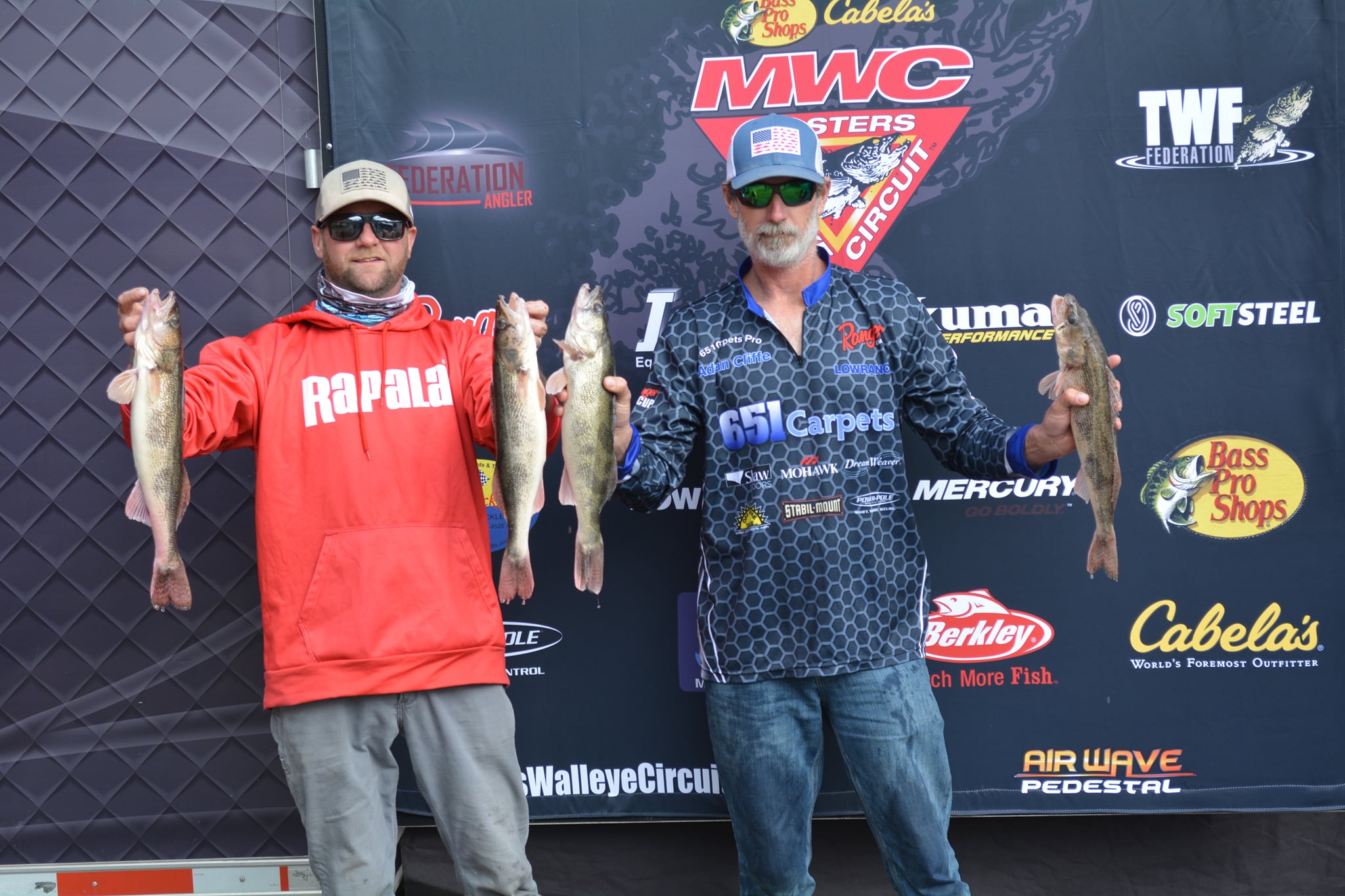 The rest of the top five teams:
2nd: Robert Hausler & Chris Clemmons 21-01, $4,000 cash
3rd: Jim Passo & butch Rabetski 20-08, $2,300 cash
4th: Adam & Steve Sandor 20-03, $2,000 cash
5th: Chase Rockstead & Andy Pogorzelski 20-01, $1,600 cash, $2,853 option pot cash
The 9th place team of Casey Williams and Kent Leibhart took home the $500 Lowrance bonus from the Illinois River.
All together the Bass Pro Shops and Cabela's Masters Walleye Circuit awarded $31,637 in cash and prizes in Spring Valley, IL.
391 fish weighed a total of 624 lbs. 08 oz. during the event.
Under the umbrella of The Walleye Federation (TWF), the Bass Pro Shops and Cabela's Masters Walleye Circuit is North America's longest-running and undisputed leader in team walleye tournaments and as an inductee into the freshwater fishing hall of fame, has set the standard for competitive walleye fishing for 36 years and is open to avid walleye anglers from all walks of life. The 2020 schedule includes 7 qualifiers in seven states, plus the 2021 Bass Pro Shops and Cabela's MWC World Walleye Championship.
Bass Pro Shops and Cabela's – The World's Foremost Outfitters, are in their 19th season as title sponsor of the Masters Walleye Circuit. Official sponsors include: Lowe Equipment Attachments, Lowrance Electronics, Mercury Marine, Ranger Boats and The Walleye Federation. Associate sponsors include: AirWave Pedestals, Berkley, Church Tackle, Soft Steel, Okuma, Power-Pole and T-H Marine. For more information, email info@masterswalleyecircuit.com, or call (580) 765-9031.