Meravy, Carr Win Cabela's Masters Walleye Circuit Illinois River Tournament
Presented by Cabela's
Spring Valley, Ill.—March 21, 2015— Mark Meravy and Terry Carr scored a come-from-behind victory at the Cabela's Masters Walleye Circuit's qualifier on the Illinois River at Spring Valley, Illinois, March 20-21.
Meravy, of Shorewood, Illinois, and Carr, of Otley, Iowa, weighed five fish for 14 pounds, nine ounces on day one. The respectable tally put them solidly in second place, just six ounces behind leaders Adam and Steve Sandor, both of Ottawa, Illinois. Meravy and Carr charged into first on day two with a 15-pound, 11-ounce five-fish limit for a total weight of 30 pounds, 4 ounces.
"You work so hard it feels good to win," said Meravy. "But the most satisfying thing is doing this with such good friends. They make me a better person." It was Meravy's third MWC Spring Valley victory, having won the event in 2011 with Tom Brunz and in 2003 with John Broncato. The only other three-time Spring Valley MWC winners are Gary and John Dalzot.
Meravy and Carr collected the $11,500 first-place cash payout, plus another $4,000 cash from the option pot, $311 in Big Fish Pot winnings and a $1,000 Cabela's National Team Championship Prize Package including paid entry into the 2016 NTC, travel stipend, team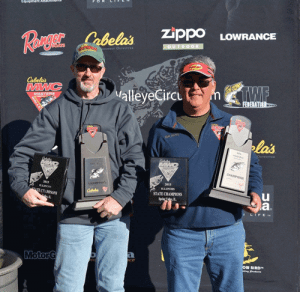 jerseys and plaques.
Because all 2015 Cabela's MWC tournaments are designated as "State Championship Qualifying Events," Meravy and Carr also earned the title of Illinois State Walleye Champions. Besides bragging rights, they claimed a $1,000 prize package including custom marble plaques, decals, a spot on the MWC website's Wall of Fame and a last-chance bid to the 2015 Cabela's NTC. If they can continue their winning ways at future MWC events in 2015 they could become the first team under the new program to win multiple state champions titles in a single season.
"This feels great," added Carr, who explained that he and Meravy focused on a big-fish spot holding large female saugers, instead of weeding through abundant smaller males and their backup fishing areas. Meravy noted that ¼- to 3/8-ounce jigs tipped with 3-inch, slender soft-plastic trailers fished slowly and close to bottom were key to success. "The water was so clear, natural and translucent colors were best," he said. "We also sprayed the plastics with Berkley Gulp! Alive! attractant."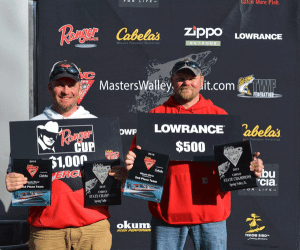 In second place, Scott Geitgey of Canton, Ohio, and Jay Gullett, of Willard, Ohio, weighed 10 fish for a 29-pound, 2-ounce total worth $5,700 in cash plus $3,000 in cash for second place in the option pot, the $1,000 Ranger Cup contingency and $500 Lowrance Electronics bonus. Geitgey and Gullet were also crowned Ohio State Walleye Champions, since this was the first MWC event with more than 10 Ohio teams present. They collected a $1,000 prize package for the accomplishment.
Rounding out the top five were:
3rd: Heath Bowman and Gordy Powers, 27-09, who earned a total of $5,800 and two Okuma Dead Eye rods worth $200
4th: Danny and Barb Plautz, 26-14, $4,500 cash
5th: Kevin Dahlauser and Kyle Kneser, 26-03, $3,800 cash
In other awards, 12th-place finishers David Kleszyk and David Zurawski claimed the $200 Zippo Hot Hand Award plus two Abu Garcia linecounter reels worth $200 for big fish of the event, a 5-pound, 10-ounce walleye. In all, the Cabela's MWC awarded $68,150 in cash and prizes.
Weigh-ins were held at the Spring Valley Boat Club, which drew rave reviews from the anglers. "Special thanks to the Boat Club for hosting us and to the Spring Valley Walleye Club for the use of Barto Landing," said Senior Tournament Director Dan Palmer. "Also a big thanks to the city of Spring Valley and the Oglesby Days Inn." The Cabela's MWC, National Professional Anglers Association, Pure Fishing and Zippo Outdoor Brands presented a Youth & Family Fishing Clinic immediately after the day-one weigh-in, with participating youths receiving rod-and-reel combos courtesy of the NPAA.
Under the umbrella of The Walleye Federation (TWF), the Cabela's MWC is open to avid walleye anglers from all walks of life. The 2015 schedule spans nine states and includes 11 regular-season qualifiers plus the 2015 World Walleye Championship.
Cabela's, the World's Foremost Outfitter for hunting, fishing and outdoor gear, is entering its 14th season as title sponsor of the MWC. Official sponsors include: Berkley Gulp!, Abu Garcia, Lowe Equipment Attachments, Lowrance Electronics, Mercury Marine, Ranger Boats, The Walleye Federation and Zippo Outdoor Brands. Associate sponsors include: Yellow Bird Fishing Products, Okuma, and T-H Marine. For more information, visit masterswalleyecircuit.com, email info@masterswalleyecircuit.com, or call (580) 765-9031.
For full standings, photo and payout info check out the results page by clicking HERE!
                                                                                                             ###