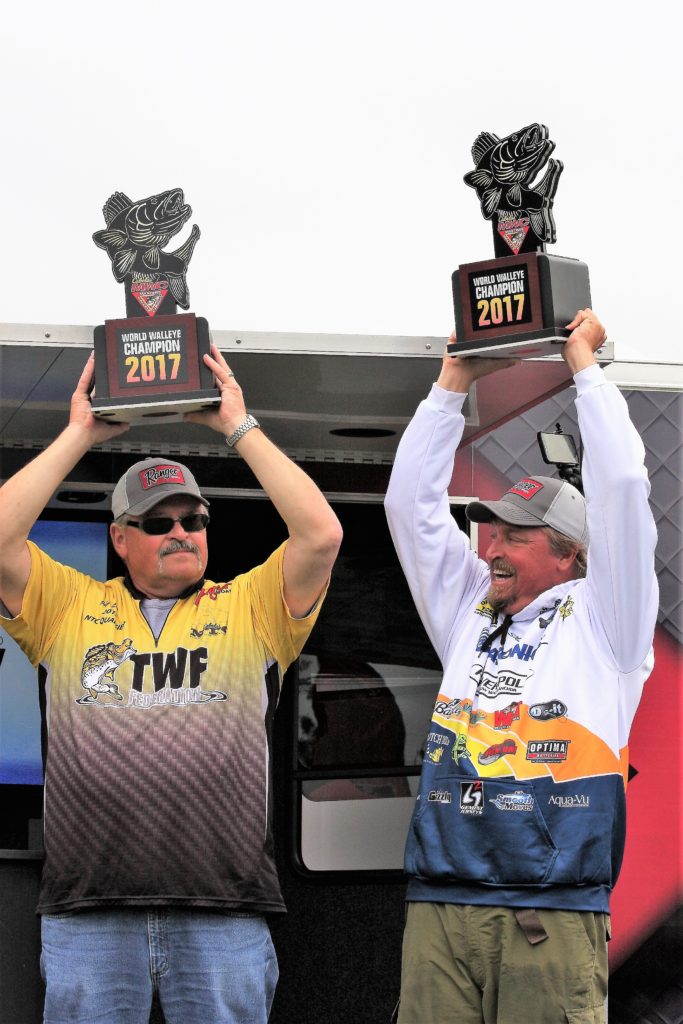 Cass Lake, Minn.—Sept. 16, 2017—Iowa's Tommy Skarlis and Jeff Lahr overcame a day-two deficit, fierce competition and tough-bite conditions to win the Cabela's Masters Walleye Circuit's 2017 World Walleye Championship on Minnesota's Cass Lake Chain.
"This is why I got into competitive walleye fishing on the MWC 27 years ago," said Skarlis, of Waukon. "And I was finally able to achieve it. Besides the birth of my children, marrying my wife and finding Christ, this is one of the greatest days of my life."
"It all worked out the way it was supposed to," added Lahr, of Dubuque. "Our go-to presentations produced the fish we needed both days—including the big kicker fish that put us over the top today, which we caught at 2 o'clock this afternoon."
Presented by Cabela's, the MWC Championship ran Sept. 14-16 out of scenic and fishing-friendly Stony Point Resort, and featured the top 41 two-person teams from the circuit's 2016 regular season. The anglers battled for a total payout topping $110,000 in cash and prizes.
Tournament officials were forced to cancel day one's fishing due to extremely heavy fog that persisted through the half-day cutoff point for shortened fishing days. But the action quickly heated up when the field was let out at 7 a.m. on day two.
Carl Holten and Mickey Stuefen, also of Iowa, sacked a 5-fish limit weighing 17 pounds, 1 ounce to take the day-two lead, while Lahr and Skarlis were hot on their heels in second place with 5 fish for 16 pounds, 8 ounces.
The two Hawkeye teams traded places on the leaderboard the final day. Holten and Stuefen brought a 9-pound, 9-ounce limit to the MWC scale for 26 pounds, 10 ounces, while Lahr and Skarlis' limit tipped the scale at 11 pounds, 11 ounces for the winning weight of 28 pounds, 3 ounces.
"We've been close to winning a championship before, and led on day two a couple of times, so it was actually great not leading it yesterday because it took some of the pressure off," said Lahr.
He and Skarlis reported casting lead swimming jigs on day two and part of day three, but said they switched to drifting live-bait rigs with redtail chubs and home-made ¾- to 1-ounce sinkers when jigs failed to produce the size walleyes they wanted in the livewell. Both days they fished depths of up to 32 feet in Cass Lake sweet spots like Allen's Bay and Wishbone Bar.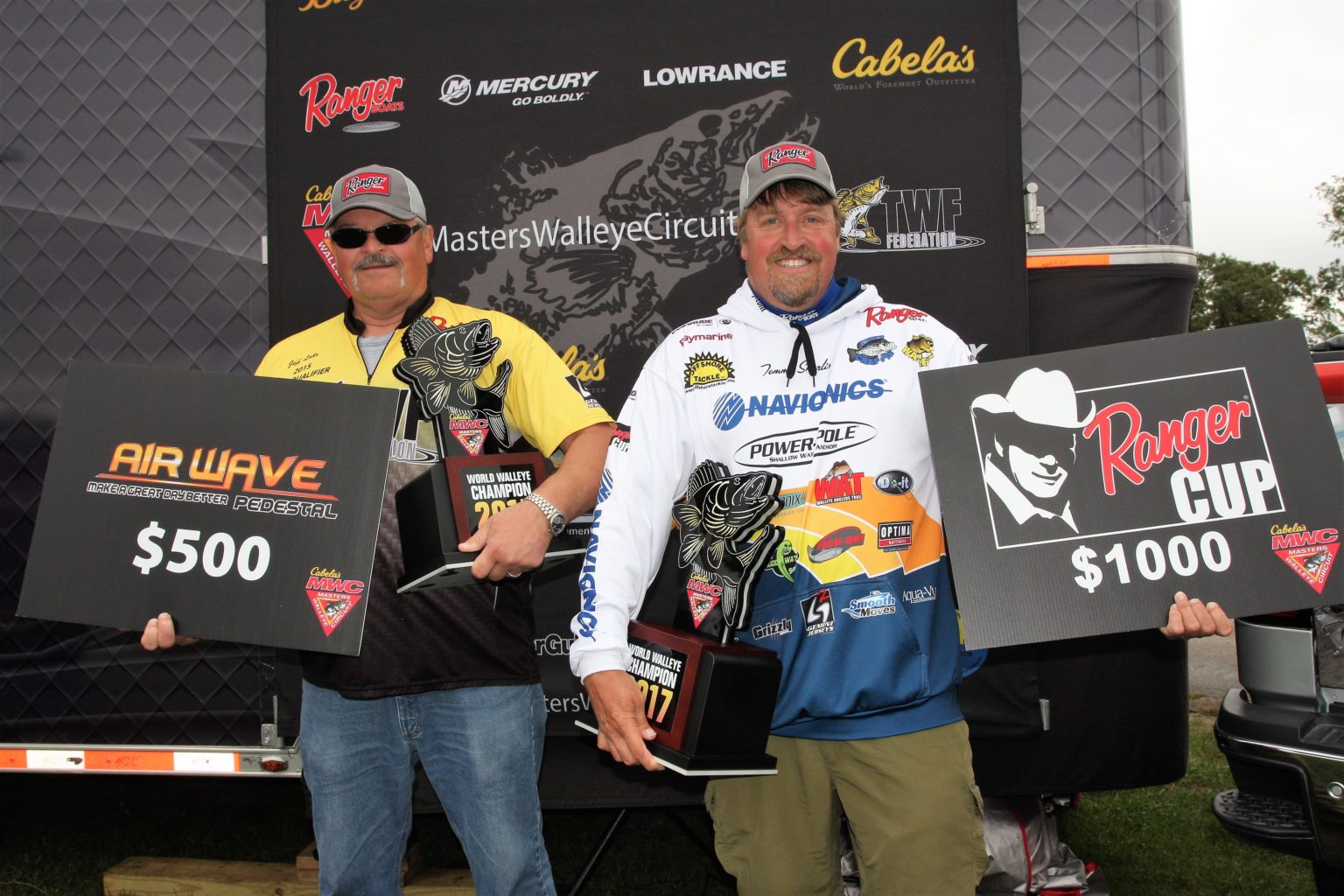 Lahr and Skarlis collected $14,700 in winnings, including $12,000 in cash, the $1,000 Ranger Cup contingency and $500 AirWave Pedestal bonus, plus a pair of custom trophies and Cabela's MWC champions' rings.
Rounding out the top five were:
2nd: Carl Holten and Mickey Stuefen, 26-10, $6,000 cash plus $500 Lowrance bonus and $200 Okuma Reel bonus
3rd: Travor Diegel, Paul Steffen, 25-08, $3,000 cash
4th: Spencer and Ron Deutz, 25-03, $$2,500 cash
5th: Dan Geiken, Brad Berens, 23-02, $2,000 cash
All teams shared in the remainder of the payout, cashing $1,500 checks all the way out to 41st place. In all, the Cabela's MWC awarded $113,361 in cash and prizes.
For complete results, CLICK HERE.
A total of 391 walleyes weighing 703 pounds, 1 ounce were brought to the scale during the championship. Ninety-seven percent of those fish were returned to the Cass Lake Chain in the Circuit's time-tested and research-proven catch-and-release format.
Stony Point Resort hosted takeoffs and weigh-ins, which drew enthusiastic crowds despite damp conditions at times. The action was also broadcast live online via streaming video coverage and an updated leaderboard, both at masterswalleyecircuit.com. On-the-water and weigh-in footage was also filmed for national television airing on Federation Angler TV, which appears on the Pursuit Channel. For Federation Angler TV schedules, visit federationangler.com.
To encourage the next generation of walleye anglers, the Cabela's MWC and National Professional Anglers Association presented a Youth & Family Fishing Clinic immediately following the weigh-in. Youths received fishing, safety and conservation advice from MWC anglers, along with free rod-and-reel combos courtesy of the NPAA.
Under the umbrella of The Walleye Federation (TWF), the Cabela's MWC is open to avid walleye anglers from all walks of life. The Cabela's MWC's 2018 schedule has already been announced and features eight qualifiers in seven states. The lineup includes the Illinois River, Detroit River, Lake Erie at Lorain, Ohio, Lake McConaughy, Lake Francis Case, Lake of the Woods, Green Bay and Cass Lake. For dates and complete details, visit masterswalleyecircuit.com.
Cabela's, the World's Foremost Outfitter for hunting, fishing and outdoor gear, is wrapping up its 16th season as title sponsor of the MWC and is eagerly awaiting the 2018 season. Official sponsors include: Lowe Equipment Attachments, Lowrance Electronics, Mercury Marine, Ranger Boats and The Walleye Federation. Associate sponsors include: AirWave Pedestals, Bagley Baits, Church Tackle, G-Juice, MotorGuide and Okuma. For information, email info@masterswalleyecircuit.com, or call (580) 765-9031.