Ponca City, Okla. — March 22, 2021 — After the field of 92 teams at the Bass Pro Shops and Cabela's Masters Walleye Circuit's (MWC) first event came to terms with a forecasted water level rise, they set out to find the most consistent bite they could, should the forecast come to fruition. Fortunately for Grand Ridge and Tonica Illinois' residents Tyler Johnson and Cade Ploch, the eventual small change in water levels didn't affect the one bite they had going for them all week long.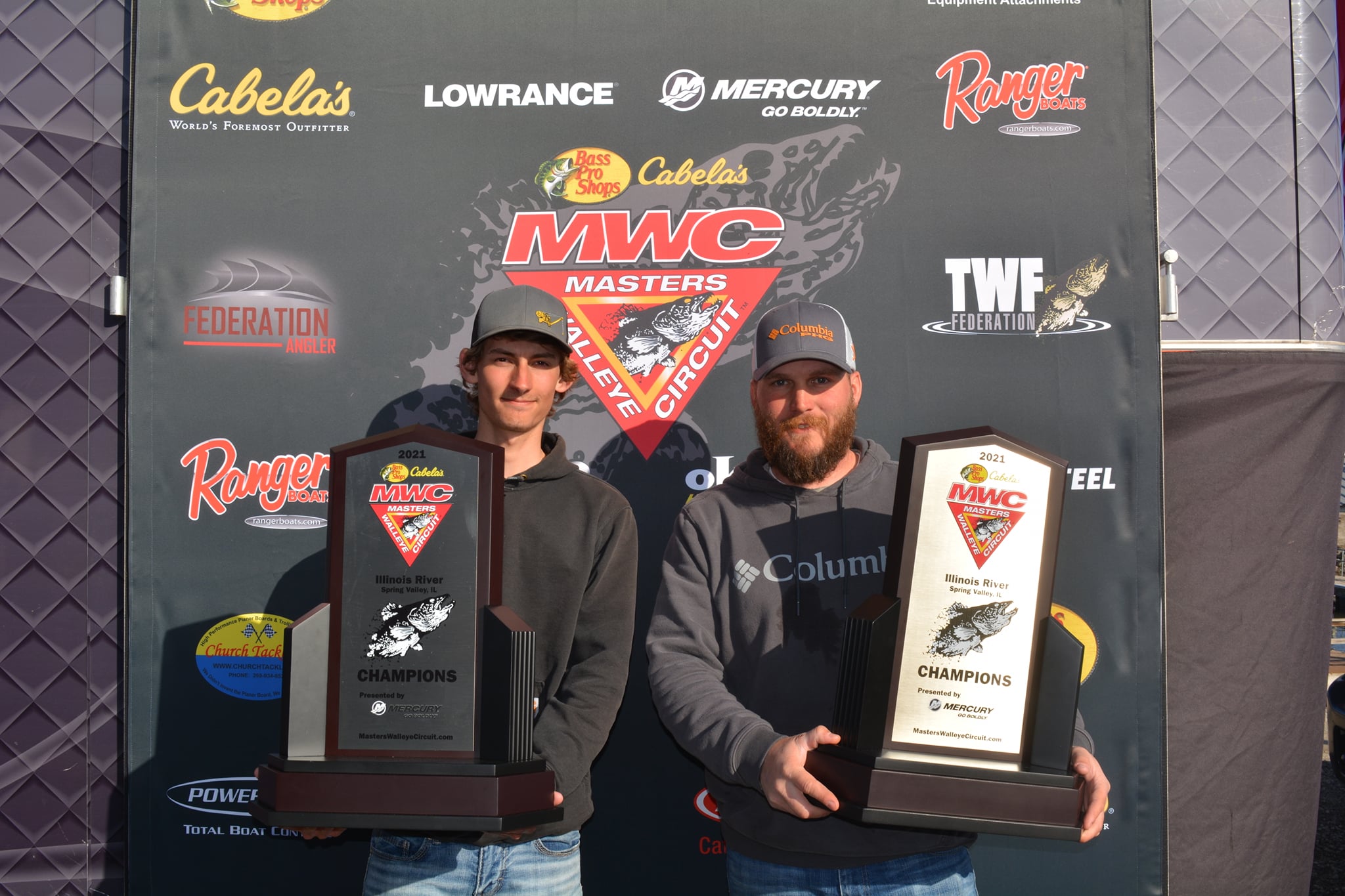 "This was the only bite we could count on. We had to go there and stay in that ½ mile stretch." mentioned Tyler Johnson after the big win, in which the duo pocketed over $15,550 in cash and prizes, including $200 Okuma reels and a $1,000 Bass Pro Shops and Cabela's National Team Championship Prize Package, including paid entry into the Bass Pro Shops and Cabela's NTC, travel stipend, team jerseys and plaques.
Teammate Cade Ploch told the crowd, while on stage clutching a trophy, that the team trolled crank baits real slow and found fish to be finicky both days of the tournament. Tyler and Cade found a way to squeak by the team that had the heaviest bag on the first day of the event by weighing in 13-00 on the first day and 12-07 on day two for a total of 25-07.
Michael and Joe Perez, having weighed 18-15 on day one of the two-day tournament, only needed their day-two catch of five fish to weigh 6-08 to win the title on Saturday, but came just one ounce shy when the scales locked in giving the team a total weight of 25-06. Those in attendance could feel the tension as the fish were placed on the scales and witnessed the heartbreak as the call was made. Graciously, Michael and Joe congratulated the winners for their efforts. For their second place finish the Perez's earned $6,050 in second-place winnings as well as cashing the first-place option pot bonus of an additional $4,296, for a total haul of $10,346
Rounding out the top-five remaining teams:
3rd: Dan Johnson & Larry Rhoads 24-11, $4,000 cash and 2nd place option pot bonus worth $3,100, plus the $1,000 Lowrance bonus, walked away with $8,100.00
4th:  Ryan Feldott & Brandon Samolitis 23-13, $3,100 cash
5th: Steven & Jeremy Skupien 23-06, $2,600 cash and 3rd place option pot bonus of $2,000
8th place of Mark Lemke and Walter Price won $1,000 with the new Ranger Cup bonus.
The 765 fish weighed a total of 1406 lbs. 04 oz. during the event. In one of the longest running conservation partnerships in all of walleye fishing each year MWC partners with the Illinois Department of Natural Resources at Spring Valley in a large conservation project. Illinois DNR takes all the sauger caught by MWC anglers back to the state's fish hatchery to be spawned under ideal, controlled conditions to further the brilliantly successful Illinois River sauger stocking program.
Under the umbrella of The Walleye Federation (TWF), the Bass Pro Shops and Cabela's Masters Walleye Circuit is North America's longest-running and undisputed leader in team walleye tournaments and as an inductee into the freshwater fishing hall of fame, has set the standard for competitive walleye fishing for 37 years. MWC is open to walleye anglers from all walks of life. The 2021 schedule includes seven qualifiers in six states, plus the 2021 Bass Pro Shops and Cabela's MWC World Walleye Championship. Registration is now open for all events, and the registration deadline for the Illinois River tournament is close of business Monday, March 15th. Visit masterswalleyecircuit.com for full details.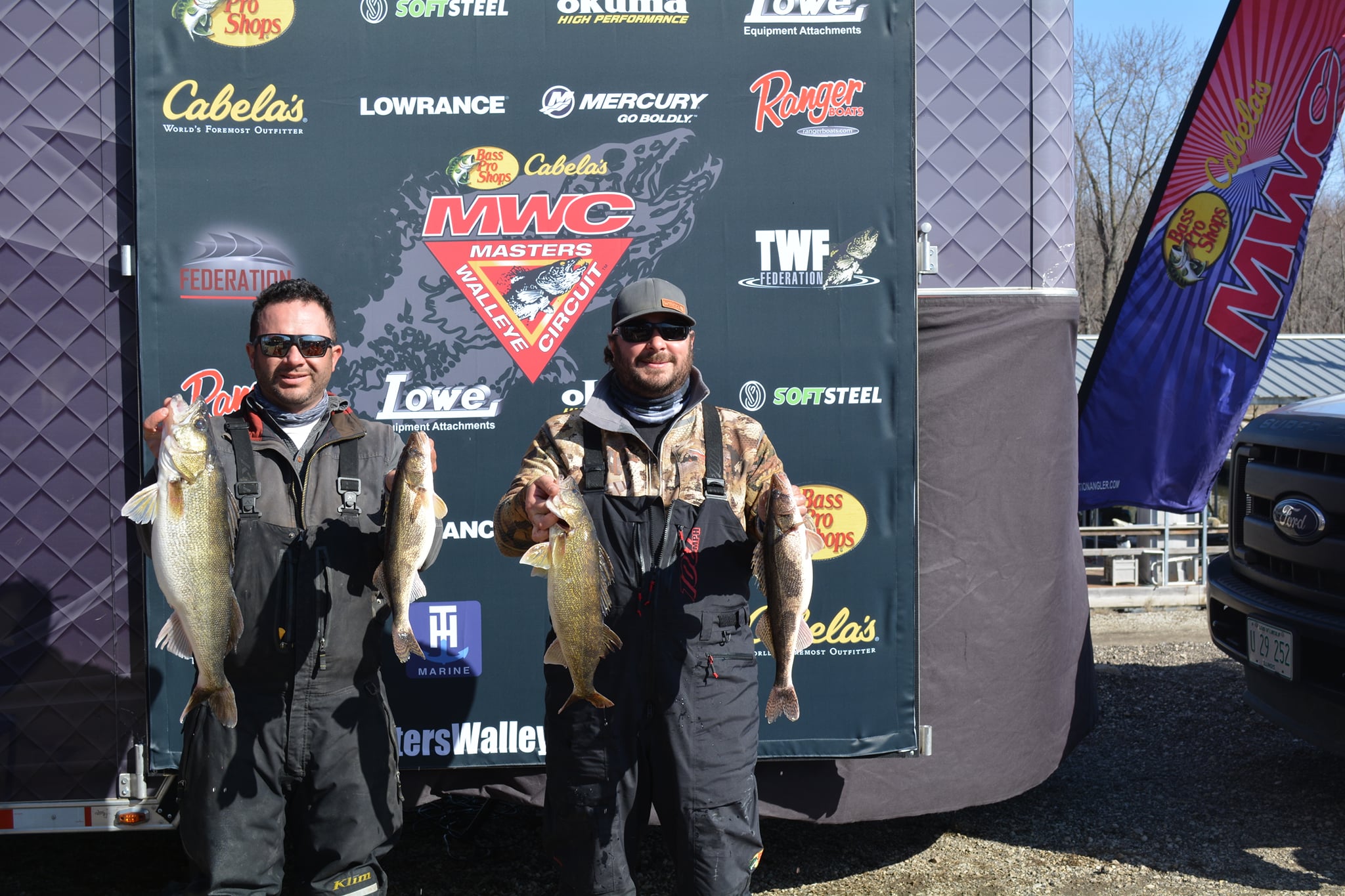 Bass Pro Shops & Cabela's – The World's Foremost Outfitters, are in their 20th season as title sponsor of the Masters Walleye Circuit. Official sponsors include: Lowe Equipment Attachments, Lowrance Electronics, Mercury Marine, Ranger Boats and The Walleye Federation. Associate sponsors include: Church Tackle, Berkley Fishing, Okuma, Power-Pole, Soft Steel and T-H Marine. For more information, email info@masterswalleyecircuit.com, or call (580) 765-9031.
###