Heiser, Morris Score Repeat Victory At Cabela's Masters Walleye Circuit Devils Lake Qualifier
Presented By Berkley
Devils Lake, N.D.—August 20, 2016—North Dakota's Troy Morris and Corey Heiser weighed in 44 pounds to win the Cabela's Masters Walleye Circuit's regular-season qualifier on Devils Lake, North Dakota, August 19-20 presented by Berkley.
Heiser, of West Fargo, and Morris, of Fargo, charged out of the gate on day one of the two-day, team-format tournament with a 5-fish limit weighing 30 pounds, 3 ounces. The weight put them solidly atop the 88-team field, and was enough to carry them to victory when the bite slowed on day two and they sacked 5 more walleyes for 13 pounds, 13 ounces.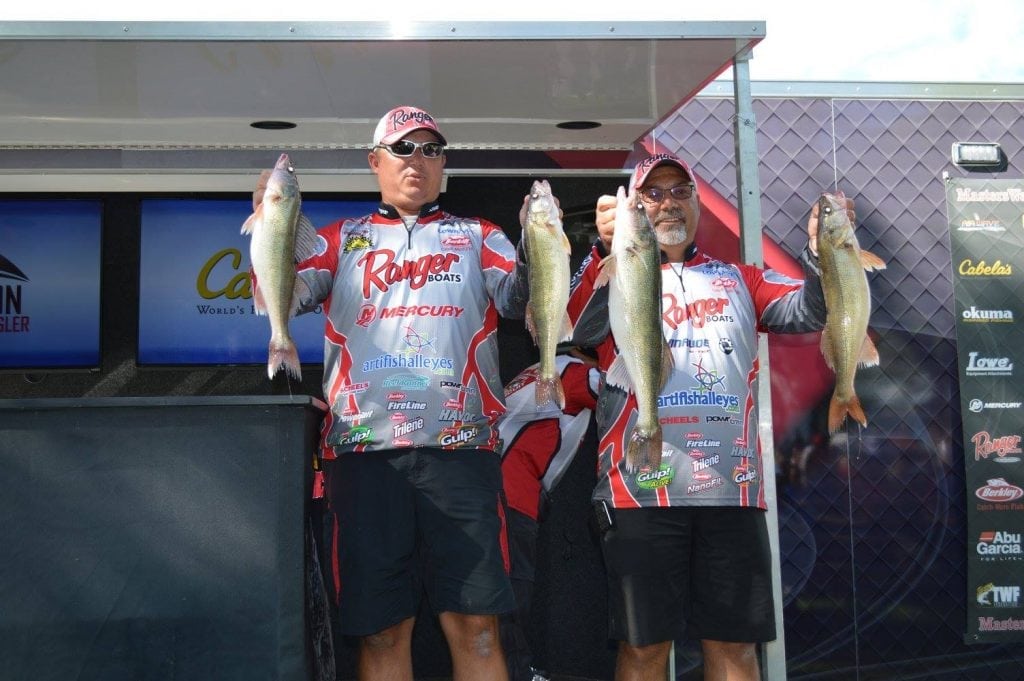 The win marked the pair's second straight Cabela's MWC Devils Lake qualifier victory. They won the 2015 MWC Devils Lake event with a total weight of 57 pounds, 1 ounce. "It's hard to win one MWC tournament, but winning back to back is crazy," said Heiser. "It's an unbelievable feeling, and it's different than last year. This time, it's more of a relief. We had a lot of people paying attention to us this time, and it was nice to live up to the expectations of others."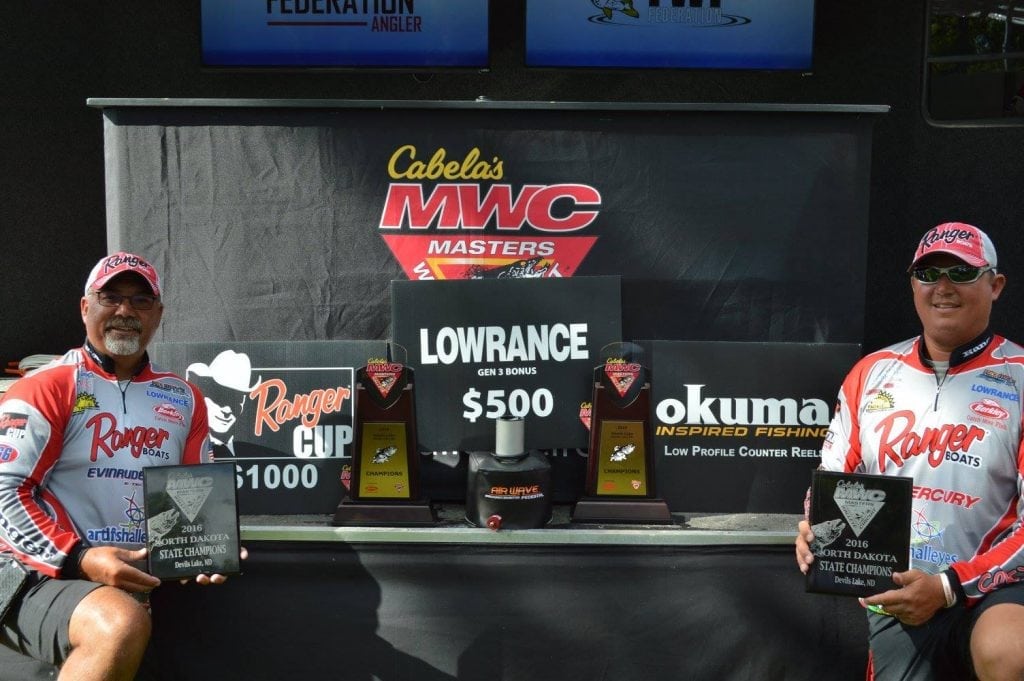 "It's great to show the world that last year wasn't a fluke, added Morris. "And to prove that you can win walleye tournaments without live bait." While the tournament rules allowed live bait, Heiser and Morris swore off live bait in 2014 and formed "Artifishalleyes." They've since shown how a variety of artificial presentations such as Berkley Gulp! and PowerBait can outfish traditional walleye bait choices. They encourage fellow walleye anglers to visit their website, artifishalleyes.com, and pledge to fish three days without live bait.
The win was worth $19,433 including $11,650 in first-place cash and $3,770 in cash from the option pot, plus the $1,000 Ranger Cup bonus, $500 Lowrance Electronics contingency, $813 from the MWC Big Fish Pot, a $500 Air Wave gift certificate and $200 Okuma bonus. They also won a $1,000 Cabela's National Team Championship Prize Package including paid entry into the 2017 NTC, travel stipend, team jerseys and plaques.
Because all 2016 Cabela's MWC tournaments are designated as "State Championship Qualifying Events," Heiser and Morris also earned the title of North Dakota State Walleye Champions. Besides bragging rights, they claimed custom state champions' prizes and awards, a berth in the Cabela's 2017 NTC, and a spot on the MWC website's Wall of Fame.
On day one, Heiser and Morris vertically fished hard-bodied swimming jigs in 28 to 36 feet of water along a steep main-lake breakline. They credited their Lowrance StructureScan 3D sonar system for helping them spot low-riding walleyes holding tight to rocky areas. "It also showed us schools of juvenile white bass, which the walleyes were following," said Morris.
Their presentation included ripping the jigs sharply upward, then allowing them to swim and flutter back down. They used 14-pound-test Berkley FireLine mainline with a 2-foot leader of 17-pound Berkley 100 Percent Fluorocarbon, noting that the stiffer fluoro limited tangles and helped prevent bite-offs from northern pike. "Boat control was critical, too," added Heiser. "Troy did a great job of keeping us in position."
On day two, the jigging bite cooled off. "We caught our fish trolling shad-imitating crankbaits including size 7 Berkley Flicker Shads on lead-core line in 23 to 25 feet of water on the main lake," said Heiser. Morris noted that speeds of 2 mph were key.
Rounding out the top five were:
2nd: Jeff Trana, Rick Darling, 43-02, $5,800
3rd: Brad Hahn, Travis Riley, 41-05, $3,900 plus $2,820 from the option pot
4th: Curt Hanson, Andrew Johnson, 41-01, $2,950
5th: Mike Dorris, Brian Tordsen, 40-10, $2,300 plus $1,750 from the option pot
In other contingencies, 34th-place finishers Curtis Olivier and Doug Galant won the $200 Abu Garcia bonus for catching the event's largest walleye, a 9-pound, 10-ounce trophy. In all, the Cabela's MWC awarded $62,582.00 in cash and prizes.
A total of 780 walleyes weighing 2,076 pounds, 5 ounces crossed the scale at scenic Grahams Island State Park. Adding to the fun, the Cabela's MWC, National Professional Anglers Association and Pure Fishing presented a Youth & Family Fishing Clinic immediately after the day-one weigh-in, with participating youths receiving rod-and-reel combos courtesy of the NPAA.
Under the umbrella of The Walleye Federation (TWF), the Cabela's MWC is open to avid walleye anglers from all walks of life. The 2016 schedule includes seven qualifiers in six states on a diverse selection of the Walleye Belt's finest rivers, inland lakes and big-water fisheries. Up next on the 2016 Cabela's MWC qualifier circuit is the Cass Lake, Minnesota, qualifier Sept. 16-17.
Senior Tournament Director Dan Palmer announced the 2017 Cabela's MWC schedule onstage during the Devils Lake event. To the delight of fans and anglers, next season's calendar includes a return trip to Devils Lake July 21-22. For the full schedule, visit masterswalleyecircuit.com.
Cabela's, the World's Foremost Outfitter for hunting, fishing and outdoor gear, is in its 15th season as title sponsor of the MWC. Official sponsors include: Berkley Gulp!, Abu Garcia, Lowe Equipment Attachments, Lowrance Electronics, Mercury Marine, Ranger Boats and The Walleye Federation. Associate sponsors include: AirWave Pedestals, G-Juice, MotorGuide and Okuma. For more information, visit masterswalleyecircuit.com, email info@masterswalleyecircuit.com, or call (580) 765-9031.
###