Cabela's Masters Walleye Circuit Announces 2015 Schedule

Lineup Includes Traditional Fish Factories, New Locations And Competitions, Plus More Than 100% Payback!
Ponca City, Okla.—Nov. 11, 2014—World-class walleye fishing, intense team-format competition and hefty payouts are on tap for the 2015 Cabela's Masters Walleye Circuit season.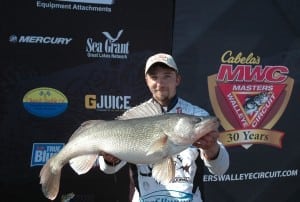 Announced today, the MWC's 31st season will feature premier destinations including a mix of traditional favorites and exciting new fisheries, all hand-picked by the anglers themselves. Leaning heavily on the results of last season's midyear angler survey, the Circuit expanded the trail to 12 events, including 11 regular-season tournaments plus the 2015 World Walleye Championship—which had already been announced for Huron Ohio, October 21-24, 2015.
The 2015 season will also offer two-person teams a variety of new features, programs and contests, along with several rule changes suggested by MWC anglers that will be announced in the coming weeks. As has been the case the past two years, payback will top 100 percent in cash and prizes, just as it did in 2014, which rewarded MWC anglers with a total payback of more than 127% percent!
In all, nine different states will host 2015 MWC events, complete with all-new State Champion's titles as well as an end-of-the-season Wildcard Event. Details on these new opportunities and awards will be announced shortly. In addition, a minimum of four MWC events will be filmed for national television—which means recognition and exposure for all MWC anglers and sponsors has never been better.
"Our 2015 MWC schedule and programing has something for everyone," said MWC Senior Tournament Director Dan Palmer. "We want to provide an affordable opportunity for all walleye anglers to compete, provide them all with the recognition they deserve, and allow them to have a great time while they're at it."
Palmer noted that the schedule is set in "wet cement," meaning the Circuit does not anticipate any changes—but unforeseen amendments are possible. "We want to let all of our anglers know that due to the size and scope of the MWC as a national organization, some states we are visiting will not issue permits for 2015 yet—and some not until after the first of the year—so our schedule is always tentative based on those permit approvals," he explained. "Occasionally, we are forced to move an event due to those issues, but we wanted to get the schedule out as soon as it was possible based on the best information available to us, so that our TWF clubs and MWC anglers nationwide can plan their seasons accordingly."
The 2015 Cabela's Masters Walleye Circuit schedule is as follows:
March 6-7 Stockton Lake, Stockton, MO *Also a Last Chance 2015 NTC qualifier (side pot)
March 20-21, Illinois River, Spring Valley Boat Club, IL *Also a Last Chance 2015 NTC qualifier (side pot)
April 17-18, Lake St Clair/Detroit River, Saint Clair Shores, MI
May 8-9, Sturgeon Bay, Little Sturgeon Bay, WI
May 15-16, Big Stone Lake, Ortonville, MN
June 19-20 Kinzua Reservoir, Bradford, PA
June 26-27 Lake Petenwell, Arkdale, WI
July 31-Aug 1, Little Bay De Noc, Escanaba, MI
Aug 7-8, Devils Lake, Devils Lake, ND
Sept. 11-12, Cass Lake, Cass Lake, MN
Sept. 25-26, Mississippi River, Dubuque, IA (MWC Wildcard Event)
2015 World Walleye Championship, October 21-24, Huron, Ohio
2016 World Walleye Championship (TBA in a separate press event)
Under the umbrella of The Walleye Federation (TWF), the Cabela's MWC is open to avid walleye anglers from all walks of life. Registration for all events opens January 2, 2015. For more information, check back often at www.masterswalleyecircuit.com as season info is regularly updated.
Cabela's, the World's Foremost Outfitter for hunting, fishing and outdoor gear, is entering its 14th season as title sponsor of the MWC. Official sponsors include: Berkley Gulp!, Abu Garcia,  Lowe Equipment Attachments, Lowrance Electronics, Mercury Marine, MotorGuide, Ranger Boats, The Walleye Federation and Zippo Outdoor Brands. Associate sponsors include: Church Tackle, Lindy Legendary Fishing Tackle, Okuma, Optima Batteries, Rockstar Hitch Mounted Mud Flaps and T-H Marine. For more information, visit masterswalleyecircuit.com, email info@masterswalleyecircuit.com, or call (580) 765-9031.
###