Dubuque, Iowa—Sept. 26, 2015—Iowans Chris Burns and Roger Abel rocketed up the leaderboard to score an exciting comeback win on the Mississippi River at Dubuque, Iowa, at the Cabela's Masters Walleye Circuit's final regular-season qualifier presented by Lowe Equipment Attachments Sept. 25-26.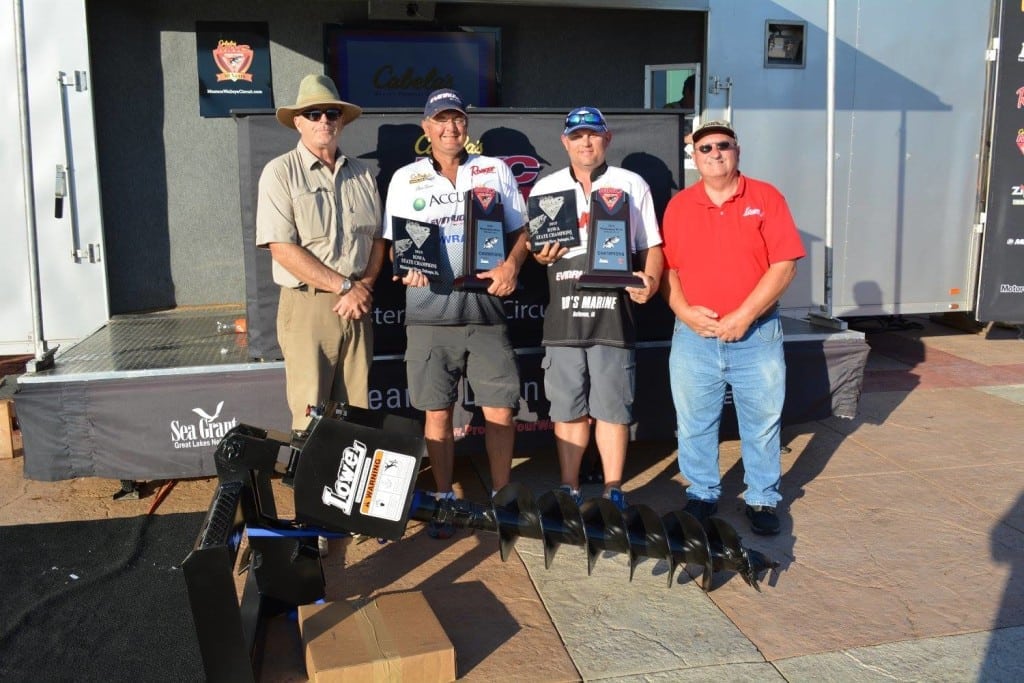 Burns, of Davenport, and Abel, of Fairfax, weighed four walleyes for 8 pounds, 5 ounces on day one of the two-day tournament to land in ninth place among the 49 two-person teams battling for thousands in cash and prizes on the walleye-rich waterway.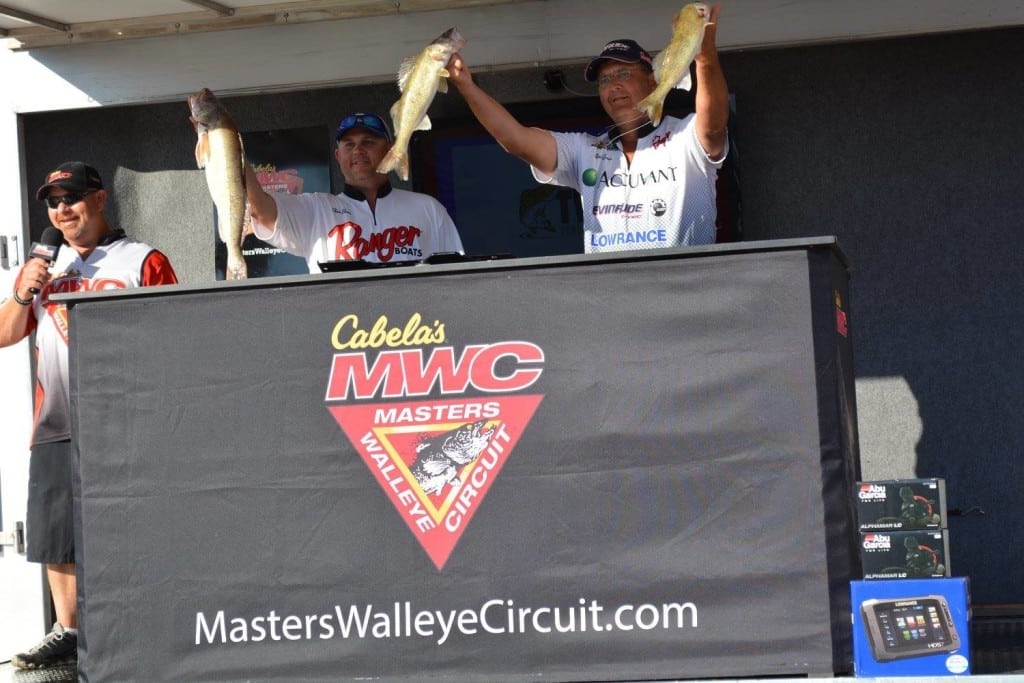 "We lost a couple of key fish and came in one fish short of our limit," Abel recalled. "We decided to start day two at our 'numbers' spot and then go hunting for big fish after that."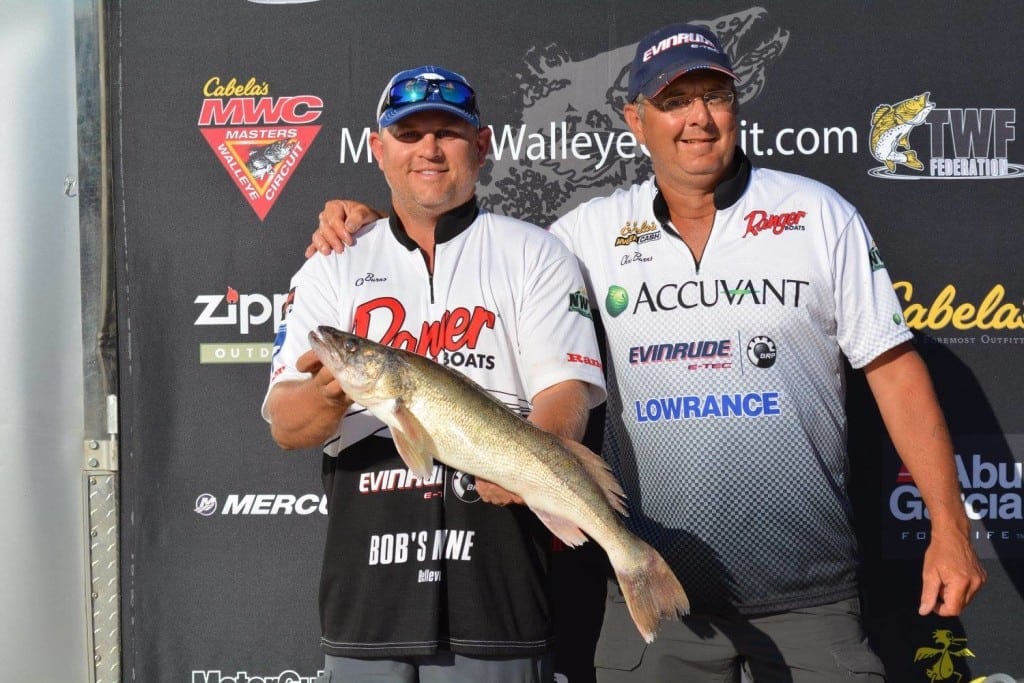 As luck would have it, they landed a dandy kicker fish right out of the gate. "That took the pressure off," Abel grinned. But he noted that in the end, they needed every bite—and nearly every second of fishing time—to pull off their rally. "We fished several different areas throughout the day and ended up getting our last fish with five minutes left to go," he added.
With a five-fish MWC limit in the livewell, Burns and Abel added 13 pounds, 11 ounces to their tally for a 22-pound two-day total that topped the hard-fishing field of 98 anglers representing eight states.
"This is fantastic!" said Burns. "I always wanted an MWC win. Words can't describe the feeling right now."
Burns explained that the team tried different presentations, but their ace in the hole was pitching ¼-ounce jigs to holes in cutbanks along the edges of the main and side channels.
"We fished hair jigs and standard leadheads tipped with plastics," he said, noting that both setups worked best when sweetened with a small chunk of nightcrawler. "The best approach was making a short cast and then letting the current sweep the jig through the hole, while slowly mending the line," he added.
Burns and Abel collected nearly $16,840 in cash and prizes for their accomplishment, including $7,600 in cash for placing first, plus $2,940 in cash from the option pot and a $2,100 Lowe 750 Classic Power Auger Package from presenting sponsor Lowe Equipment Attachments—which included a 12-inch Lowe auger, hose kit and universal mounting system.
Burns and Abel's winnings also included the $1,000 Ranger Cup award, $500 Lowrance Electronics contingency, $200 Okuma bonus, more than $500 from the MWC Big Fish Pot, and a $1,000 Cabela's National Team Championship Prize Package, which includes paid entry into the 2016 NTC, travel stipend, team jerseys and plaques.
They also claimed the title of Iowa State Walleye Champions, which comes with a $1,000 prize package including custom trophies, custom State Champions rings by Tight Lines Jewelry, a berth in the Cabela's NTC, decals and a spot on the MWC website's Wall of Fame.
Rounding out the top five were:
2nd: Les Roemig, Glenn Daugherity, 21-08, $3,900 cash
3rd: Mike Bisdorf, Jason Hancock, 19-08, $2,600 cash
4th: Cody Decker, Matt Oliver, 19-04, $2,050 cash
5th: Dave Gossar, Jay Walsh, 19-03, $1,650 cash plus $1,960 from the option pot and $200 Zippo Hot Hands bonus for catching the largest walleye of the event, an 7-pound, 3-ounce Mississippi River beauty
To commemorate the Cabela's MWC's last regular-season event of 2015, sponsors and the Circuit celebrated with an appreciation party that showers the anglers with more than $11,000 in extra prizes. "We wanted to thank our anglers for making this another great season," said MWC owner Robert Cartlidge. "The added prizes pushed the payback for this event to 121.4 percent—which is one of the highest, if not the highest, return on entry fees in MWC qualifying history."
In addition, the following prizes were awarded by random drawing to all registered teams as a thank you for supporting the MWC: a Lowrance HDS 7 Gen 2 Touch valued at $1,299; two Abu Garcia line-counter reels valued at $200; a pair of $100 Cabela's gift cards; two Ranger Boats Clothing Packages valued at $200; TH Marine Juice Package valued at $100; and a Mercury Prize Package valued at $100. Plus, each angler received a custom IM7, 7-foot Federation Angler jigging rod valued at $69.99 apiece.
In all, the Cabela's MWC awarded $38,699.02 in cash and prizes, plus $2,100 in Big Fish cash plus $4900 from the option pot for a total of $45,699.02 it total cash and prizes to the anglers.
In all, 316 walleyes and saugers weighing 550 pounds, 8 ounces crossed the stage at Dubuque's Ice Harbor Marina during the event, including 40 five-fish daily limits. Adding to the fun, the Cabela's MWC, National Professional Anglers Association, Pure Fishing and Zippo Outdoor Brands presented a Youth & Family Fishing Clinic immediately after the day-one weigh-in, with participating youths receiving rod-and-reel combos courtesy of the NPAA.
Under the umbrella of The Walleye Federation (TWF), the Cabela's MWC is open to avid walleye anglers from all walks of life. The 2015 schedule spans nine states and includes 11 regular-season qualifiers plus the 2015 World Walleye Championship.
Cabela's, the World's Foremost Outfitter for hunting, fishing and outdoor gear, is concluding its 14th season as title sponsor of the MWC. Official sponsors include: Berkley Gulp!, Abu Garcia, Lowe Equipment Attachments, Lowrance Electronics, Mercury Marine, Ranger Boats, MotorGuide, The Walleye Federation and Zippo Outdoor Brands. Associate sponsors include: Yellow Bird Fishing Products, Okuma, T-H Marine and Tight Lines Jewelry. For more information, visit masterswalleyecircuit.com, email info@masterswalleyecircuit.com, or call (580) 765-9031.