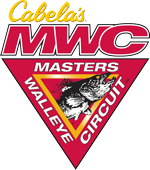 Ponca City, Okla.—Oct. 13, 2015—Wisconsin's Ryan Dempsey and Adam Adler put together a dream season against the world's top walleye tournament anglers to earn the coveted title of the Cabela's Masters Walleye Circuit's 2015 Team of the Year.
"It feels great," said Adler, of Oconto Falls. "We never expected at the beginning of the year to wind up on top at the end."
He and Dempsey, of Oneida, turned in a string of solid performances on a variety of different waters to take the title, which is awarded to the two-person team accumulating the highest point total from four qualifying events.
Adler and Dempsey racked up a total of 609 points after placing third at Cass Lake in north-central Minnesota; fourth at the Detroit River out of St. Clair Shores, Michigan; sixth at Sturgeon Bay of Lake Michigan; and 15th at the Spring Valley, Illinois, tournament on the Illinois River. Along the way, they also tied the Circuit's all-time big-fish record with a 13-pound, 4-ounce Detroit River giant.
"I feel very lucky," added Dempsey. "A guy could go a long time without getting the kind of breaks we got this season."
Indeed, there were times the ball bounced their way. But a never-say-die attitude was also critical to enjoying such good fortune. At Spring Valley, for example, they struggled on day two until an afternoon rally saved the day. Their Detroit River monster boosted them up the Motor City leaderboard with one big bite. And with barely 20 minutes left of competition at Cass Lake, they landed a 4½-pound kicker for a 3-pound upgrade.
"We never gave up until the last minute," Adler reflected.
Those who know the team have seen such spirit before. In 2014, for example, they finished second in a heartbreaker at the Cabela's National Team Championship on Green Bay after leading the event the first two days. A month later, they roared back to win an MWC qualifier on the same body of water by nearly a 13-pound margin.
"When times get tough, you keep your head up and your lines in the water," Dempsey quipped. Both he and Adler also noted that support on the home front and from their fellow MWC anglers played a major role in their success.
Along with extreme bragging rights in the walleye world, Adler and Dempsey earned their choice of prizes including a $25,000 Living the Dream package consisting of paid entry fees into the 2016 Cabela's National Walleye Trail, use of a Ranger 600 Series walleye boat, custom gear and apparel package, travel stipend, custom trophies and $1,000 in Cabela's gift cards.
Rounding out the top five teams were:
2nd: Danny and Barb Plautz, 599 points, $2,300 in cash and Cabela's gift cards
3rd: Larry Rhoads and Dan Johnson, 596 points, $1,500 in cash and Cabela's gift cards
4th: Troy Morris and Corey Heiser, 588 points, $1,200 in cash and Cabela's gift cards
5th: Brian Steichen and Shawn Carl, 578 points, $1,000 in cash and Cabela's gift cards
Teams finishing in the top five also claimed a paid entry to the 2016 Cabela's National Team Championship, while places 6th through 10th pocketed $800 in cash and Cabela's gift cards.
Under the umbrella of The Walleye Federation (TWF), the Cabela's MWC is open to avid walleye anglers from all walks of life. The 2015 schedule spanned nine states and included 11 regular-season qualifiers plus the 2015 World Walleye Championship. The 2016 schedule will be released shortly.
Cabela's, the World's Foremost Outfitter for hunting, fishing and outdoor gear, is concluding its 14th season as title sponsor of the MWC. Official sponsors include: Berkley Gulp!, Abu Garcia, Lowe Equipment Attachments, Lowrance Electronics, Mercury Marine, Ranger Boats, MotorGuide, The Walleye Federation and Zippo Outdoor Brands. Associate sponsors include: Yellow Bird Fishing Products, Okuma, T-H Marine and Tight Lines Jewelry. For more information, visit masterswalleyecircuit.com, email info@masterswalleyecircuit.com, or call (580) 765-9031.