Trenton, Mich.—April 14, 2018—Brothers Steve and Dan Bodinger of Chilton, Wisconsin, overcame challenging weather conditions and fierce competition to score an amazing come-from-behind victory at the Cabela's Masters Walleye Circuit's Detroit River regular season tournament at Trenton, Michigan, April 13-14.
Presented by Lowrance Electronics and headquartered riverside at scenic Elizabeth Park, the two-day tournament pitted 61 teams from across the Midwest against one another in an all-out, big-fish battle for Motor City bragging rights and a share of the MWC's generous payout.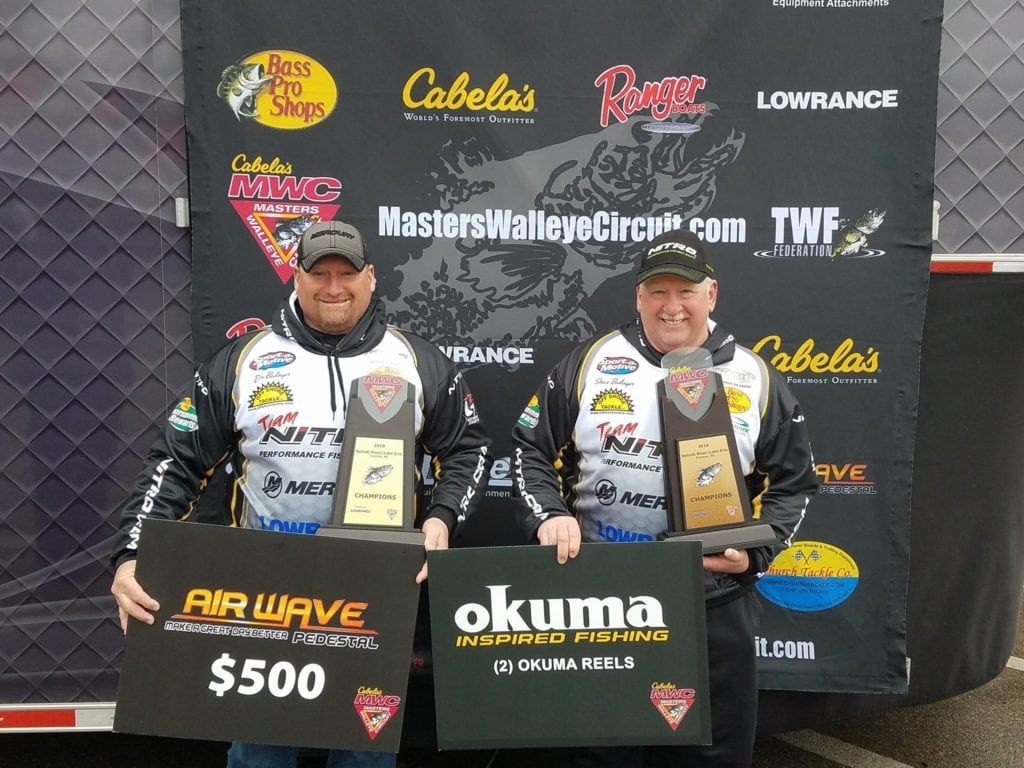 The Bodingers sacked a respectable 32 pound, 1-ounce, 5-fish limit on day one. The weight put them in eighth place, a long cast behind leaders Mitch Dougherty and Nichole Higgins, who brought in 47 pounds, 15 ounces. Undaunted, the hard-fishing brothers put together a 27-pound, 2-ounce day two limit that propelled to the top of the leaderboard with a 59-pound, 3-ounce tournament total.
"It feels awesome to have a comeback like this," said Steve. "It was miserable out there today, with 20- to 30-mph winds out of the north and rain all day. I give all the anglers credit for toughing it out."
"It hasn't sunk in yet," added Dan, who was stunned by the win. "I still don't believe it. We were 15 pounds out when we left the dock this morning, and I didn't think we had a chance of doing this."
It was the Bodingers' third MWC victory on the Detroit River, having won the event in 2010 and 2015. At the 2015 tournament, they broke the circuit's all-time two-day basket record with a 90-pound, 11-ounce limit. Their 2018 winning tactics included trolling crankbaits in 15 to 17 feet of water on Lake Erie, and snap-jigging ¾-ounce jigs tipped with soft-plastic trailers in the Detroit River.
"Most of our trolling fish hit baits with a 'Funky Monkey' pattern, custom-painted for us by Rippin' Lips Tackle," Dan added. "It's black-and-gold with purple lines and pink dots."
"We trolled on the lake until about 1 p.m. on day one, then moved into the river when the trolling bite turned off," said Steve. "The first spot we tried, we jigged up a 10½-pound walleye, which was a big bonus. When teams were restricted to the river today due to the bad weather conditions, we hit our go-to main-channel spots and put together another limit."
Dan added that precision boat control was a key part of their day two success. "My brother did a great job of keeping us slipping downriver at just the right speed," he explained. "Making the right moves to the right places at the right time was also a huge factor in the win."
The Bodingers collected $14,700 in cash and prizes for their efforts, including the $9,500 first-place cash payout, $3,500 from the option pot, $500 AirWave certificate, $200 Okuma Reel bonus and a $1,000 Cabela's National Team Championship Prize Package including paid entry into the Cabela's NTC, travel stipend, team jerseys and plaques.
Rounding out the top five were: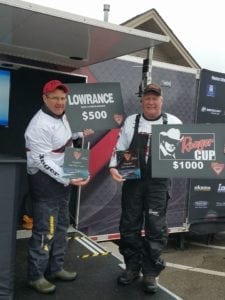 2nd: Wayne Butz, Scott Cisewski, 56-12, $4,700 cash plus $2,385 from the option pot, the $1,000 Ranger Cup bonus and $500 Lowrance Electronics contingency
3rd: Mark Lemke, Walter Price, 55-13, $3,200 cash plus $1,500 from the option pot
4th: Mitch Dougherty, Nicole Higgins, 55-07, $2,500 cash
5th: Steve Vandemark, Jerry Fox Jr., 49-01, $2,000 cash plus $1,200 from the option pot
In all, the Cabela's MWC awarded $47,565 in cash and prizes.
A total of 498 walleyes weighing 1,840 pounds, 8 ounces crossed the scale at Elizabeth Park during the event. Adding to the fun, the Cabela's MWC and National Professional Anglers Association presented a Youth & Family Fishing Clinic immediately after the day-one weigh-in, with participating youths receiving rod-and-reel combos courtesy of the NPAA.
North America's longest-running and undisputed leader in team walleye tournaments, the Cabela's MWC has set the standard for competitive walleye fishing since 1984. Operated under the umbrella of The Walleye Federation (TWF), the Cabela's MWC is open to avid walleye anglers from all walks of life. The 2018 tournament schedule includes eight qualifiers in seven states, plus the 2019 Cabela's MWC World Walleye Championship. Visit masterswalleyecircuit.com for updates, official rules and registration information.
Cabela's, the World's Foremost Outfitter for hunting, fishing and outdoor gear, is enjoying its 17th season as title sponsor of the MWC. Official sponsors include: Bass Pro Shops, Lowe Equipment Attachments, Lowrance Electronics, Mercury Marine, Ranger Boats and The Walleye Federation. Associate sponsors include: AirWave Pedestals, Church Tackle, MotorGuide, Okuma, Power-Pole and T-H Marine. For more information, email info@masterswalleyecircuit.com, or call (580) 765-9031.
###