Bartsch, Le Sage Lead Wire-To-Wire To Win Cabela's Masters Walleye Circuit Green Bay Tournament
 Presented by Lowe Equipment Attachments
Green Bay, Wisc.—May 20, 2017—Chris Bartsch and Larry Le Sage, both of Green Bay, jigged their way to a hard-fought victory at the Cabela's Masters Walleye Circuit's Green Bay regular season qualifier presented by Lowe Equipment Attachments May 19-20 out of Green Bay Metro Park.
"It's a great feeling," said Bartsch, who is Le Sage's nephew. "We've placed second and third in local tournaments around here before, so to win a big one like an MWC is fantastic."
"This is huge for us," added Le Sage. "The conditions and bite were tough, but Chris is an awesome fisherman and we managed to get all our ducks in a row."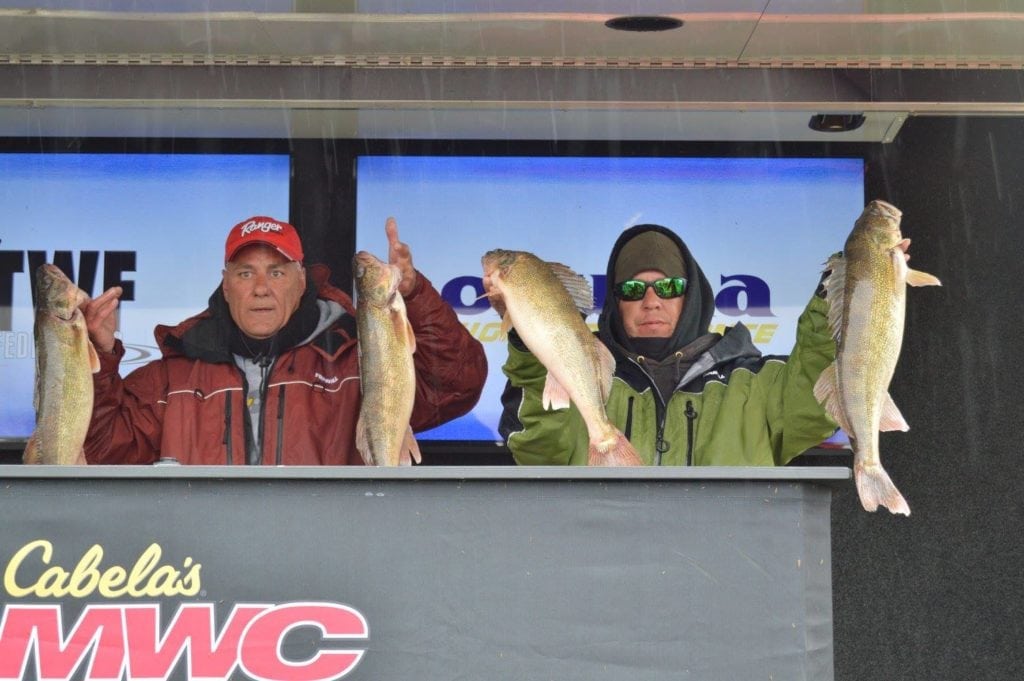 The event was Le Sage's first MWC, and he appreciated the warm welcome he and Bartsch received from other competitors. "It was really fun," he said. "We met a lot of nice people, including the reigning MWC champions Randall Gaines and Mike Rhoades."
Green Bay and its legendary walleye population were a bit less hospitable, however. Heavy seas on day one forced MWC officials to limit competitors to the Fox River. Conditions improved enough on day two for the boundaries to be expanded into the bay, but the fishing was still challenging.
Bartsch and Le Sage fished ¼- to 3/8-ounce jigs tipped with soft plastics both days. Bartsch favored a ringworm, while Le Sage stuck with a bass-style beavertail design. Both anglers sweetened the pot with a minnow or nightcrawler for added attraction. They focused on depths of seven feet or less in the river, and targeted a small but complex piece of structure not far offshore in the bay on most of day two.
They brought three walleyes weighing a total of 13 pounds, 7 ounces to the MWC scale on day one. "It was less than we hoped for, but surprisingly enough to put us in the lead," said Bartsch. They followed up with a 5-fish MWC limit weighing 28 pounds, 6 ounces on day two for a 41-pound, 13-ounce total.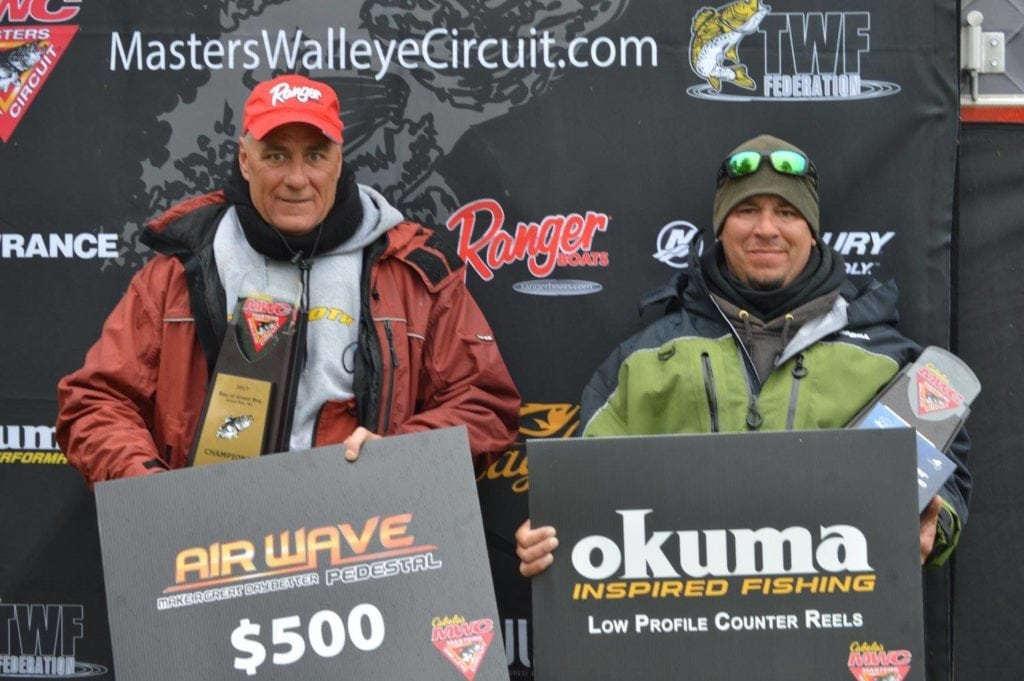 Bartsch and Le Sage collected $12,880 in cash and prizes, including the $10,300 first-place cash payout, $500 AirWave certificate, $200 Okuma Reel bonus and $880 from the MWC Big Fish Pot. They also won a $1,000 Cabela's National Team Championship Prize Package including paid entry into the 2018 NTC, travel stipend, team jerseys and plaques.
Rounding out the top five were:
2nd: Bill Vine and Chase Kretsch, 36-02, $5,200 plus $400 from the big fish pot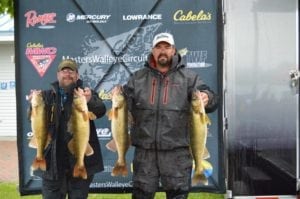 3rd: Troy Morris and Corey Heiser, 35-10, $3,500 plus $3,574.50 cash from the option pot, $1,000 Ranger Cup award and $500 Lowrance bonus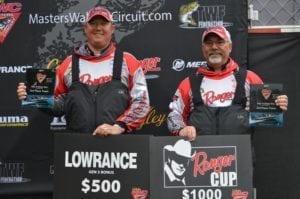 4th: Mike Olson and John Spiegel, 31-04, $2,600 plus $2,600 from the option pot and $800 from the big fish pot
5th: Steve Vandemark and Jerry Fox, Jr., 29-05, $2,200 plus $1,500 from the option pot
In all, the Cabela's MWC awarded $55,362.50 in cash and prizes. As an added bonus, presenting sponsor Lowe Equipment Attachments offers all Cabela's MWC anglers a 25 percent discount off the MSRP on all its auger, trenching and grapple products in 2017 available through Midwest Attachments, LLC. For information on that program, visit masterswalleyecircuit.com/tournaments/contingencies.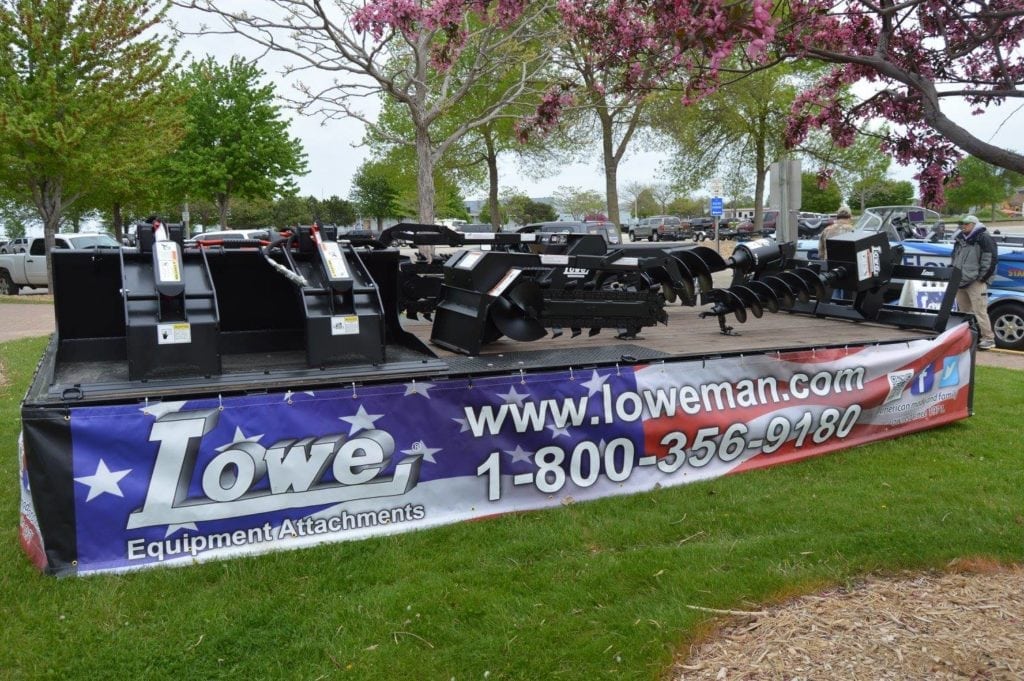 A total of 578 walleyes weighing 1,259 pounds, 15 ounces crossed the scale and were released back into the Green Bay system during the event. Adding to the fun, the Cabela's MWC and National Professional Anglers Association presented a Youth & Family Fishing Clinic immediately after the day-one weigh-in, with participating youths receiving rod-and-reel combos courtesy of the NPAA.
Under the umbrella of The Walleye Federation (TWF), the Cabela's MWC is open to avid walleye anglers from all walks of life. The 2017 schedule includes seven qualifiers in five states on a diverse selection of rivers, inland lakes and Great Lakes fisheries representing North America's top walleye destinations.
Cabela's, the World's Foremost Outfitter for hunting, fishing and outdoor gear, is in its 16th season as title sponsor of the MWC. Official sponsors include: Lowe Equipment Attachments, Lowrance Electronics, Mercury Marine, Ranger Boats and The Walleye Federation. Associate sponsors include: AirWave Pedestals, Bagley Baits, Church Tackle, G-Juice, MotorGuide and Okuma. For more information, email info@masterswalleyecircuit.com, or call (580) 765-9031.
###­­­