Spring Valley, IL — March 24th, 2019 — Dan Johnson, Fayetteville, OH. and Larry Rhoads, Milford, OH. sat in 22nd place at the start of the second and final-day of the Bass Pro Shops and Cabela's Masters Walleye Circuit, presented by Lowe Equipment Attachments, on the Illinois River. If you ask them, it's right where they wanted to be.
"We came into this event with an "every day is a pre-fishing day" mentality, it helped us to not get set on any one way and be blinded, the bite changes everyday" said Rhoads. "This is a special event, so much history here and now we have two MWC wins on this river in the last seven years."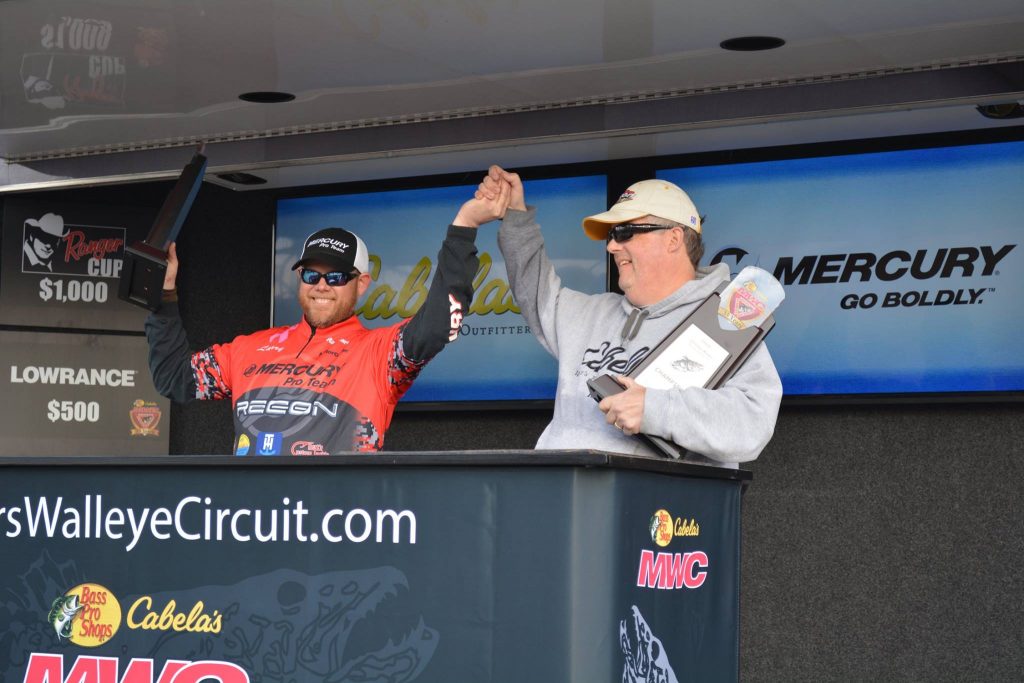 "As a team, we just keep a cool head," mentioned Johnson. "We moved around a lot, fishing places we knew had not been fished in the last couple days. Where we fished today wasn't even close to where we fished yesterday and then we upgraded from a 17" female to an 18" female in the last ten minutes."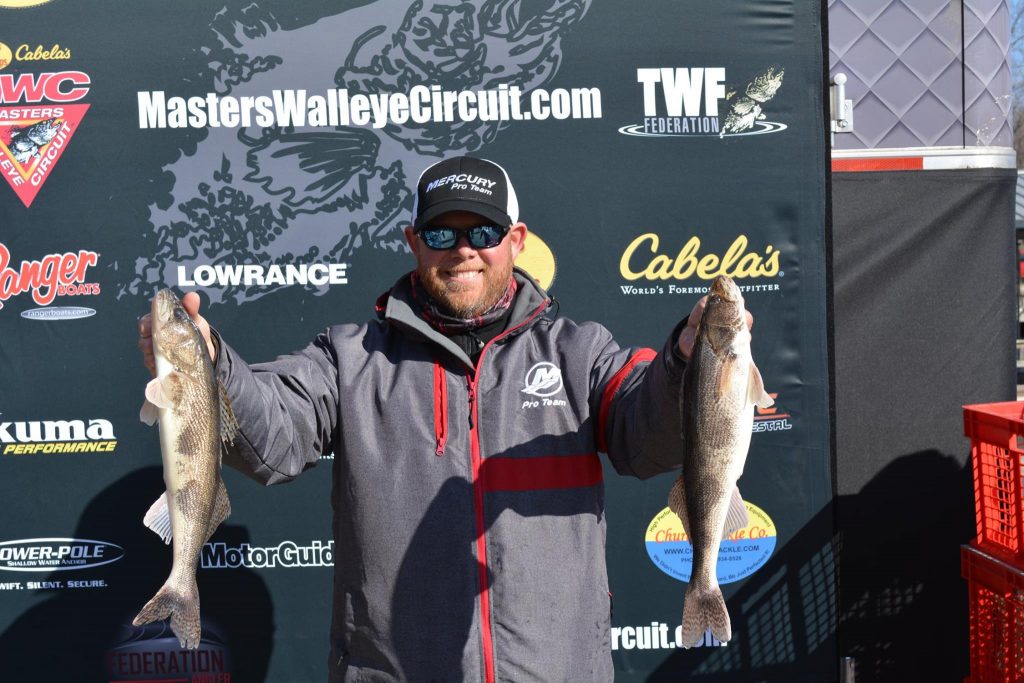 It took a combination of hand-lining and pole-lining for the MWC premier team along with subtle speed changes, while getting away from the crowd to find needed bites and a MWC rule on tie breakers sealed  up win. This is the second MWC event they have won at Spring Valley, the first back in 2012 where they sat in 82nd place after the first day and came from behind that time as well for the win.
Both the first and second place teams weighed 23lbs – 3ozs for the event. Scott Geitgey, Canton, OH. and David Kolb, Grand Blanc, MI. brought 5 fish to the scales Friday and only 4 fish Saturday while Johnson and Rhoads handed in a 5-fish tournament limit both days, winning the tie breaker.
Johnson and Rhoads walk away from Spring Valley, with $16,401 in cash and prizes including: $10,800 first-place cash payout, $3,901 cash from the option pot, $500 AirWave certificate, $200 Okuma reel bonus and a $1,000 Cabela's National Team Championship Prize Package including paid entry into the 2020 Bass Pro Shops/Cabela's NTC, with travel stipends, team jerseys and plaques. While Geitgey & Kolb took home a cool $10,000 in cash and prizes including; $5,650 cash for 2nd place, a $1,000 Ranger Cup bonus, $2,850 cash from the option pot and a $500 cash Lowrance bonus.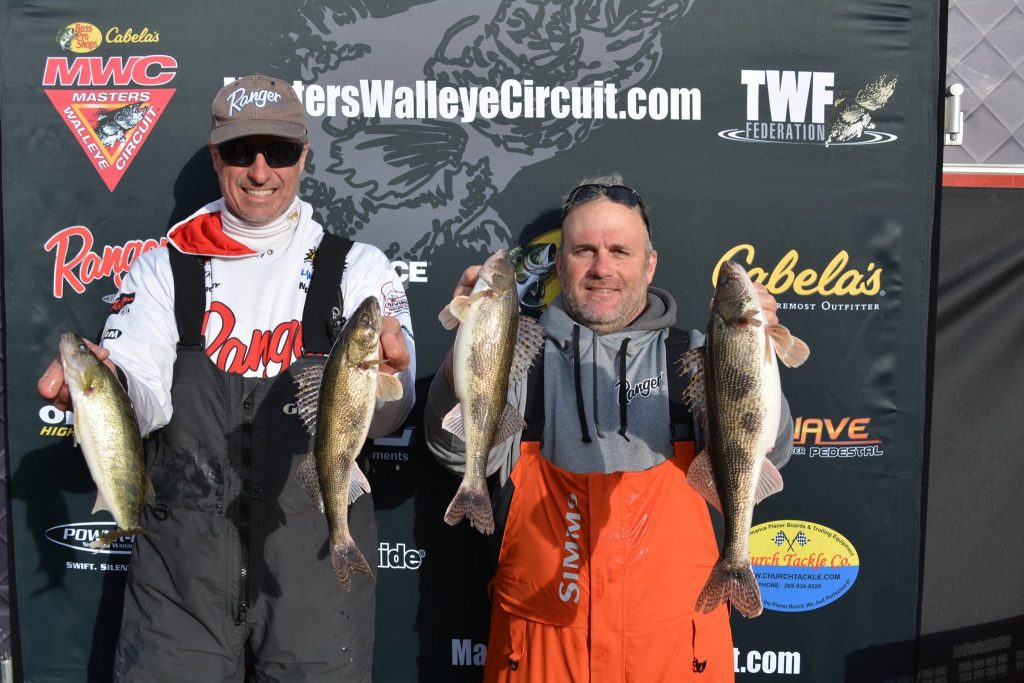 Rounding out the top 5 were:
3rd Place: Robert Hausler, Plano, IL, & Chris Clemmons, Newark, IL, 22lbs -02oz, $3,850 cash.
4th Place: Max Wilson, Lomira, WI., &  Isaac Lakich, Richfeild, WI., 22-01, $2,750 cash and a
additional $1,900 from the option pot.
5th Place: Witold Niemiec, & Wojciech Czykier, of West Milford, NJ.,  21-8, $2,200 cash
Jeff and Jared Franta took the top "Big Fish" honors for the weekend with a 7-07 walleye out of the river. All together the BPS/Cabela's MWC awarded $60,871 in cash and prizes at the Illinois River event.
984lbs- 12ozs of Sauger and Walleye were weighed in 100% alive from the 498 fish that graced the scales during the event. In an annual cooperative conservation program between MWC and the Illinois DNR all the fish were taken by the IDNR for brood stock to spawn out in the hatchery this spring and continue to restock the Illinois River with Sauger.
National Professional Angler Association member Max Wilson hosted a slew of kids at the MWC and NPAA's Youth and Family Fishing Clinic Friday afternoon, immediately following the weigh-in and gave away a number of fishing rods to attendees.
Under the umbrella of The Walleye Federation (TWF), the Bass Pro Shops/Cabela's Masters Walleye Circuit is North America's longest-running, undisputed leader in team walleye tournaments. A proud member of the freshwater fishing hall of fame, MWC has set the standard for competitive walleye fishing for 35 years and is open to avid walleye anglers from all walks of life. The 2019 schedule includes eight qualifiers in six states including: Illinois, Michigan, Minnesota, Wisconsin, Nebraska, Ohio and North Dakota, plus the 2020 Bass Pro Shops and Cabela's MWC World Walleye Championship.
Bass Pro Shops & Cabela's – The World's Foremost Outfitters, are in their 18th season as title sponsor of the Masters Walleye Circuit. Official sponsors include: Bass Pro Shops, Cabela's. Lowe Equipment Attachments, Lowrance Electronics, Mercury Marine, Ranger Boats and The Walleye Federation. Associate sponsors include: AirWave Pedestals, Church Tackle, MotorGuide, Okuma, Power-Pole and  T-H Marine. For more information, email info@masterswalleyecircuit.com, or call (580) 765-9031.
###