New Town, ND — July 13, 2020 — After a long absence from Lake Sakakawea, the Bass Pro Shops and Cabela's Masters Walleye Circuit (MWC) presented by Ranger Boats, teamed up with 4 Bears Casino to reignite the circuit's relationship with the historic lake. While the views all around the reservoir are incredible, the results of the two-day tournament for Dan Stier (Mina, SD) and Dennis Bense (Bismark, ND) were equally impressive.
Each of the two mornings at take-off, as their boat rolled past the MWC staff, tournament announcer, Jeff Kelm called out the team's boat number and their names, and each morning Dan Stier would echo back "The Dream Team". Dan elaborated on that nickname on stage after weighing over 29lbs of fish on the second day of competition. "Dennis and I have a pretty unique thing going, each time we team up and fish a tournament together, we usually end up winning it." When asked how they caught a total of 55-08 on Friday and Saturday, Stier said the team did what they knew what to do best, fishing creek chubs in deep water.
Of course, no great story comes without a little adversity. After securing the win, Dennis shared a story with the crowd about losing a potentially tournament winning fish out of the net at the back of the boat. "I am really relieved, I let one get out of the net today that would have been about a two-pound upgrade and I would have never have heard the end of it we didn't win." Fortunately for both Dennis and Dan, the two pounds were not a necessity after besting second place by over 10 pounds.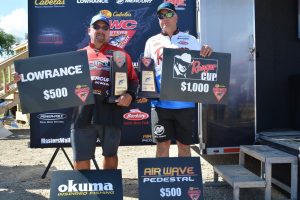 Dan Stier and Dennis Bense take home $14,400 in cash and prizes, including the $7,700 first-place cash payout, $3,500 option pot cash, $1,000 Ranger Cup bonus, $500 Lowrance bonus, $500 AirWave certificate, $200 in Okuma reels and a $1,000 Bass Pro Shops and Cabela's National Team Championship Prize Package, including paid entry into the Bass Pro Shops and Cabela's NTC, travel stipend, team jerseys and plaques.
The rest of the top five teams:
2nd: Craig Kolden & Benjamin Leidholm 45-15, $3,850 cash
3rd: Jason Feldner & Mike Peluso 44-02, $2,550 cash, $2,500 option pot cash
4th: Matthew Liebel & Tory Hill 43-05, $2,000 cash
5th: Grant Miller & Cole Frenzel 42-13, $1,500 cash, $1,500 option pot cash
All together the Bass Pro Shops and Cabela's Masters Walleye Circuit awarded $34,506.50 in cash and prizes at 4 Bears Casino and Lodge in New Town, ND.
361 fish weighed a total of 1,195 lbs. 11 oz. during the event.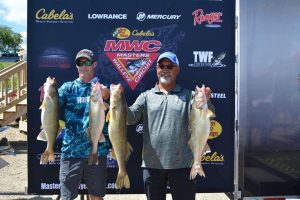 Under the umbrella of The Walleye Federation (TWF), the Bass Pro Shops and Cabela's Masters Walleye Circuit is North America's longest-running and undisputed leader in team walleye tournaments and as an inductee into the freshwater fishing hall of fame, has set the standard for competitive walleye fishing for 36 years and is open to avid walleye anglers from all walks of life. The 2020 schedule includes 7 qualifiers in seven states, plus the 2021 Bass Pro Shops and Cabela's MWC World Walleye Championship.
Bass Pro Shops and Cabela's – The World's Foremost Outfitters, are in their 19th season as title sponsor of the Masters Walleye Circuit. Official sponsors include: Lowe Equipment Attachments, Lowrance Electronics, Mercury Marine, Ranger Boats and The Walleye Federation. Associate sponsors include: AirWave Pedestals, Berkley, Church Tackle, Soft Steel, Okuma, Power-Pole and T-H Marine. For more information, email info@masterswalleyecircuit.com, or call (580) 765-9031.