Stanton, Brown Win Cabela's Masters Walleye Circuit
2015 Kickoff On Missouri's Stockton Lake
Presented by The Walleye Federation
Stockton, Mo.—March 7, 2015—Missouri's Gary Stanton and Lee Brown finished strong to claim a thrilling comeback victory at the Cabela's Masters Walleye Circuit's season opener on legendary Stockton Lake March 6-7.
"It's so exciting, it feels wonderful to win this," said Stanton, of Dadeville. He and Brown, of Springfield, collected the $5,000 first-place cash payout, plus $2,310 from the option pot and a $1,000 Cabela's National Team Championship Prize Package including paid entry into the 2016, travel stipend, team jerseys and plaques. "We are definitely going to sign up and fish some more MWC events this year." Staton continued. "Maybe Big Stone and one or two others."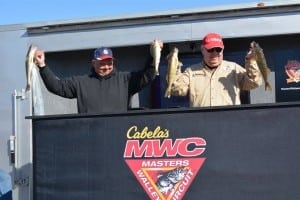 Because all 2015 Cabela's MWC tournaments are also designated as "State Championship Qualifying Events," Stanton and Brown also earned the title of Missouri State Walleye Champions. Besides bragging rights, the honor includes custom marble plaques, decals, a spot on the MWC website's Wall of Fame and a last-chance bid to the 2015 Cabela's NTC. If they can continue their winning ways at future MWC events in 2015 they could become the first team to under the new program to win multiple state champions titles in a single season.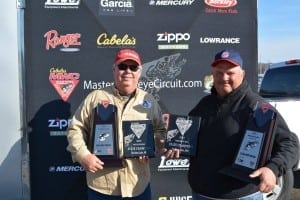 Such rewards didn't come without a fight. "It was a tough bite," said Stanton, who reported dodging an ice floe while trolling in the 38-degree water. While air temperatures were pushing 70 degrees by the final weigh-in, the event started with much cooler conditions that had Stockton's renowned walleyes in a finicky mood. After a slow start, Stanton and Brown put together a 5-pound, 7-ounce three-fish catch on Day One. The tally left them in fifth place, trailing leaders Steve Stein and Kenny Ludwig, both of Leavenworth, Kansas, who had 9 pounds, 14 ounces.
"We didn't have a keeper by noon the first day pulling bottom-bouncers," said Brown. "So we switched to bright-colored, shad-style crankbaits on lead-core and caught our three fish." He noted that speeds of 1.8 to 2 mph were critical, as were 5- to 6-foot leaders of 14- to 17-pound Berkley Vanish fluorocarbon, which helped fool line-shy fish in Stockton's gin-clear water.
While many teams targeted prespawn walleyes hunkered in 40 to 60 feet of water, Stanton and Brown focused on the 30-foot zone in a large cove close to the dam. "We started out with lead-core and crankbaits on Day Two and caught five walleyes by 11 o'clock," Stanton reported. "We didn't get another fish and were worried that we wouldn't have enough to catch the leaders, but it worked out."
Indeed, Stanton and Brown's 7-pound, 9-ounce Day Two basket pushed their total to 13 pounds and propelled them into the winner's circle, while Stein and Ludwig fell to sixth. For Brown, it was an emotional victory. "I've been infatuated with walleye fishing my entire life," he said. "Just to fish an MWC was a really fulfilling experience, let alone to win one."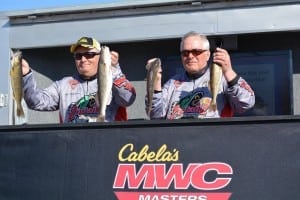 In second place, Randall Gaines of Salem, Ohio, and Mike Rhoades, of South Bend, Indiana, weighed eight walleyes for a 12-pound, 1-ounce total worth $2,700 in cash plus $1,540 in cash for second place in the option pot.
Rounding out the top seven were:
3rd: Mike Dorris and Brian Tordsen, 10-15, $1,600 cash plus $1,000 Ranger Cup Award and
$500 Lowrance award
4th: Jaran Cox and Shane McReynolds, 10-09, $1,100 cash plus last-chance NTC bid for 2015
5th: Brett Cournoyer and Adrian Cliffe, 9-15, last chance NTC bid for 2015
6th: Steve Stein and Kenny Ludwig, 9-14, last chance NTC bid for 2015, plus two Okuma Dead Eye rods worth $200
7th: Brian Steichen and Shawn Carl, 9-01, $200 Zippo Hot Hand Award for big fish of the event, a 3-pound, 10-ounce walleye, plus two Abu Garcia linecounter reels worth $200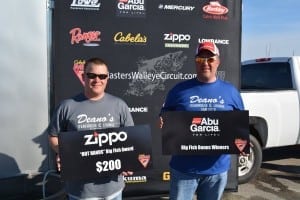 Although the tournament marked the beginning of the Cabela's Masters Walleye Circuit's 31st season of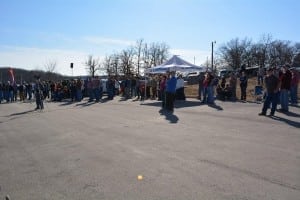 team walleye competition, Stockton was definitely new territory for the trail. The legendary impoundment was added to expose new anglers to the MWC and its sponsors, while giving circuit veterans a chance to test their skills on a new body of water and earn a last-chance qualifying spot in the 2015 Cabela's NTC. The field included a pair of past Cabela's MWC World Walleye Champions, three past MWC event winners and a number of first-timers. The weigh in crowds were awesome and the community came out in force to cheer the MWC anglers on.
A total of 69 fish weighing 113 pounds, 1 ounce crossed the stage during the two-day, catch-and-release event. Weigh-ins were held at the Orleans Trail Resort and Marina. The Cabela's MWC, National Professional Anglers Association, Pure Fishing and Zippo Outdoor Brands presented a Youth & Family Fishing Clinic immediately after the day-one weigh-in, with participating youths receiving rod-and-reel combos courtesy of the NPAA.
Under the umbrella of The Walleye Federation (TWF), the Cabela's MWC is open to avid walleye anglers from all walks of life. The 2015 schedule spans nine states and includes 11 regular-season qualifiers plus the 2015 World Walleye Championship.
Cabela's, the World's Foremost Outfitter for hunting, fishing and outdoor gear, is entering its 14th season as title sponsor of the MWC. Official sponsors include: Berkley Gulp!, Abu Garcia, Lowe Equipment Attachments, Lowrance Electronics, Mercury Marine, Ranger Boats, The Walleye Federation and Zippo Outdoor Brands. Associate sponsors include: Yellow Bird Fishing Products, Okuma, and T-H Marine. For more information, visit masterswalleyecircuit.com, email info@masterswalleyecircuit.com, or call (580) 765-9031.
###
You can check out full standings payouts and photos on our results page or by CLICKING HERE