Tommy Skarlis and Jeff Lahr lead day one of the Cabela's Masters Walleye Circuit World Walleye Championship with 19 pounds 7 ounces, with a nice 9 pound 5 ounce kicker!
For Full Day 1 Standings Click the following link: WWC Day 1
For Pictures for Day 1 please CLICK HERE!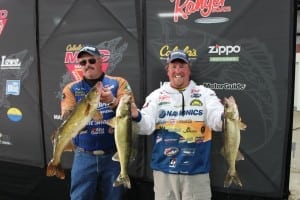 Day 1 Big Fish award went to Matt Davis and Dan Gies with a nice 10 pound 12 ounce Walleye!