Port Clinton, Ohio — June 23, 2019 — With wind and waves, Lake Erie did all it could to slow down the "Toughest Walleye Anglers on Planet Earth", but try as it may, the fishermen still won out. Presented by Lowrance, the Bass Pro Shops and Cabela's Masters Walleye Circuit launched the two-day tournament from Port Clinton, OH, with Rodger Riggs (Cleveland, OH) and Jason Kopf (Avon Lake, OH) grabbing the win by ounces over Jim Passo (St Charles, IL) and "Butch" Rabetski (Kimberly, WI).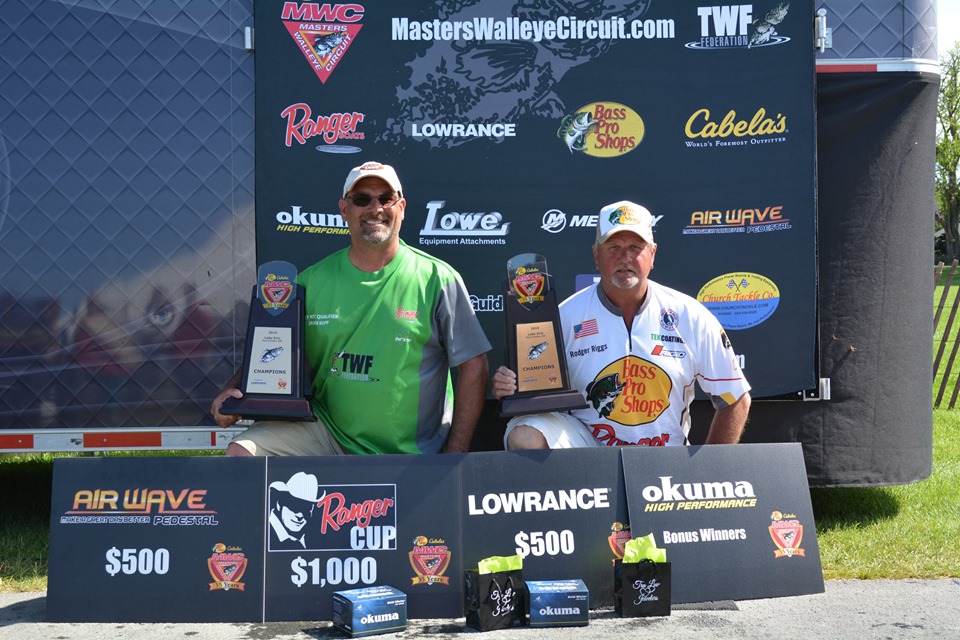 "This is just fantastic!" an elated Jason Kopf exclaimed "The first MWC event I fished was here in Port Clinton in 2009, I won that event, and here we are, once again. I feel like I got the (title) belt back!" Jason and Rodger ran 32 miles each day through rough conditions to find fish. "When we got to our spot on Friday morning, I set everything up to start trolling and the next thing I did was grab a screwdriver and began tightening everything back down that came loose on the ride over."
Trolling crankbaits with a 3 oz. snap-weight down at the bottom produced the bites needed to seal the deal. Rodger Riggs mentioned "We had a plan that worked, and on Saturday morning, we thought maybe this could be ours? Then we started watching Jimmy (Passo) and Butch and thought, oh man, maybe not, this is going to be close." Close it was. Jim and Butch weighed in an impressive 39lbs. bag on day-two to make a 20-place jump to second, finishing only 7oz. behind Riggs and Kopf.
Both Rodger and Jason are proud to win on their home water, knowing it's never easy to win a Masters Walleye Circuit event and often even harder when the pressure of homefield advantage weighs on you. "I take a tremendous amount of pride showing off this fishery and this win means a ton to Rodger and me." Jason added, while holding the champions trophy.
With 56-2 of fish, Riggs and Kopf take home $14,090.50 in cash and prizes, including the $7,700 first-place cash payout, $3,200.50 option pot cash, $1,000 Ranger Cup, $500 Lowrance Bonus, $500 AirWave certificate, $200 in Okuma reels, $490 custom necklace pendants (Tru Luv Jewelers) and a $1,000 Bass Pro Shops and Cabela's National Team Championship Prize Package, including paid entry into the Bass Pro Shops and Cabela's NTC, travel stipend, team jerseys and plaques.
The rest of the top five teams:
2nd: Jim Passo and Gordan (Butch) Rabetski 55-11, $3,850 cash, $2,000 option pot cash, $463 for Saturday Big Fish
3rd: Rodney Blackwell and Brett Rogers 51-09, $2,550 cash, $185 for 3rd place Saturday Big Fish
4th: Virgill Tent and Ciprian Donici 47-10, $2,000 cash, $1,250 option pot cash, $185 for 3rd place Friday Big Fish
5th: Richard Larson and Mark Crites 47-04, $1,500 cash
All together the Bass Pro Shops and Cabela's Masters Walleye Circuit awarded $34,130.50 in cash and prizes in Port Clinton.
413 fish weighed a total of 1509lbs- 11ozs during the event. Teams of Jim Passo & Gordan (Butch) Rabetski and Adam Hume & Miles Schmidt tied for "Big Fish" honors over the weekend with 9-04 walleyes on Saturday. National Professional Angler Association member Max Wilson presented the NPAA's Youth and Family Fishing Clinic for an enthusiastic group, Friday afternoon, immediately following the weigh-in and gave away fishing rods to attendees.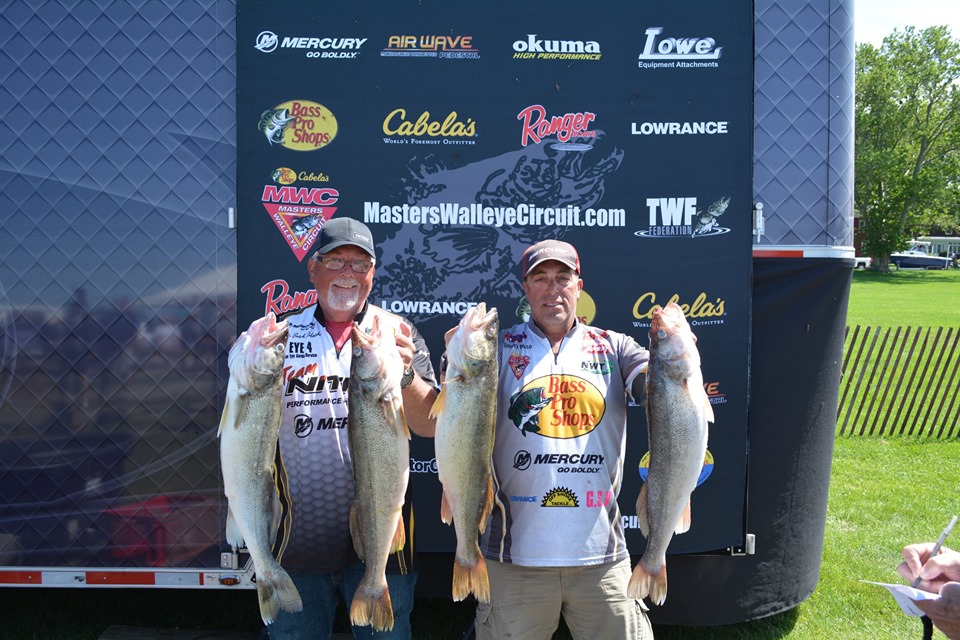 Under the umbrella of The Walleye Federation (TWF), the Bass Pro Shops and Cabela's Masters Walleye Circuit is North America's longest-running and undisputed leader in team walleye tournaments and as an inductee into the freshwater fishing hall of fame, has set the standard for competitive walleye fishing for 35 years and is open to avid walleye anglers from all walks of life. The 2019 schedule includes eight qualifiers in six states, plus the 2020 Bass Pro Shops and Cabela's MWC World Walleye Championship.
Bass Pro Shops and Cabela's – The World's Foremost Outfitters, are in their 18th season as title sponsor of the Masters Walleye Circuit. Official sponsors include: Lowe Equipment Attachments, Lowrance Electronics, Mercury Marine, Ranger Boats and The Walleye Federation. Associate sponsors include: AirWave Pedestals, Church Tackle, MotorGuide, Okuma, Power-Pole and T-H Marine. For more information, email info@masterswalleyecircuit.com, or call (580) 765-9031.
###