Rhodes, Koester Win Cabela's Masters Walleye Circuit
Season Opener On The Illinois River
Presented by Berkley Baits
For Immediate Release –
Spring Valley, Ill.—March 30, 2014—Scott Rhodes and Jeff Koester racked up an impressive 26 pounds, 4 ounces to win the Cabela's Masters Walleye Circuit's 2014 season opener on the Illinois River at Spring Valley, Illinois.
"The feeling is surreal, it's going to take awhile to sink in," Koester, of Brookville, Indiana, beamed moments after claiming victory in front of a raucous riverside crowd gathered to watch the festivities at historic Barto Landing.
He and Rhodes collected the $11,100 first-place cash payout, plus $500 in Berkley Artificial-Only Bonus Cash, the $500 Berkley Baits contingency, $200 Optima True Blue award, and $950 from the MWC Big Fish Pot for their Day 1 big fish. They also claimed a $1,000 Cabela's National Team Championship Prize Package including paid NTC entry, travel stipend, team jerseys and plaques.
Held March 29-30, the tournament marked the circuit's 28th-consecutive season opener on the Illinois, and the beginning of its 30th season of team walleye tournament competition. Two-person teams were allowed to weigh five walleyes, saugers or saugeyes per day. In an exciting twist for 2014, this year's tournament was an "artificial-only" event—with extra winnings at stake as anglers put their favorite crankbaits, spinners, Berkley Gulp!-type softbaits and other man-made presentations to the test, while live bait such as minnows and nightcrawlers were off limits.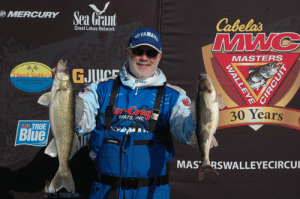 As it turned out, artificial presentations were hardly a setback. Koester and Rhode's total trumped the Circuit's 2013 Spring Valley winning weight by nearly eight pounds. Last March, Iowans Clayton Freiburger and Mike Bisdorf weighed in 18.15 pounds to win the MWC season opener. The artificial-only format emerged this season thanks to a partnership between Berkley Gulp! and the Cabela's MWC, with Berkley kicking in an additional $2,500 in prize money for the anglers.
Rhodes and Koester came out swinging on Day 1, weighing a hefty 14-pound, 6-ounce limit that would prove to be big basket of the tournament. They also weighed big fish of the day, a 4-pound, 15-ounce walleye. They closed the deal on Day 2 with an 11-pound, 14-ounce limit. Their go-to tactic was hand-lining crankbaits laced with walleye-formula Berkley PowerBait Attractant. Koester noted that their hand-line leads were 25-pound-test Berkley Big Game line.
It wasn't the team's first trip to the winner's circle. They were crowned 2007 Cabela's MWC World Walleye Champions, and have won a pair of MWC Walleye Madness events. "But winning an MWC regular-season qualifier has remained a major goal throughout the years," Koester said. "It's fantastic," added Rhodes, of Interlochen, Michigan. "Everything went right for two days straight."
Heath Bohman of Wisconsin Rapids, Wisconsin, and Gordy Powers of Rockford, Minnesota, finished a close second with 24 pounds, 1 ounce, worth $5,500 plus the $1,000 Ranger Cup contingency and $300 Berkley Bonus Cash. In fourth place, the Illinois team of Ryan Feldott, of Spring Valley, and Chris Payne, of Oglesby, claimed the $500 Lowrance HDS Gen2 Touch and Elite 7 contingency. Illinois' Bob Horvath, of Mokena, and Mike Thomas, of Wilton, earned $500 custom Rockstar Hitch-Mounted Mud Flaps for jumping 31 places from 70th on Day 1 to 39th place on Day 2. In all, the top 16 teams shared more than $51,850 in cash and prizes.
Despite a late spring across the Midwest, the Illinois River was generous to MWCers, yielding 694 fish weighing a total of 1,334 pounds, 2 ounces. Big fish was a 5-pound walleye caught by Steve Evert and Dale Newton. They earned $950 from the MWC Big Fish Pot for the achievement, along with the $250 Zippo Hot Hands Big Fish Award. The Cabela's MWC, National Professional Anglers Association, Pure Fishing and Zippo Outdoor Brands presented a Youth & Family Fishing Clinic immediately after Saturday's weigh-in. The first 50 youths received rod and reel combos courtesy of the NPAA.
Under the umbrella of The Walleye Federation (TWF), the Cabela's MWC is open to avid walleye anglers from all walks of life. The 2014 trail includes 10 stops spread across seven states in the Walleye Belt. Teams showcase their skills—and sponsor products—at world-class venues such as the Illinois, Detroit and Mississippi rivers, Green Bay, Big Stone Lake, Kinzua Reservoir, Cass Lake and Lake Erie.
Along with great payouts at each event, teams fishing three or more tournaments battle for coveted berths in the 2015 Cabela's MWC Championship, set for October 2015 on Lake Erie out of Huron, Ohio. Teams fishing at least three qualifiers also compete for Team of the Year awards, including a $25,000 "Living the Dream" sponsorship package, which includes fully paid entries to the Cabela's National Walleye Trail as a pro and co-angler, use of a 600 series Ranger boat, travel stipends and more.
Cabela's, the World's Foremost Outfitter for hunting, fishing and outdoor gear, is in its 12th season as title sponsor of the MWC. Official sponsors include: Berkley Gulp!, Lowe Equipment Attachments, Lowrance Electronics, Mercury Marine, MotorGuide, Ranger Boats, The Walleye Federation and Zippo Outdoor Brands. Associate sponsors include: Berkley Trilene, Church Tackle, Lindy Legendary Fishing Tackle, Optima Batteries, Rockstar Hitch Mounted Mud Flaps, T-H Marine and Sea Grant.
Entry fees are $650 per tournament, of which more than 100 percent is returned to anglers at the qualifiers, World Championship and Team of the Year races. Registration remains open through 10 a.m. Monday prior to each tournament. For more information, visit masterswalleyecircuit.com, email info@masterswalleyecircuit.com, or call (580) 765-9031.
###