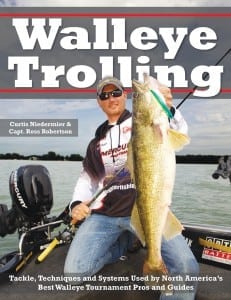 "Walleye Trolling: Tackle, Techniques and Systems Used by North America's Best Walleye Tournament Pros and Guides" 
By Curtis Niedermier and Capt. Ross Robertson
For Immediate Release – All the information needed to efficiently and effectively fish for walleyes using modern-day trolling systems is now available in the book "Walleye Trolling: Tackle, Techniques and Systems Used by North America's Best Walleye Tournament Pros and Guides," by Curtis Niedermier and Capt. Ross Robertson.
"Walleye Trolling" begins with an introduction to basic trolling equipment and the strategies for precise fishing; transitions to in-depth chapters covering 11 of the most popular trolling systems; and finishes with advanced lessons on trolling in current, boat control and using electronics.
"Walleye Trolling" also offers readers a behind-the-scenes look at what it's like to travel across North America as a professional angler, straight from expert sources like Al Lindner, Gary Roach, Tom Keenan, Bruce Samson, Dave Csanda, Mike Gofron, John Gillman, Todd Frank, Brett King, Joe Okada, Johnnie Candle, Mark Brumbaugh, Chip Cartwright and Ron Levitan Jr. They share not only their insights into fishing techniques and tournament history, but also their favorite road-trip and fishing stories. Many of these stories are told to the public for the very first time, only in "Walleye Trolling."
"Walleye Trolling" (soft cover, 160 pages) is available immediately at BigWaterFishing.com for $24.95. It can soon be found at sporting goods retailers across the Midwest. For more information about the book, or to order copies for your store, contact Curtis Niedermier at (419) 618-7909 or Ross Robertson at (419) 283-7069.
About the Authors:
Curtis Niedermier is a full-time outdoor writer and editor who covers professional walleye fishing nationwide. He is the former managing editor of "FLW Walleye Fishing" magazine.
Capt. Ross Robertson of Big-Water Fishing is a full-time guide who specializes in Great Lakes educational and trophy walleye fishing trips. He is also a writer, seminar speaker and television host. He spends more than 150 days a year on the water and ice.