Devils Lake, N.D.—August 8, 2015—North Dakota's "artificial-only" walleye warriors Troy Morris and Corey Heiser led wire-to-wire to win the Cabela's Masters Walleye Circuit's regular-season qualifier on Devils Lake, North Dakota, August 7-8 presented by Berkley.
"It's an awesome feeling!" Morris, of Fargo, beamed after he and Heiser, of West Fargo, topped the 76-team field in front of a roaring crowd gathered at scenic Grahams Island State Park."I've had a lot of top 10s but have been looking forward to winning one for a long time."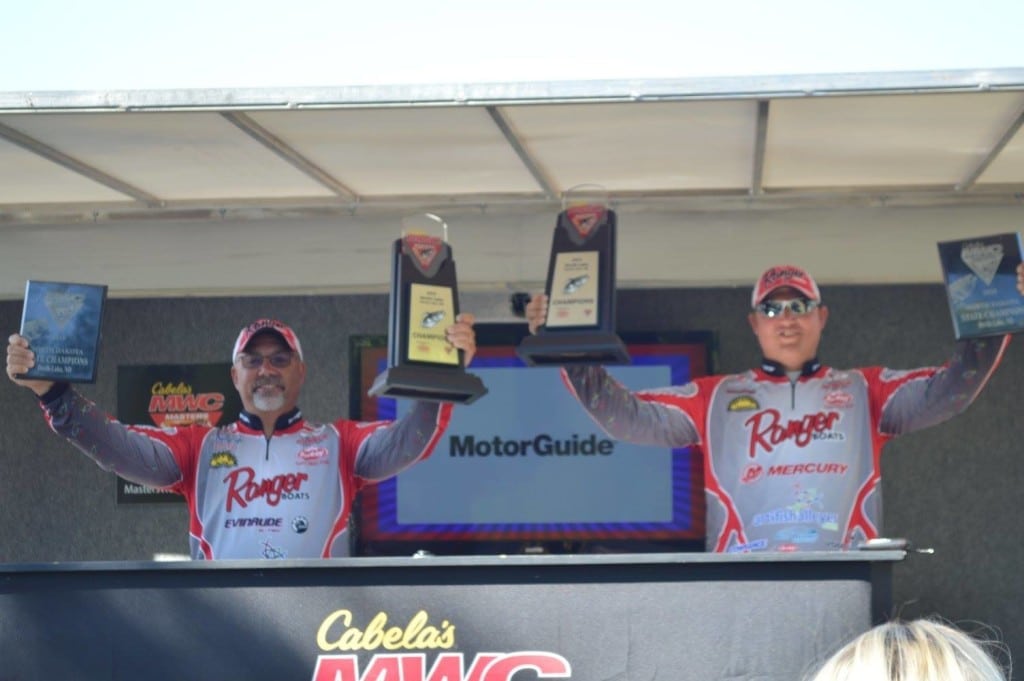 "This is an unbelievable feeling," added Heiser. "This is our second season of spreading the word on fishing with artificial bait, and winning a major event like this is really a pinnacle in proving to people that you don't need live bait to catch walleyes and be competitive."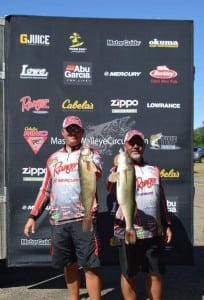 In March of 2014, Heiser and Morris swore off live bait and formed Artifishalleyes. They've since shown how a variety of artificial presentations such as Berkley Gulp! and PowerBait can outfish leeches, nightcrawlers and other traditional walleye bait choices.
Their winning presentation at Devils Lake relied on vertically fishing hard-bodied swimming jigs at the base of large rocks on steep breaks in 25 to 32 feet of water on East Devils Lake. Their efforts yielded a tournament-leading 34-pound, 13-ounce MWC-allowable 5-fish limit on day one, followed by a 22-pound, 4-ounce day two limit for a total weight of 57 pounds, 1 ounce.
The win was worth $18,780 including $10,600 in cash plus $3,400 from the option pot, the $1,000 Ranger Cup contingency, $500 Lowrance Electronics bonus, $200 Okuma award and a $1,000 Cabela's National Team Championship Prize Package, which includes paid entry into the 2016 NTC, travel stipend, team jerseys and plaques. They also won $1,080 from the MWC Big Fish Pot and claimed the title of North Dakota State Walleye Champions, which comes with a $1,000 prize package including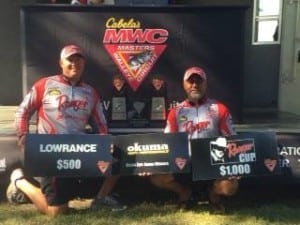 custom trophies, custom State Champions rings by Tight Lines Jewelry, a berth in the Cabela's NTC, decals and a spot on the MWC website's Wall of Fame.
Rounding out the top five were:
2nd: Matt Taylor, Ben Mack, 47-14, $5,300 cash plus $2,500 from the option pot
3rd: Al Freidig, Clint Devier, 40-02, $3,500 cash
4th: Brian Steichen, Shawn Carl, 38-09, $2,650 cash plus the Abu Garcia reel bonus and $200 Zippo Hot Hand Award for big fish of the event, an 8-pound, 8-ounce walleye.
5th: Derek Navis, Korey Sprengel, 38-01, $2,200 cash plus $1,550 from the option pot
In all, the Cabela's MWC awarded a payback of $55,270 in cash and prizes.
A total of 650 walleyes weighing 1,685 pounds crossed the scale during the event, including 117 five-fish daily limits. Adding to the fun, more than 70 kids participated in a Youth and Family Fishing Clinic presented by the Cabela's MWC, National Professional Anglers Association, Pure Fishing and Zippo Outdoor Brands and received free rod-and-reel combos courtesy of the NPAA.
Under the umbrella of The Walleye Federation (TWF), the Cabela's MWC is open to avid walleye anglers from all walks of life. The 2015 schedule spans nine states and includes 11 regular-season qualifiers plus the 2015 World Walleye Championship.
Cabela's, the World's Foremost Outfitter for hunting, fishing and outdoor gear, is in its 14th season as title sponsor of the MWC. Official sponsors include: Berkley Gulp!, Abu Garcia, Lowe Equipment Attachments, Lowrance Electronics, Mercury Marine, Ranger Boats, MotorGuide, The Walleye Federation and Zippo Outdoor Brands. Associate sponsors include: Yellow Bird Fishing Products, Okuma, T-H Marine and Tight Lines Jewelry. For more information, visit masterswalleyecircuit.com, email info@masterswalleyecircuit.com, or call (580) 765-9031.
###