Lovro, Henle Win Cabela's Masters  Walleye Circuit Lake Francis Case Tournament
Presented by Mercury Marine
Platte, S.D.—April 28, 2018—Doug Lovro and Todd Henle of Sioux Falls, South Dakota, put together a pair of solid limits to win the Cabela's Masters Walleye Circuit's regular season tournament on Lake Francis Case out of Platte, South Dakota, April 27-28, 2018.
Presented by Mercury Marine and headquartered at Snake Creek Recreation Area, the two-day tournament pitted 82 teams from across the Walleye Belt against one another in an all-out battle for Great Plains bragging rights and a share of the MWC's generous payout.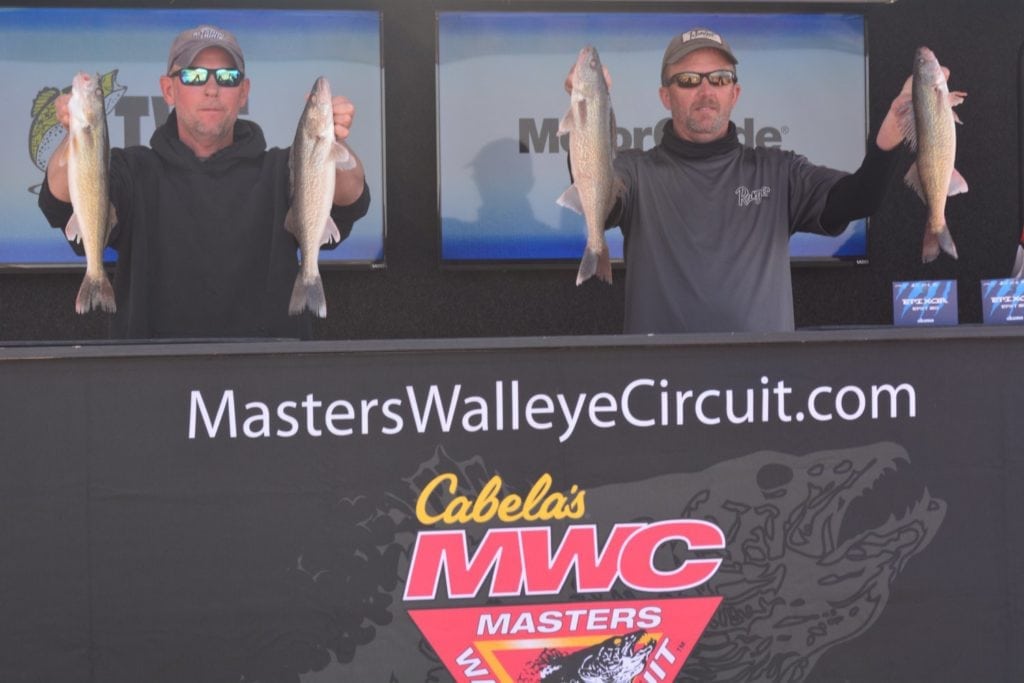 Fishing their first-ever MWC event, Lovro and Henle brought in a 5-fish MWC limit weighing 13 pounds on day one. The weight put them in second place, just an ounce behind leaders Jim Klages and Randy Zeman, who sacked a 13-pound, 1-ounce limit. Lovro and Henle followed up with a 10-pound, 7-ounce limit on day two to claim the victory with a 23-pound, 7-ounce total weight.
"It's awesome we ended up on top," said Lovro, who noted they were the last team to weigh in. "We had a solid limit but it was still nerve-wracking right up to the end."
"This is incredible," added Henle. "It was an exciting finish that went down to the wire."
The winners' go-to tactics included pitching jigs and minnows along shoreline riprap and trolling crankbaits on leadcore line in deeper water. "We ran an hour up the lake to Chamberlain to pitch jigs for our 'unders,'" said Lovro, explaining that teams were only allowed one walleye over 20 inches per angler. "Then we trolled crankbaits in 20 to 35 feet of water along the edge of a drop-off near Platte."
Henle added that light jigs were key to their pitching program. "We rigged a minnow on a 1/32-ounce jig, cast it to the bank and let the minnow swim back to deeper water," he explained. "Most of our fish came from shore out to 5 or 6 feet of water."
Lovro and Henle collected $18,658 in cash and prizes for their efforts, including the $12,300 first-place cash payout, $3,658 from the option pot, $1,000 Ranger Cup bonus, $500 AirWave certificate, $200 Okuma Reel bonus and a $1,000 Cabela's National Team Championship Prize Package including paid entry into the Cabela's NTC, travel stipend, team jerseys and plaques.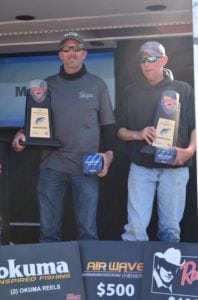 Rounding out the top five were:
2nd: Travis Sanger, Jared Mohnen, 22-08, $6,000 cash plus $2,758 from the option pot
3rd: John Mohnen, Scott Mohnen, 22-01, $3,700 cash plus $1,686 from the option pot and $500 Lowrance Electronics contingency
4th: Matt Degeest, Randy Rozeboom, 21-04, $2,750 cash plus $958 from the option pot
5th: Brian Tordsen, Jim Perry, 21-01 $2,250 cash plus $785 from the option pot
In all, the Cabela's MWC awarded $58,875.50 in cash and prizes.
A total of 471 walleyes weighing 905 pounds, 9 ounces crossed the scale and were released back into Lake Francis Case during the event. Adding to the fun, the Cabela's MWC and National Professional Anglers Association presented a Youth & Family Fishing Clinic immediately after the day-one weigh-in, with participating youths receiving rod-and-reel combos courtesy of the NPAA.
North America's longest-running and undisputed leader in team walleye tournaments, the Cabela's MWC has set the standard for competitive walleye fishing since 1984. Operated under the umbrella of The Walleye Federation (TWF), the Cabela's MWC is open to avid walleye anglers from all walks of life. The 2018 tournament schedule includes eight qualifiers in seven states, plus the 2019 Cabela's MWC World Walleye Championship. Visit masterswalleyecircuit.com for updates, official rules and registration information.
Cabela's, the World's Foremost Outfitter for hunting, fishing and outdoor gear, is enjoying its 17th season as title sponsor of the MWC. Official sponsors include: Bass Pro Shops, Lowe Equipment Attachments, Lowrance Electronics, Mercury Marine, Ranger Boats and The Walleye Federation. Associate sponsors include: AirWave Pedestals, Church Tackle, MotorGuide, Okuma, Power-Pole and T-H Marine. For more information, email info@masterswalleyecircuit.com, or call (580) 765-9031.
###