Gehm And Apitz "Weed Out" Green Bay Walleyes To Win
Cabela's Masters Walleye Circuit Oconto Qualifier
Presented By Lowe Equipment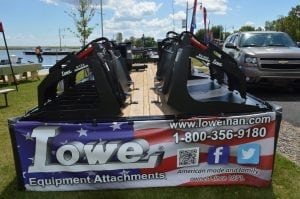 Oconto, Wisc.—July 9, 2016—While other walleye warriors went deep, Wisconsin's Buck Gehm and Louie Apitz targeted shallow weeds to rack up a 46-pound, 2-ounce total and win the Cabela's Masters Walleye Circuit's Green Bay tournament presented by Lowe Equipment out of Oconto, Wisconsin, July 8-9.
"It's pretty surreal to win a big tournament like this," said Apitz, of Menasha. "The MWC is the top of the line in team trails and our favorite one to fish."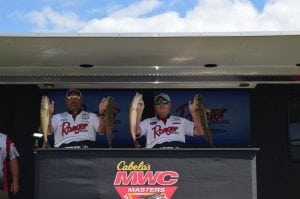 "This is awesome," added Gehm, of Crivitz. "I didn't think we'd be able to pull it off. We couldn't put a program together targeting big fish on the mud, so we ground it out fishing the tops of shallow weeds about a mile from the launch."
Apitz and Gehm pulled perch-colored hatchet and willow-leaf spinner rigs sweetened with nightcrawlers 1.4 mph over weed tops in eight to 11 feet of water. Split shot kept their blades spinning just above the weed tops most of the time, but the winners report checking rigs for bits of weeds or bait lost to small fish was a never-ending part of the program.
"Constantly bringing in one line after another was part of the deal," said Gehm. "There were a lot of small walleyes, along with perch, pike and sheepshead," added Apitz, who noted they went through 13 dozen nightcrawlers on day two alone. "We made a rule that nothing under 25 inches was going into the livewell. We got a little nervous this morning, but stuck with it and things worked out."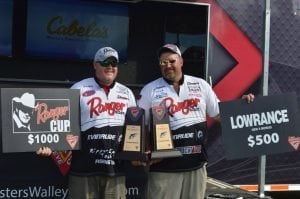 For their efforts, Apitz and Gehm claimed more than $14,680 in cash and prizes, including the $10,000 first-place cash payout, $1,000 Ranger Cup contingency and $500 Lowrance Electronics bonus. Plus, they claimed a complete 750 auger attachment package with drive unit, 12-inch diameter auger, mounting accessories and hose kit valued at $2,181 from presenting sponsor Lowe Equipment. They also won a $1,000 Cabela's National Team Championship Prize Package including paid entry into the 2017 NTC, travel stipend, team jerseys and plaques.
Because all 2016 Cabela's MWC tournaments are designated as "State Championship Qualifying Events," Gehm and Apitz also earned the title of Wisconsin State Walleye Champions. Besides bragging rights, they claimed custom state champions' prizes and awards, a berth in the Cabela's 2017 NTC, and a spot on the MWC website's Wall of Fame.
Rounding out the top five were:
2nd: Bill Osterman, Kevan Kokkonen, 45-14, $5,000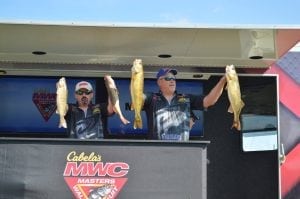 3rd: Kevin Dahl, Steve Stack, 44-12, $3,400 plus $3,350 from the option pot
4th: Adam Sandor, Steve Sandor, 44-11, $2,550 plus $2,520 from the option pot
5th: Troy Nelson, Benjamin Kehoe, 44-06, $2,100 plus $2,550 from the option pot
In all, the Cabela's MWC awarded $49,890 in cash and prizes.
A total of 415 walleyes weighing 1,516 pounds, 8 ounces crossed the scale at Breakwater Park during the catch-and-release event. Adding to the fun, the Cabela's MWC, National Professional Anglers Association and Pure Fishing presented a Youth & Family Fishing Clinic immediately after the day-one weigh-in, with participating youths receiving rod-and-reel combos courtesy of the NPAA.
Under the umbrella of The Walleye Federation (TWF), the Cabela's MWC is open to avid walleye anglers from all walks of life. The 2016 schedule includes seven qualifiers in six states on a diverse selection of the Walleye Belt's finest rivers, inland lakes and big-water fisheries. Up next on the 2016 Cabela's MWC qualifier circuit is the Devils Lake, North Dakota, qualifier August 19-20.
Cabela's, the World's Foremost Outfitter for hunting, fishing and outdoor gear, is in its 15th season as title sponsor of the MWC. Official sponsors include: Berkley Gulp!, Abu Garcia, Lowe Equipment Attachments, Lowrance Electronics, Mercury Marine, Ranger Boats and The Walleye Federation. Associate sponsors include: AirWave Pedestals, G-Juice, MotorGuide and Okuma. For more information, visit masterswalleyecircuit.com, email info@masterswalleyecircuit.com, or call (580) 765-9031.
###