Cass Lake, Minn.—Sept. 12, 2015—Minnesotans Dan Fuller and Chad Benson rallied from 11th place on day one to win at the Cabela's Masters Walleye Circuit's regular-season qualifier on Cass Lake, Minnesota, Sept. 11-12 presented by Lowrance Electronics.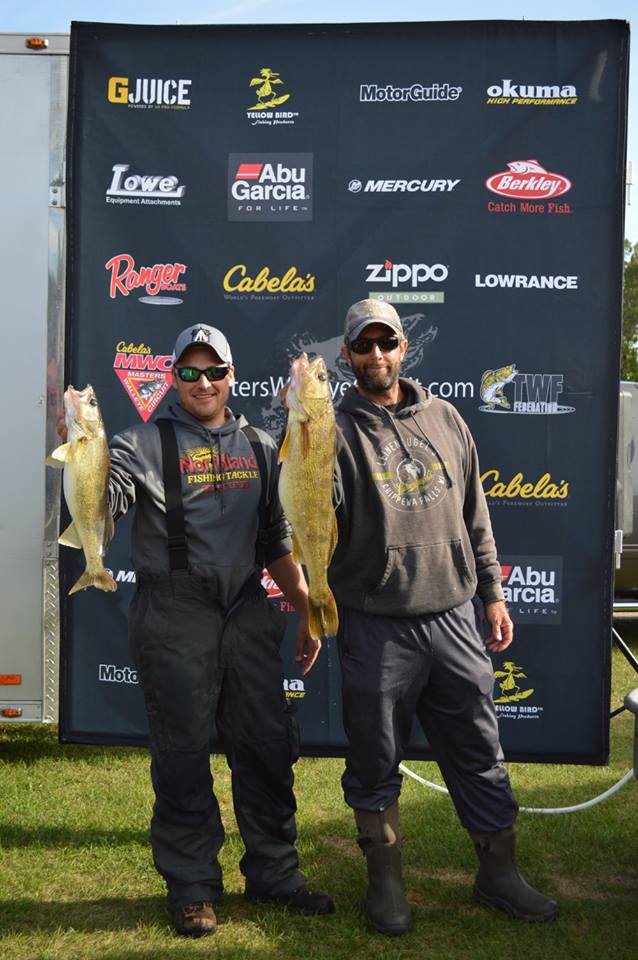 "It's a dream come true!" said Fuller, of Bemidji, seconds after thrilling the weigh-in crowd gathered at Stony Point Resort by scoring the exciting come-from-behind victory. "I placed second in a nail-biter at the 2011 Cabela's MWC Cass Lake qualifier, fishing with a different partner, and ever since then I've wanted this tournament so much, it's great to finally win it."
Benson, also of Bemidji, was likewise elated. "It feels really good," he grinned.
A longtime fishing guide on the storied Cass Lake system, Benson had kept a coveted pound of jumbo leeches alive in his refrigerator since May—just for the MWC event. "I know they're hard to come by in late summer and fall, but the walleyes love them," he admitted.
Indeed, many of their fish fell for leeches, which he and Fuller fished along bottom at .5 mph on live-bait rigs, in depths ranging from 15 to 40-plus feet of water. They also worked redtail chubs into their repertoire, but said leeches accounted for the most bites.
With water temperatures hovering in the mid-60s and walleyes scattered from deep to shallow, Fuller said scanning potential areas with their Lowrance sonar before investing the time to drop their lines was a key component to their top finish.
Fuller and Benson brought a respectable 12-pound, 11-ounce, five-fish MWC allowable limit to the scale on day one, then raised the bar on day two with five walleyes weighing 18 pounds, 14 ounces for a 31-pound, 9-ounce two-day total.
Fuller and Benson collected more than $13,000 for their accomplishment, including $11,100 in cash plus the $200 Okuma award and a $1,000 Cabela's National Team Championship Prize Package, which includes paid entry into the 2016 NTC, travel stipend, team jerseys and plaques. They also earned the $200 Zippo Hot Hands bonus and $863 from the Big Fish Pot for catching the largest walleye of the event, an 8-pound, 11-ounce Cass Lake beauty that anchored their day-two basket and helped propel them to victory.
Rounding out the top five were:
2nd: Toby and Dean Kvalevog, 30-00, $5,550 cash plus $500 Lowrance Electronics bonus
3rd: Ryan Dempsey and Adam Adler, 27-15, $3,700 cash plus $3,000 from the option pot and $1,000 Ranger Cup contingency
4th: Mike Winkler and Sean Moran, 27-06, $2,800
5th: Abraham and Amos Wolf, 26-07, $2,250
In all, the Cabela's MWC awarded a payback of $58,400 in cash and prizes.
Adding to the excitement, the Cass Lake event also crowned the 2015 Minnesota State Champions. North Dakota's Troy Morris and Corey Heiser claimed that honor by accumulating the most points at the Big Stone Lake and Cass Lake qualifiers. They claimed a $1,000 prize package including custom trophies, custom State Champions rings by Tight Lines Jewelry, decals and a spot on the MWC website's Wall of Fame.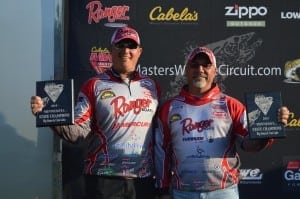 Morris and Heiser recently won the Cabela's MWC's Devils Lake qualifier, and are the reigning North Dakota State Champions as well. The team is also known as the Circuit's most ardent promoters of fishing artificial presentations instead of live bait.
In fact, in March of 2014 they swore off live bait entirely and formed Artifishalleyes. They've since shown how a variety of artificial presentations such as Berkley Gulp! and PowerBait can outfish leeches, nightcrawlers and other traditional walleye baits.
A total of 628 walleyes weighing 1,287 pounds, 15 ounces crossed the scale during the event, including 98 five-fish daily limits. Adding to the fun, the Cabela's MWC, National Professional Anglers Association, Pure Fishing and Zippo Outdoor Brands presented a Youth & Family Fishing Clinic immediately after the day-one weigh-in, with participating youths receiving rod-and-reel combos courtesy of the NPAA.