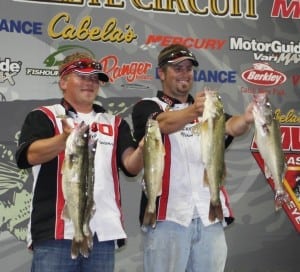 –Presented by Versus
August 22, 2010—DEVILS LAKE, ND—Jon Dircks and Curtis Blake brought a monster 19.70-pound basket to the scale to win a weathershortened walleye fest at the Cabela's Masters Walleye Circuit's Western Division stop on Devils Lake.
When the National Weather Service issued a Wind Advisory calling for sustained winds of 30 to 35 mph and gusts to 45, along with a Special Weather Statement predicting high waves and hazardous amounts of lake debris, MWC staff had no choice but to cancel Day Two of the competition. "We always want our teams to be able to fish, but their safety is our top concern," said Tournament Director Dan Palmer.
"It's really disappointing, because our anglers belong on the water and everyone loves the weigh-in crowds at Devils Lake, but this was cut-and-dried," added Sr. Events Coordinator Dan Johnson, who explained that MWC policy—guided by input from its Angler Advisory Panel members—left no options but to cut the tournament short.
The MWC held a special awards ceremony Sunday at Burdick Arena, honoring the top 12 teams. "It feels great," Dircks, of Devils Lake, said of the victory. He explained that the pair got off to a good start slip-bobbering flooded timber in the Pelican Lake area, but needed a strong finish to anchor their big basket. "We switched to pitching cranks in the afternoon and got three nice fish in the last half hour that really helped us with our weight."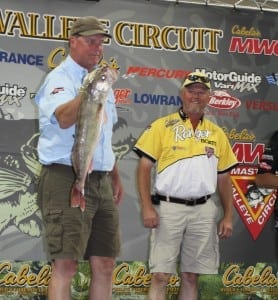 "We're pretty excited, I can't even explain how happy we are right now," added Blake, of Grand Marais, Minnesota. He noted that the hot combination was purple, shad-style crankbaits pitched to timber and vegetation in 6 to 10 feet of water on 14/6 Berkley FireLine. Besides the $11,000 first-place check, the team earned a $500 Cabela's Angler Cash award.
The Fargo team of Ron and Spencer Deutz finished a close second with 19.21 pounds worth $5,000 plus the $500 HDS bonus from Lowrance, followed by Kansans Jim Perry of Tonganoxie and Aaron Wagner of Oskaloosa in third with 18.51 pounds, which paid $3,330. Perry and Wagner also earned $1,700 in Ranger Cup, Berkley Premier and U2 bonuses, along with $660 for second place in the big-fish pot with a 7.23-pound walleye.
Don Olson of Andover, Minnesota, and Randy Carroll of Oswego, Illinois, took first place and $1,100 in the big-fish race with a 7.59-pounder.
In all, the top 12 teams shared nearly $40,000 in cash and prizes. A total of 208 walleyes weighing 571.07 pounds were weighed in and donated to the city of Devils Lake for an annual community fish fry.
Day One was also capped off with a Youth & Family Fishing Clinic courtesy of the MWC and National Professional Anglers Association, with free rods, reels and tackle donated by Cabela's, Abu Garcia and Northland Fishing Tackle.
A special, first-ever MWC Youth Tournament preceded the regular tournament on Friday. Twelve youths, ages eight through 12, earned entry into the event by submitting essays on "Why I Love To Fish." Each youngster was paired with an MWC pro, who volunteered their time to participate in the event. Teams launched out of Grahams Island State Park at 8 a.m. and fished until 11:30, when they caravanned to Burdick Arena for a full-blown, on-stage weigh-in to the cheers of family, friends and other walleye fans.
North Dakotans Dylan Durbin, of Cary, and his MWC pro partner Chad Maloy, of Fargo, claimed top honors with three fish weighing a total of 5 pounds. Durbin won a handsome trophy, $50 Cabela's gift card and Pflueger spinning reel for his efforts. Benjamin Shepard, of Devils Lake, and MWC pro Brian Sularz of Maple Grove, Minnesota, finished a close second with 4.53 pounds and won a $50 Cabela's gift card. In all, the 12 teams brought 23 walleyes to the scale, weighing a total on 38.40 pounds. Each team received a well-stuffed goody bag of gear from Berkley, Lowrance and Northland Fishing Tackle, plus a free membership in the North American Fishing Club.
Cabela's, the World's Foremost Outfitter for hunting, fishing and outdoor gear, is entering their nineth season as title sponsor of the MWC. Official sponsors of the MWC include: Berkley, Ranger Boats, Mercury, MotorGuide, Lowrance, Fishouflage, Versus (Vs.) Television Network and North American Fishing Club. Associate Sponsors include: O2 Marine Technologies, 3-IN-ONE No Rust Shield, Abu Garcia, Fin-tech, Northland Fishing Tackle, Ryjus and Reflections.
The Cabela's Masters Walleye Circuit is the longest running professional walleye tournament circuit in the United States. For more information on the Cabela's MWC or to view the 2010 schedule, visit: www.masterswalleyecircuit.com; email: events@masterswalleyecircuit.com.