For Immediate Release –
Devils Lake, ND—August 3, 2013—South Dakotans Travor Diegel and Paul Steffen put on a vertical jigging clinic to win the Cabela's Masters Walleye Circuit's "artificial-only" qualifying tournament on North Dakota's legendary Devils Lake August 2-3.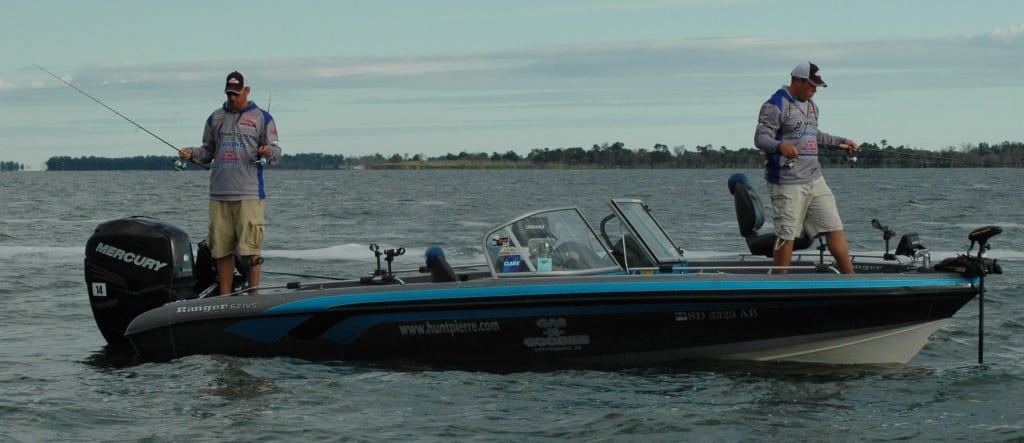 "Winning this artificial baits-only event is really special," said Steffen, of Pierre. "It ranks right at the top in my book." It was the team's third Cabela's MWC win in as many years, after claiming back-to-back qualifiers on Minnesota's Cass Lake in 2011 and 2012. They also earned the title of MWC West Division Team of the Year in 2010.
On Day One, they brought a five-fish MWC limit weighing 24 pounds, 13 ounces to the stage. Anchored by an 8-pound, 9-ounce behemoth that was big fish of the day, it was enough to put them solidly atop the leaderboard more than 7 pounds ahead of their closest rivals in the 77-team field. They raised the bar even higher on Day Two, bringing in 20 pounds 13 ounces for a 45-pound, 10-ounce total that gave them an amazing 11-pound margin of victory.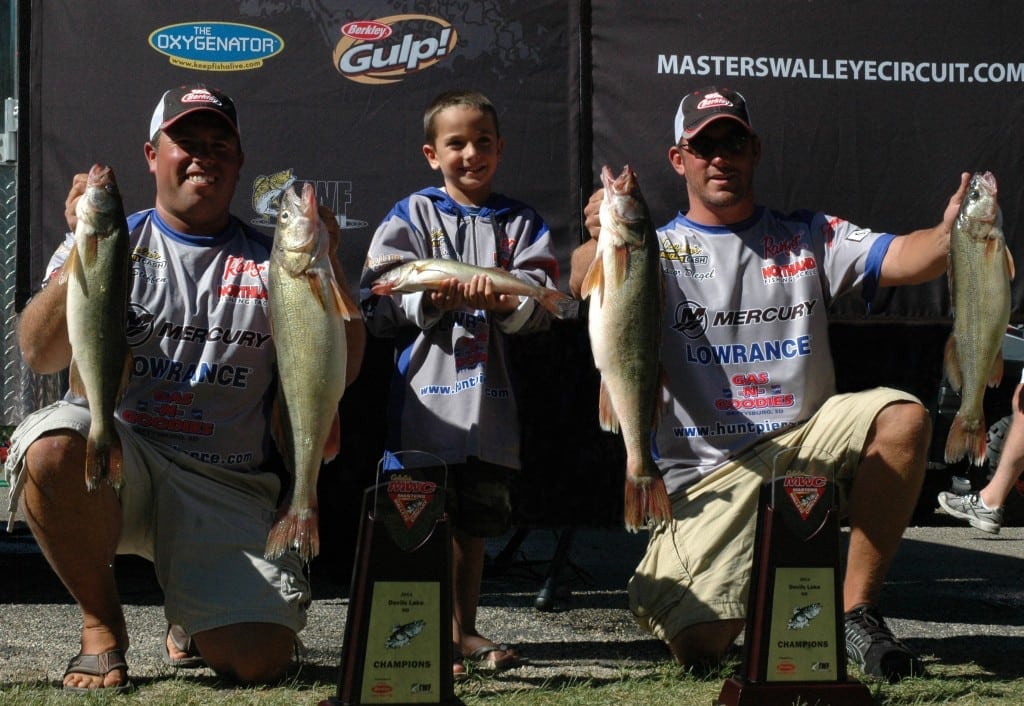 The win earned them the $11,100 first-place cash purse, plus a $1,000 Cabela's National Team Championship Prize Package featuring a paid NTC entry, travel stipend, team jerseys and plaques. They also won a $1,000 Cabela's gift card from the Cabela's Angler Cash Program, $1,000 Ranger Cup contingency, $500 Berkley Tackle Package, $500 Lowrance Electronics award for being the highest-finishing team using a Lowrance HDS Gen2, HDS Gen2 Touch or Elite-7 unit, and $714 from the Big Fish Pot for total winnings of $15,814 in cash and prizes.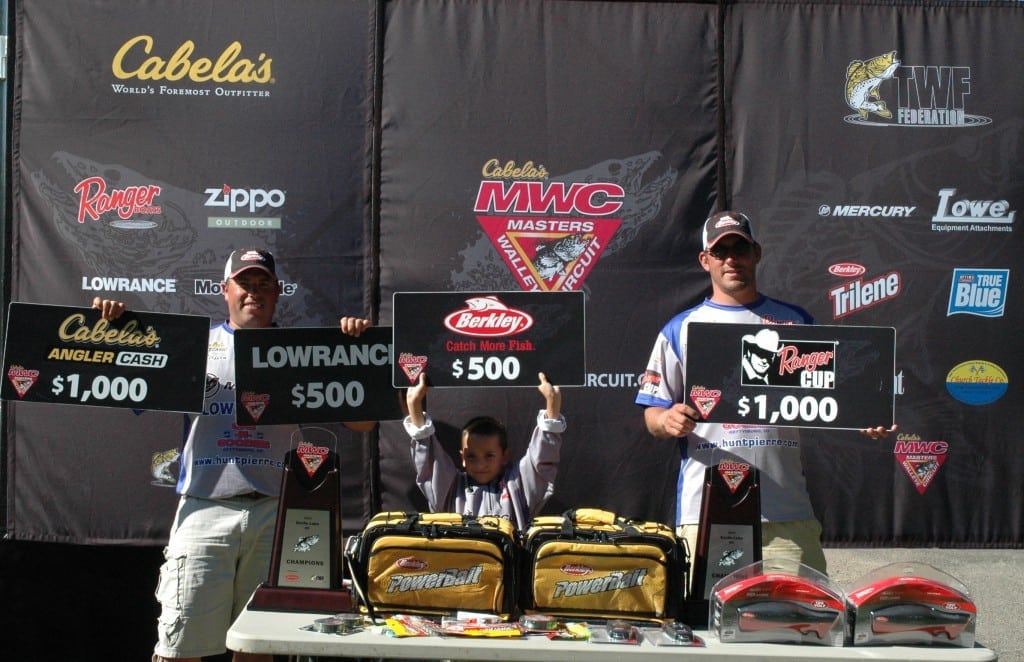 Al Freidig and Clint Devier, both of Devils Lake, finished second with 34 pounds, 10 ounces, worth $5,700. The Circuit's $200 Optima True Blue contingency went to Brenda and Steve Picht of Grand Rapids, Minnesota. In all, the top 15 teams shared $48,500 in cash, sponsor bonuses and Big Fish Pot winnings.
In a move common in bass tournaments but foreign to the walleye world, the Circuit made live natural baits such as leeches, minnows and nightcrawlers off-limits at Devils Lake. Only man-made baits such as Berkley Gulp!-type softbaits, crankbaits, spinners and other artificial presentations were allowed. Anglers responded in force, as registration increased by 26 percent over the last time the MWC visited Devils Lake, in 2011. Presenting sponsor Berkley Gulp! also embraced the concept, kicking in an extra $3,000 in cash to the payout, which was divided among the top 15 places
The artificial-only rule didn't affect the winners' strategies, which hinged on vertical jigging with spoons and hardbaits sweetened with minnow-flavored Berkley Gulp! Alive! Marinade. "We were ripping the jigs and letting them fall, in depths of 28 to 38 feet, fishing the 'telephone towers' on the main lake," explained Diegel, also of Pierre. He noted that 12-pound-test Berkley Nanofil mainline was also a key to the presentation.
As it turned out, Diegel and Steffen's artificial-only winning weight of 45 pounds, 10 ounces was well above the 33.01-pound first-place total at the 2011 Cabela's MWC Devils Lake tournament, and both of their Day One and Day Two baskets were heavier that the single-day winning weight of 19.70 pounds in a weather-shortened Cabela's MWC qualifier here in 2010.
"The anglers were very supportive of this format," said Tournament Director Dan Palmer. "They understood that it leveled the playing field for everyone and that it is a great conservation effort to help stop any introduction of invasive species." Palmer also noted that the teams appreciated the hospitality from state park staff, the Devils Lake Chamber of Commerce, and the local community in general. "This is a great place for a walleye tournament," he said. "We're looking forward to coming back in October 2014 for the Cabela's MWC World Walleye Championship."
The tournament offered two days of competition on Devils Lake's incredible walleye fishery, with one day reserved in case of bad weather. Teams were allowed to bring up to five walleyes per day to the scale. A total of 579 walleyes weighing 1,256 pounds, 15 ounces crossed the stage during the tournament. Big fish was a 9-pound beauty caught by the Fargo, North Dakota, team of Chad Maloy and Don Denning. The fish was worth $714 from the Big Fish Pot.
Weigh-ins were held at scenic Graham's Island State Park. The Cabela's MWC, National Professional Anglers Association, Pure Fishing and Zippo Outdoor Brands presented a Youth & Family Fishing Clinic immediately after the first day's weigh-in. The first 50 youths received rod-and-reel combos courtesy of the NPAA.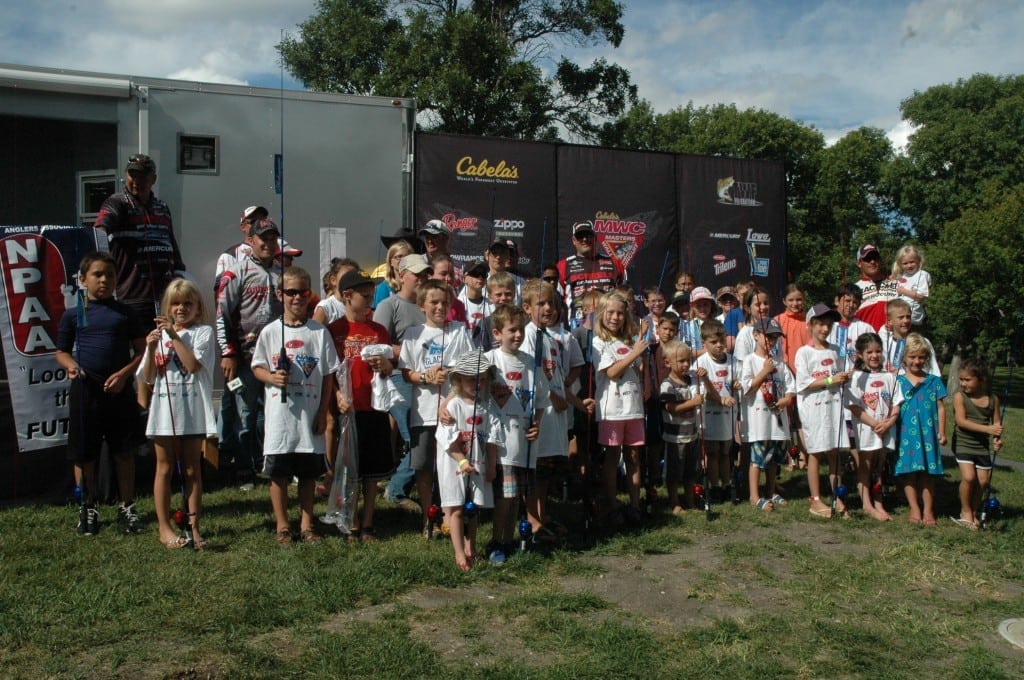 This was the eighth of 10 Cabela's MWC qualifying tournaments in 2013. The remaining schedule includes the St. Mary's River at Sault Ste. Marie, Michigan, August 22-23; and Cass Lake, Minnesota, out of Stony Point Resort, Sept. 13-15.
Cabela's, the World's Foremost Outfitter for hunting, fishing and outdoor gear, is in its 11th season as title sponsor of the MWC. Official sponsors include: Berkley Gulp!, Lowe Equipment Attachments, Lowrance, Mercury Marine, MotorGuide, Ranger Boats, The Walleye Federation and Zippo Outdoor Brands. Associate sponsors include: Berkley Trilene, Church Tackle, Optima Batteries, O2 Marine Technologies and Sea Grant.
Based in Ponca City, Oklahoma, the Cabela's MWC is oldest running national walleye circuit in America. Cabela's MWC is owned by The Walleye Federation and is open to two-person teams regardless of club or sponsor affiliation. Entry fees are $650 per tournament, of which more than 100 percent is returned to anglers at the qualifiers, World Championship and Team of the Year races. Registration remains open through the Sunday night prior to each tournament. For more information, visit masterswalleyecircuit.com, email info@masterswalleyecircuit.com, or call (580) 765-9031.
For hundreds of photos from the event or for full standings check out the results page.  CLICK HERE
###