Dempsey, Kaprelian Win Cabela's Masters  Walleye Circuit Green Bay Tournament
Presented Mercury Marine
Oconto, Wisc.—August 4, 2018— A day-two midday flurry propelled Wisconsin's Ryan Dempsey and Jake Kaprelian to the top of the leaderboard in a big-fish shootout at the Cabela's Masters Walleye Circuit tournament on Green Bay of Lake Michigan out of Oconto, Wisconsin, August 3-4, 2018.
"It feels really good to with this," said Dempsey, of Green Bay. "We struggled until 11:30 today, then the bite turned on when we made one last pass before making a move to try for smaller fish just to cash a check. We were done by 1 o'clock."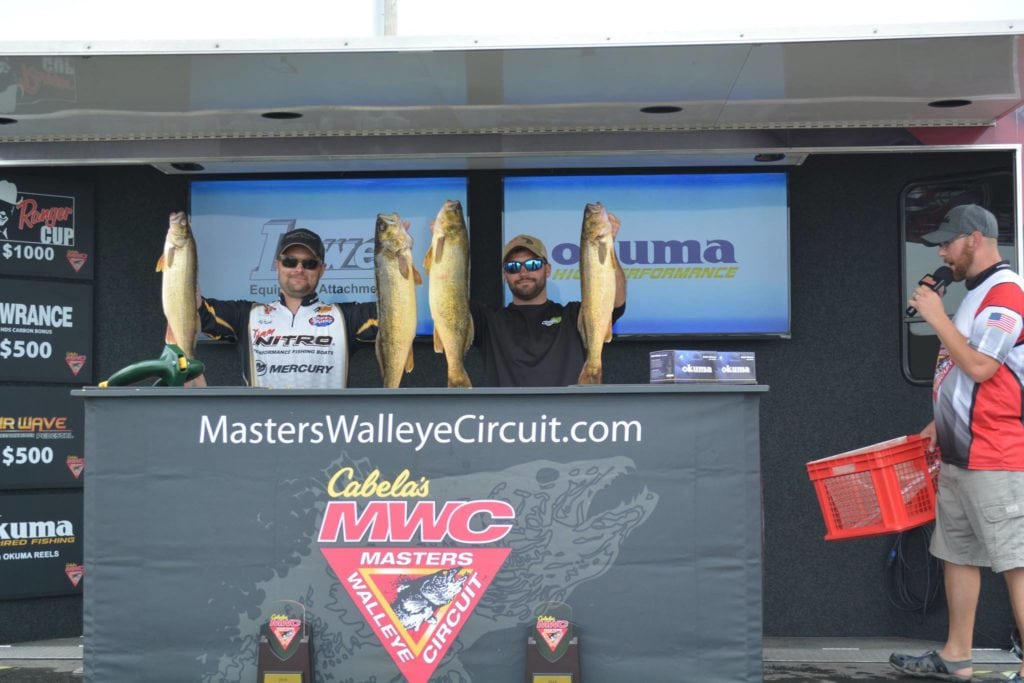 "It was a grind both days," added Kaprelian, of New Berlin. "We were fishing a lukewarm bite a long run from the launch, gambling we'd get the right bites from big fish and be able to capitalize on them. Thankfully, the rewards were worth it."
Presented by Mercury Marine and headquartered at Breakwater Park, the two-day event featured 84 two-person teams from 12 states.
Dempsey and Kaprelian brought in a 5-fish MWC limit weighing 32 pounds, 9 ounces on day one. The weight put them solidly in fourth place. They added a 38-pound, 14-ounce limit on day two for a 71-pound, 7-ounce tournament total. They reported trolling spinner rigs and crawlers on day one, and catching most of their day-two fish on banana-style crankbaits. Shallow structure rising out of deep water was key both days.
Dempsey and Kaprelian collected $16,822 in cash and prizes for their efforts, including the $11,500 first-place cash payout, $3,822 cash from the option pot, $500 Lowrance Electronics bonus, $500 AirWave certificate, and a $1,000 Cabela's National Team Championship Prize Package including paid entry into the Cabela's NTC, travel stipend, team jerseys and plaques.
Rounding out the top five were:
2nd: Keith and Mike Kavajecz, 68-05, $6,100 cash plus $2,750 cash from the option pot
3rd: Paul de Voss, Rob Lampman, 66-03, $3,900 cash plus the $200 Okuma reel bonus
4th: Jake Becker, Chris Rice, 64-14, $2,850 cash
5th: James Peterson, Greg Josephs, 60-07, $2,350 cash plus $1,750 cash from the option pot
Sixth-place finishers Daniel Woodke and Steve Meyer won $2,000 cash plus the $1,000 Ranger Cup contingency and $1,250 from the option pot. In all, the Cabela's MWC awarded $62,752 in cash and prizes at the event.
A total of 692 walleyes weighing 3,146 pounds, 2 ounces crossed the scale during the tournament. Big fish was an 11-pound, 6-ounce trophy caught by Jason Merkley and Dustin Kjelden. Adding to the fun, the Cabela's MWC and National Professional Anglers Association presented a Youth & Family Fishing Clinic immediately after the day-one weigh-in, with participating youths receiving rod-and-reel combos courtesy of the NPAA.
North America's longest-running and undisputed leader in team walleye tournaments, the Cabela's MWC has set the standard for competitive walleye fishing since 1984. Operated under the umbrella of The Walleye Federation (TWF), the Cabela's MWC is open to avid walleye anglers from all walks of life. The 2018 tournament schedule includes eight qualifiers in seven states, plus the 2019 Cabela's MWC World Walleye Championship. Visit masterswalleyecircuit.com for updates, official rules and registration information.
Cabela's, the World's Foremost Outfitter for hunting, fishing and outdoor gear, is enjoying its 17th season as title sponsor of the MWC. Official sponsors include: Bass Pro Shops, Lowe Equipment Attachments, Lowrance Electronics, Mercury Marine, Ranger Boats and The Walleye Federation. Associate sponsors include: AirWave Pedestals, Church Tackle, MotorGuide, Okuma, Power-Pole and T-H Marine. For more information, email info@masterswalleyecircuit.com, or call (580) 765-9031.
###