Dempsey And Adler Win Cabela's Masters Walleye Circuit Green Bay Tournament
Presented by Ranger Boats
For Immediate Release –
Oconto, Wisc.—June 21, 2014—Wisconsin's Ryan Dempsey and Adam Adler jigged up nine walleyes weighing an impressive 60 pounds, 9 ounces to win the Cabela's Masters Walleye Circuit's Green Bay regular-season qualifying tournament out of Oconto, Wisconsin, June 20-21.
"It feels really good to win, there's definitely some pride involved," said Adler, of Oconto Falls. Indeed, the victory was sweet redemption after he and Dempsey, of Oneida, took second at the Cabela's National Team Championship on Green Bay in late May after leading the event the first two days. In fact, it was a role-reversal at the Cabela's MWC Green Bay qualifier. Dempsey and Adler left the dock on day two in second place, then climbed to first when day one leaders Randy Gaines and Mike Rhoades brought just one fish to the scale the final day.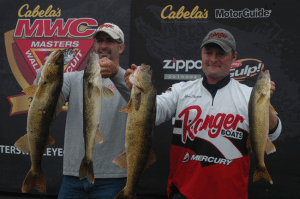 "There was a lot less pressure going out in second place this morning," Dempsey grinned after scoring the win. He explained that he and Adler cast jigs, bladebaits and lipless rattlebaits in depths of 4 to 23 feet of water, experimenting with a variety of cadences from snap-jigging to dragging. A ¾-ounce leadhead tipped with a 4½-inch, paddle-tailed Berkley PowerBait was a top producer.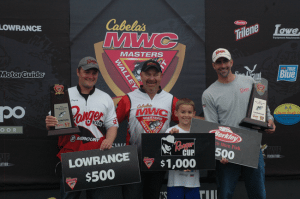 Dempsey and Adler claimed the $10,500 first-place cash prize, plus $1,000 Ranger Cup contingency, $500 Berkley Baits Award, and the $500 Lowrance HDS Gen2 Touch and Elite 7 contingency.
They also claimed a $1,000 Cabela's National Team Championship Prize Package including paid NTC entry, travel stipend, team jerseys and plaques.
In second place, Michigan's Wayne Van Dyke, of Spruce, and Erich Carlson, of Presque Isle, weighed in seven fish for 47 pounds, 12 ounces, worth $5,300 in cash.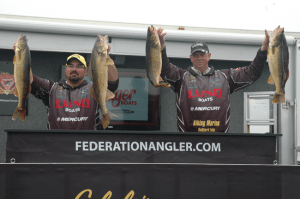 Rounding out the top 10 were:
3rd: Randy Gaines and Mike Rhoades, 41-02, $3,500 plus the $250 Zippo Hot Hands Big Fish Award for catching big fish of the tournament, an 11-pound, 8-ounce walleye
4th: Johnnie Candle and Dennis Skurulsky, 32-05, $2,650
5th: Steve VandeMark and Rob Ruckman, 28-00, $2,050
6th: Tom Hoinacki and Keith Daniels, 25-10, $1,900
7th: Paul Gutowski and Michael Gutowski, 24-05, $1,700
8th: Scott Ludwig and Jeff Otis, 23-01, $1,600
9th: Troy Morris and Corey Heiser, 22-11, $1,500 plus the $200 Optima True Blue contingency
10th: Kevin Blanck and Ken Marklein, 22-09, $1,400
In other contingency winnings, Chad Burns and Nick Wenninger won the Rockstar Comeback Award for jumping from 44th on day one to 17th place, worth a $500 Rockstar Mud Flap Package. In all, the Cabela's MWC awarded $47,000 in cash and prizes.
Weigh-ins were held at Breakwater Park in Oconto. Green Bay yielded 195 walleyes weighing a total of 747 pounds, 6 ounces in the catch-and-release event. The Cabela's MWC, National Professional Anglers Association, Pure Fishing and Zippo Outdoor Brands presented a Youth & Family Fishing Clinic immediately after the first day's weigh-in. Participating youths received rod-and-reel combos courtesy of the NPAA.
Under the umbrella of The Walleye Federation (TWF), the Cabela's MWC is open to avid walleye anglers from all walks of life. The 2014 trail includes 10 stops spread across seven states in the Walleye Belt. Teams showcase their skills—and sponsor products—at world-class venues such as the Illinois, Detroit and Mississippi rivers, Green Bay, Big Stone Lake, Kinzua Reservoir, Cass Lake and Lake Erie.
Along with great payouts at each event, teams fishing three or more tournaments battle for coveted berths in the 2015 Cabela's MWC Championship, set for October 2015 on Lake Erie out of Huron, Ohio. Teams fishing at least three qualifiers also compete for Team of the Year awards, including a $25,000 "Living the Dream" sponsorship package, which includes fully paid entries to the Cabela's National Walleye Trail as a pro and co-angler, use of a 600 series Ranger boat, travel stipends and more.
Cabela's, the World's Foremost Outfitter for hunting, fishing and outdoor gear, is in its 12th season as title sponsor of the MWC. Official sponsors include: Berkley Gulp!, Lowe Equipment Attachments, Lowrance Electronics, Mercury Marine, MotorGuide, Ranger Boats, The Walleye Federation and Zippo Outdoor Brands. Associate sponsors include: Berkley Trilene, Church Tackle, Lindy Legendary Fishing Tackle, Optima Batteries, Rockstar Hitch Mounted Mud Flaps, T-H Marine and Sea Grant.
Entry fees are $650 per tournament, of which more than 100 percent is returned to anglers at the qualifiers, World Championship and Team of the Year races. Registration closes at 10 a.m. on Monday prior to each tournament. For more information, visit masterswalleyecircuit.com, email info@masterswalleyecircuit.com, or call (580) 765-9031.
###