Brumbaugh, Robertson Finish Strong To Win Cabela's
Masters Walleye Circuit Lake Erie Regular-Season Finale
 Presented by Cabela's
For Immediate Release –
Huron, Ohio—Sept. 27, 2014—Ohioans Mark Brumbaugh and Michael Robertson stormed the leaderboard on day two of the Cabela's Masters Walleye Circuit's Lake Erie qualifier to score a dramatic comeback victory worth more than $10,000 in cash and prizes.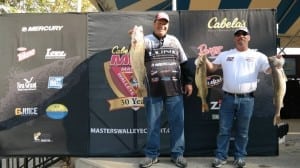 "This is my first major tournament win, and it's really exciting," Robertson, of Laura, said seconds after topping the field of 55 teams from 14 states and one Canadian province. Held Sept. 26-27 out of Huron, Ohio, the event was the final qualifier of the 2014 Cabela's MWC season.
After weighing in 17 pounds, 9 ounces on day one, Brumbaugh and Robertson found themselves in seventh place, trailing leaders Wayne Van Dyke and Bruce Mueller by more than 9 pounds. But on day two, an impressive 32-pound, 7-ounce limit that proved to be the heaviest basket of the tournament pushed Brumbaugh and Robertson over the top with a 10-fish limit weighing 50 pounds even.
"We just went out on day two and worked hard, changing lure colors and following the fish," Robertson added. He credited their Lowrance HDS 12 electronics for helping them track a school of wandering walleyes that changed locations from day one to day two.
"I haven't won a big event in awhile, so it's nice to know I can still do it," grinned Brumbaugh, of Arcanum. He explained the team long-lined crankbaits 28 to 30 feet down in 38 to 40 feet of water about 5 miles from port, along the northwest corner of a sediment dump. Speeds of 2 to 2.2 mph were key, as was their 10-pound-test Berkley Trilene Big Game monofilament, which they ran with letbacks of 120 to 200 feet behind their planer boards.
"We also added small pieces of 3-inch Berkley Gulp! Fry to the crankbait trebles for extra scent," he noted. "The thin-diameter Fry is perfect because it doesn't affect the lure's action."
Brumbaugh and Robertson collected $8,200 in cash for the win, plus the $500 Berkley Baits Award, $500 Lowrance HDS Gen2 Touch and Elite 7 contingency, and $200 Optima True Blue bonus. They also claimed a $1,000 Cabela's National Team Championship Prize Package including paid NTC entry, travel stipend, team jerseys and plaques.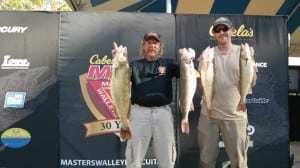 Joe Miller of Elgin, Illinois, and Steve Tyszko of Miller's Port, Ohio, finished second with 45 pounds, 10 ounces, worth $4,300 plus $638 from the Big Fish Pot and the $250 Zippo Hot Hands Big Fish Award for catching big walleye of the tournament, a 10-pound, 13-ounce behemoth.
Rounding out the top 5 were:
3rd: Wayne Van Dyke and Bruce Mueller, 44-11, $2,900
4th: Scott Rhodes and Jeff Koester, 42-08, $2,300
5th: Jason Kopf and Rodger Riggs, 40-14, $1,900 plus $1,000 Ranger Cup contingency
In all, the Cabela's MWC awarded $33,900 in cash and prizes at the event.
Weigh-ins were held at the Huron Boat Basin. Lake Erie yielded 257 walleyes weighing a total of 925 pounds, 5 ounces. The Cabela's MWC, National Professional Anglers Association, Pure Fishing and Zippo Outdoor Brands presented a Youth & Family Fishing Clinic immediately after the first day's weigh-in. Participating youths received rod-and-reel combos courtesy of the NPAA.
Under the umbrella of The Walleye Federation (TWF), the Cabela's MWC is open to avid walleye anglers from all walks of life. The 2014 trail included 10 qualifiers spread across seven states. Teams showcased their skills—and sponsor products—at world-class venues such as the Illinois, Detroit and Mississippi rivers, Green Bay, Big Stone Lake, Kinzua Reservoir, Cass Lake and Lake Erie. The Cabela's Masters Walleye Circuit's 2014 World Walleye Championship is set for Oct. 9-11 on the High Plains paradise of Devils Lake, North Dakota.
Cabela's, the World's Foremost Outfitter for hunting, fishing and outdoor gear, is concluding its 12th season as title sponsor of the MWC. Official sponsors include: Berkley Gulp!, Lowe Equipment Attachments, Lowrance Electronics, Mercury Marine, MotorGuide, Ranger Boats, The Walleye Federation and Zippo Outdoor Brands. Associate sponsors include: Berkley Trilene, Church Tackle, Lindy Legendary Fishing Tackle, Optima Batteries, Rockstar Hitch Mounted Mud Flaps, T-H Marine and Sea Grant.
Entry fees are $650 per tournament, of which more than 100 percent is returned to anglers at the qualifiers, World Championship and Team of the Year races. For more information, visit masterswalleyecircuit.com, email info@masterswalleyecircuit.com, or call (580) 765-9031.
###