Brueggemanns Clinch the Lead Day One at World Walleye Championship and Never Let It Go
Presented by Bass Pro Shops and Cabela's
Moline, Ill — October 13, 2020 — Competitors from 13 different states converged on the Mississippi River for the 2020 Bass Pro Shops and Cabela's Masters Walleye Circuit's (MWC) World Walleye Championship (WWC) anchored out of Moline, Il and hosted by Visit Quad Cities October 8th-10th. Nebraskan Father-Son team of Jake and Gene Brueggemann (Wilber and Clatonia, NE) weighed one of the largest 5-fish baskets of the event on the very first day and never looked back.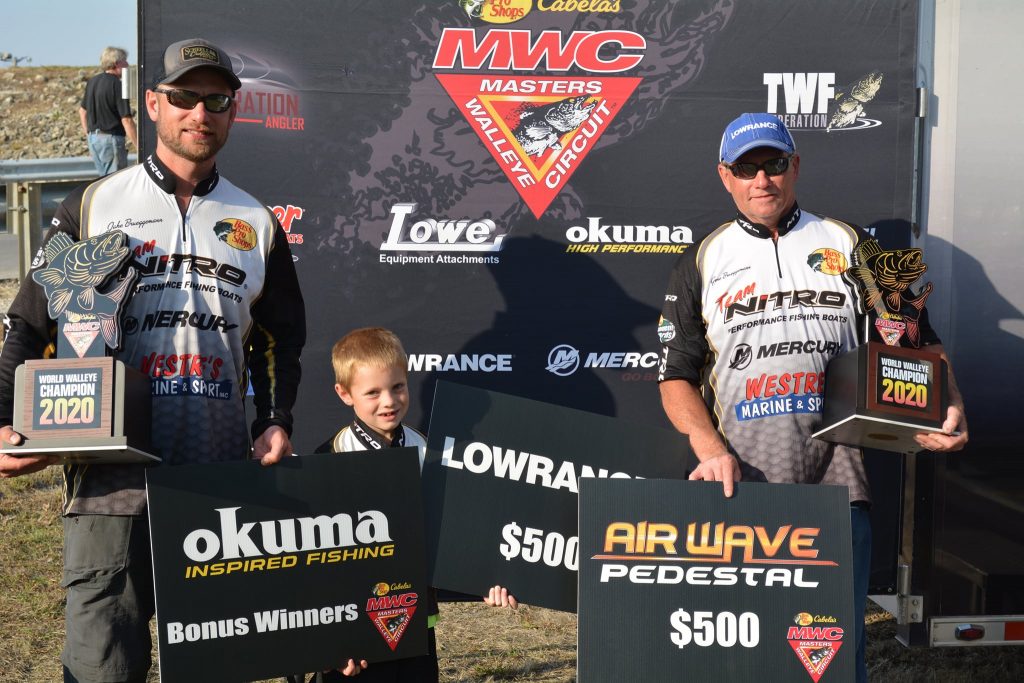 Casting Berkley Flicker Shads all day long for three days of competition took a toll on the elder Brueggeman, but Gene jokingly said he still had enough strength to hoist the championship trophies. "I don't think I have ever cast that much before. I think I know what these muskie fishermen feel like." The team drew upon knowledge they learned from locals in the area and that of their fellow friends and competitors that have spent ample time on the Muddy Mississippi.
The duo set a goal to catch five fish each day, which grew harder with each sunrise as fewer legal fish were catchable in the small area they fished. "We had one spot and each day we went in it got harder. Today we only caught 6 fish, one was a slot fish the rest we put in the box." Jake said after the team's final weigh-in. The challenge for them and many of the anglers at this event was the slot limit. Teams could bring five fish to the scales, but they needed to be between 15-19.9" of over 27". The Quad cities area has lots of fish that measure between 20" and 26.9", keeping the teams catching, but challenging their opportunity to weigh fish.
Surrounded by friends and family at the end of three hard-fought days of fishing, Jake and Gene Breuggemann finished the event with 32-10, a three-pound advantage over 2nd place and over $20,000 richer. The pair wore the emotion of the win on their faces as they mustered up the final bit of arm-strength to hoist the trophies over their heads and rightfully claim the title of World Walleye Champions.
The lucrative payout for Jake and Gene began with that $20,000 cash and continued with $1,200 worth of championship rings, a Lowrance HDS 9 LIVE ($1,999), Power Pole Pro Pole II ($1,600), $500 Lowrance LIVE bonus, Power Pole Drift Paddle ($200), a $500 AirWave certificate and $200 Okuma reels
The rest of the top five teams:
2nd: Peter & Ted Mart 29-14, $10,000 cash, Power Pole Pro Pole II ($1,600), Power Pole Drift Paddle ($200)
3rd: Casey Williams & Kent Leibhart 28-03, $5,000 cash, Power Pole Drift Paddle ($200), $150 Bass Pro Shops and Cabela's Gift Cards, TH Marine Z-Launch Cord ($50)
4th: Jeff Synak & Jake Hammer 24-00, $3,000 cash, $1,000 Ranger Cup Bonus
5th: Tim & Tom Ahrens 23-11, $2,500 cash
All together the Bass Pro Shops and Cabela's Masters Walleye Circuit awarded $119,846.05 in cash and prizes in the Quad Cities.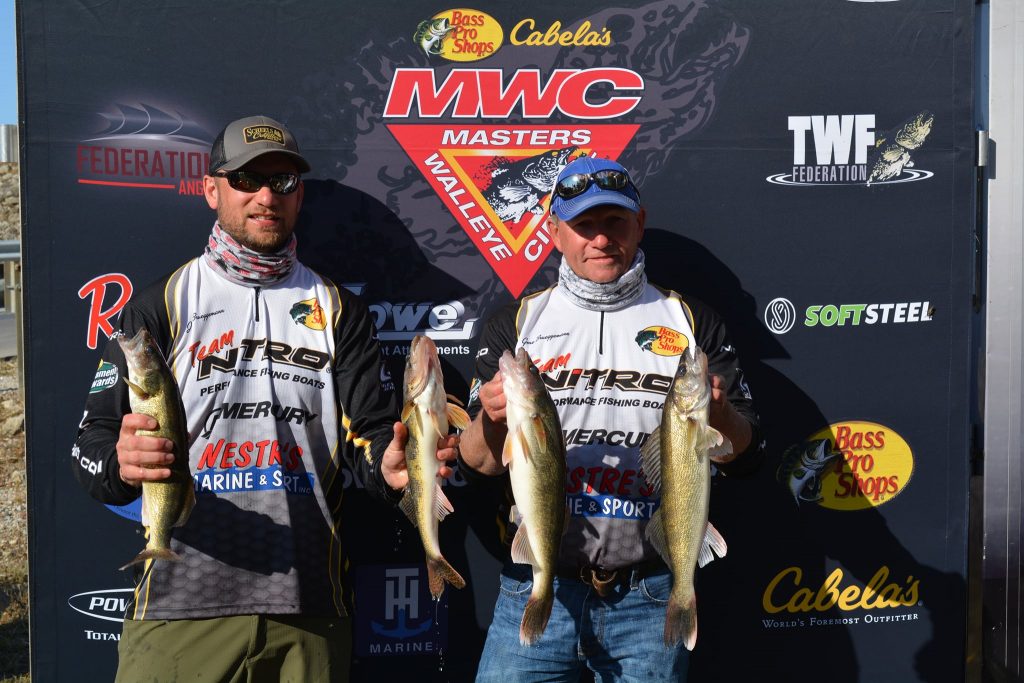 221 fish weighed a total of 423 lbs. 05 oz. during the event.
Under the umbrella of The Walleye Federation (TWF), the Bass Pro Shops and Cabela's Masters Walleye Circuit is North America's longest-running and undisputed leader in team walleye tournaments and as an inductee into the freshwater fishing hall of fame, has set the standard for competitive walleye fishing for 36 years and is open to avid walleye anglers from all walks of life. The 2020 schedule included seven qualifiers in seven states to qualify for the 2021 Bass Pro Shops and Cabela's MWC World Walleye Championship in Lake City, MN.
Bass Pro Shops and Cabela's – The World's Foremost Outfitters, are in their 19th season as title sponsor of the Masters Walleye Circuit. Official sponsors include: Lowe Equipment Attachments, Lowrance Electronics, Mercury Marine, Ranger Boats and The Walleye Federation. Associate sponsors include: AirWave Pedestals, Berkley, Church Tackle, Soft Steel, Okuma, Power-Pole and T-H Marine. For more information, email info@masterswalleyecircuit.com, or call (580) 765-9031.