Berns, Schmerbach Rally To Win Cabela's Masters Walleye Circuit Illinois River Season Opener
Presented by Mercury Marine
Spring Valley, Ill.—March 18, 2017—Marty Berns and Maury Schmerbach of Dubuque, Iowa, rallied to win the Cabela's Masters Walleye Circuit's regular season opener March 17-18 on the Illinois River at Spring Valley, Illinois.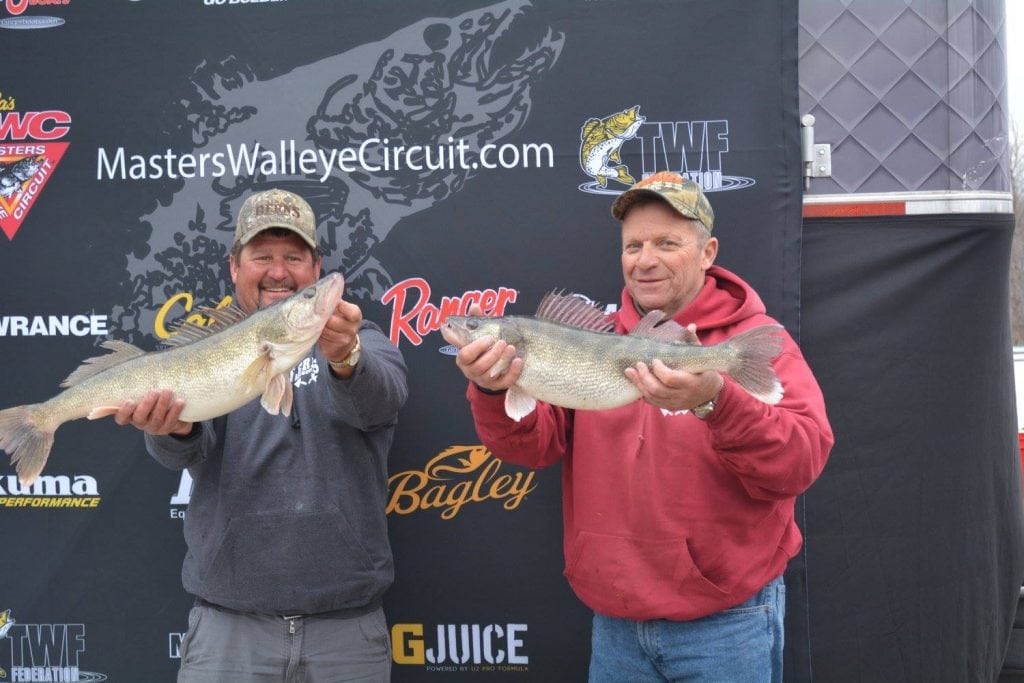 After landing in a tie for 23rd place on day one with an 11-pound, 5-ounce, 5-fish limit, the circuit veterans sacked a whopping 22-pound, 10-ounce day two limit to rocket to the top of the leaderboard with a 33-pound, 15-ounce total weight. Their day-two catch was anchored by an 8-pound, 9-ounce walleye that ended up being big fish of the tournament. They also had another kicker that pushed the scale to 7½ pounds.
"We felt pretty good after catching the first big walleye," laughed Schmerbach. "When we got the second big one, we thought we just might have a chance to win." To which Berns added, "It feels pretty good to end up on top. We've both been in the money but never won an MWC here before." While Berns has about a decade on the MWC under his belt, Schmerbach has fished the Spring Valley event since 1989.
Berns and Schmerbach pulled 3-way rigs with a mix of jigs, floaters and minnowbaits upstream along channel edges at speeds of .5 to .7 mph. "We got one big walleye in 16 feet of water and the other in 28 feet, 20 miles away," Schmerbach said, noting the water temperature was 42.7 degrees, the river was clear and low, and the bite was definitely on.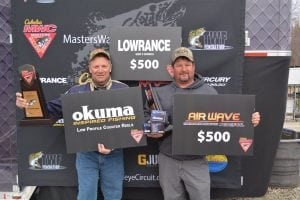 The winners collected $13,700 in cash and prizes for their epic comeback, including the $10,600 first-place cash payout, plus the $500 Lowrance Electronics contingency, $500 AirWave certificate, $200 Okuma Reel bonus, $900 in Big Fish Pot winnings and a $1,000 Cabela's National Team Championship Prize Package including paid entry into the 2018 NTC, travel stipend, team jerseys and plaques.
Rounding out the top five were:
2nd: Corey Blair, Kevin Hanson, 27-12, $5,300 plus the top prize of $3,574.50 cash from the option pot
3rd: J.J. Debernardi, Mike Hanson, 26-06, $3,500
4th: Joe Miller, Mark Barden, 26-02, $2,650 cash plus another $2,600 cash from the option pot AND $1,000 Ranger Cup prize
5th: John and Jena Dalzot, 25-15, $2,200
In all, the Cabela's MWC awarded $56,794.50 in cash and prizes.
Adding to the excitement at Spring Valley, MWC CEO Robert Cartlidge announced the dates and location of the 2018 Cabela's National Team Championship on stage after the final weigh-in. The event will be held in  2018 on the mighty Mississippi River out of the Moline / Quad Cities, Illinois area. This will be the first time the NTC will be held in Illinois on the Mississippi River.
The Cabela's NTC is widely considered the walleye world's premier grassroots championship. It is comprised of teams that qualify through local tournaments organized by walleye clubs sanctioned by The Walleye Federation (TWF), and annually draws hundreds of avid walleye anglers from across the U.S. and Canada. For more information and updates, visit: walleyefederation.com/cabelas-ntc.
A total of 735 walleyes and saugers weighing 1,536 pounds, 10 ounces crossed the scale at the Spring Valley Boat Club. Illinois Department of Natural Resources biologists were on site collecting fish caught during the tournament for stocking programs that benefit anglers on the Illinois River and across the state.
Adding to the fun, the Cabela's MWC and National Professional Anglers Association presented a Youth & Family Fishing Clinic immediately after the day-one weigh-in, with participating youths receiving rod-and-reel combos courtesy of the NPAA.
Under the umbrella of The Walleye Federation (TWF), the Cabela's MWC is open to avid walleye anglers from all walks of life. The 2017 schedule includes seven qualifiers in five states and includes a diverse selection of rivers, inland lakes and Great Lakes fisheries representing North America's top walleye destinations.
Cabela's, the World's Foremost Outfitter for hunting, fishing and outdoor gear, is entering its 16th season as title sponsor of the MWC. Official sponsors include: Lowe Equipment Attachments, Lowrance Electronics, Mercury Marine, Ranger Boats and The Walleye Federation. Associate sponsors include: AirWave Pedestals, Bagley Baits, Church Tackle, G-Juice, MotorGuide and Okuma. For more information, email info@masterswalleyecircuit.com, or call (580) 765-9031.
###