Miller, Tarrell Win Cabela's Masters Walleye Circuit Lake McConaughy Tournament, Presented by Lowrance Electronics
Ogallala, Neb.—June 2, 2018—Nebraskans John Miller and Ev Tarrell started fast and finished strong to score an emotional victory at the Cabela's Masters Walleye Circuit's regular season tournament on Nebraska's mighty Lake McConaughy out of Ogallala, Nebraska, June 1-2, 2018.
Presented by Lowrance Electronics and headquartered at scenic Cedar Vue Campground, the two-day event featured 160 anglers from 12 states fishing in two-person teams for their share of more than $60,000 in cash and prizes.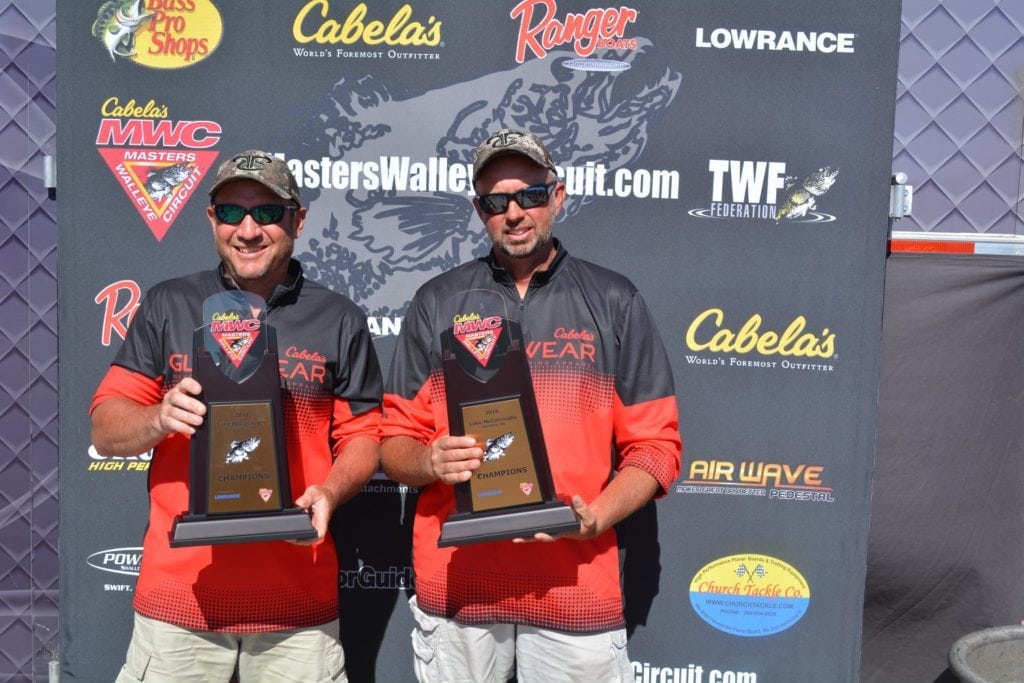 "It's pretty numbing," said Miller, of North Platte. "I've fished tournaments my whole life and been in the top 10 many times, but this is my first win. And my brother, who has had a lot of success locally, finished second." He credited his father, Darrell Miller, for getting him hooked on fishing and introducing him to the thrill of competition. "My dad got us started fishing the MWC in the late 1980s and early '90s, and we made it to the World Walleye Championship in 1989," Miller explained. "He passed away a year ago and his ashes are close to this lake, so this is very special."
Tarrell, a 30-year Cabela's employee from Sydney, was likewise elated and touched by the tournament's outcome. "I'm a little shocked right now," he said. "I've done well in tournaments before, but not one like this. And I'm really happy for my partner. John's a great guy and before the tournament he dedicated it to his father. This means a lot."
Miller and Tarrell gave their competitors notice they were in it to win it early, topping the day one leaderboard with a 24-pound, 15-ounce, 5-fish MWC limit. "We were casting jigs and spinnerbaits over a rocky bottom in four to eight feet of water," said Miller. "It worked really well the first day. But then the wind switched overnight and everything changed."
The team returned to their day one hotspot but caught only one keeper before moving to a new area on the windswept side of the lake. "Like a lot of lakes, McConaughy's bite is wind-driven," Miller continued. "We drifted live-bait rigs over shallow sand on the windy side of the lake today. Conditions were tough and we only caught six fish."
Their daily total plummeted to 10 pounds, 13 ounces. But the rest of the hard-fishing MWC field also struggled to adapt to the changing conditions and, as fate would have it, Miller and Tarrell's 35-pound, 12-ounce tournament total was enough to win the day by nearly three pounds.
Miller and Tarrell collected $17,450 in cash and prizes for their efforts, including the $12,000 first-place cash payout, $3,750 cash from the option pot, $500 AirWave certificate, $200 Okuma Reel bonus and a $1,000 Cabela's National Team Championship Prize Package including paid entry into the Cabela's NTC, travel stipend, team jerseys and plaques.
Rounding out the top five were:
2nd: James Miller, Jason Cooper, 32-07, $5,850 cash plus $2,750 cash from the option pot and $1,000 Ranger Cup bonus
3rd: Taylor Vanis, Mark Codner, 29-12, $3,700 cash
4th: Robert Sorenson, Greg Fritz, 29-02, $2,700 cash plus $2,000 cash from the option pot
5th: Bill McGannon, Brian Hunke, 28-11, $2,200 cash
6th: JD Baker, Danny Baker, 28-05, $1,800 cash
7th: Casey Williams, Kent Leibhart, 28-01, $1,700 cash plus the $500 Lowrance Electronics contingency
In all, the Cabela's MWC awarded $61,280 in cash and prizes.
A total of 424 walleyes weighing 1,149 pounds, 6 ounces crossed the scale during the event. Big fish was a 9-pound, 10-ounce trophy caught on day two by Brian and Jeremy Tordsen. Adding to the fun, the Cabela's MWC and National Professional Anglers Association presented a Youth & Family Fishing Clinic immediately after the day-one weigh-in, with participating youths receiving rod-and-reel combos courtesy of the NPAA.
North America's longest-running and undisputed leader in team walleye tournaments, the Cabela's MWC has set the standard for competitive walleye fishing since 1984. Operated under the umbrella of The Walleye Federation (TWF), the Cabela's MWC is open to avid walleye anglers from all walks of life. The 2018 tournament schedule includes eight qualifiers in seven states, plus the 2019 Cabela's MWC World Walleye Championship. Visit masterswalleyecircuit.com for updates, official rules and registration information.
Cabela's, the World's Foremost Outfitter for hunting, fishing and outdoor gear, is enjoying its 17th season as title sponsor of the MWC. Official sponsors include: Bass Pro Shops, Lowe Equipment Attachments, Lowrance Electronics, Mercury Marine, Ranger Boats and The Walleye Federation. Associate sponsors include: AirWave Pedestals, Church Tackle, MotorGuide, Okuma, Power-Pole and T-H Marine. For more information, email info@masterswalleyecircuit.com, or call (580) 765-9031.
###